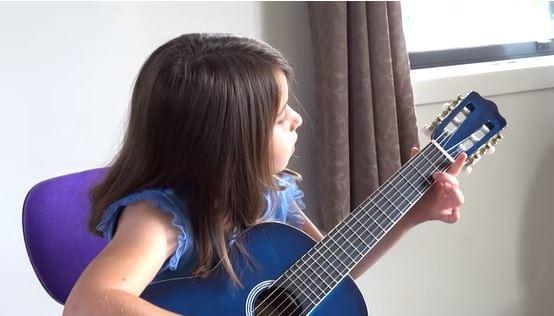 The best time to start learning the guitar is at the age of 5! Those kids who start at the age of 5 or 6 develop an amazing work-ethic by age 7.
Madeleine (New Zealand)
We liked the emphasis on the 'fun' aspect of learning. Madeleine has many other extra curricular activities and we wanted to foster her love of music not make it a chore. In six short weeks Madeleine can look after, hold the instrument correctly and play E F and G. She loves to practice and do her music theory homework.
We appreciate that Madeleine's teacher is flexible and can read the mood our five year old and subsequently shape/change the lesson to accommodate her as required. For example if Madeleine is tired her teacher changes tact, plays a game and is very patient and encouraging.
If you are looking for experience, professionalism as well as guarantee your child will be playing the guitar in a few weeks then these are the lessons for your child. Madeleine wrote her first song and played it today – lesson seven – she is very proud. The morning of her lesson Madeleine is awake extra early, enthusiastic to practice and attend her lesson later in the morning. It's a pleasure to see her excited about learning guitar!
— Deborah G. (New Zealand)