Online Guitar Lessons for Kids
No pre-recorded videos!
Kids learn live, one-on-one, with a specialist teacher.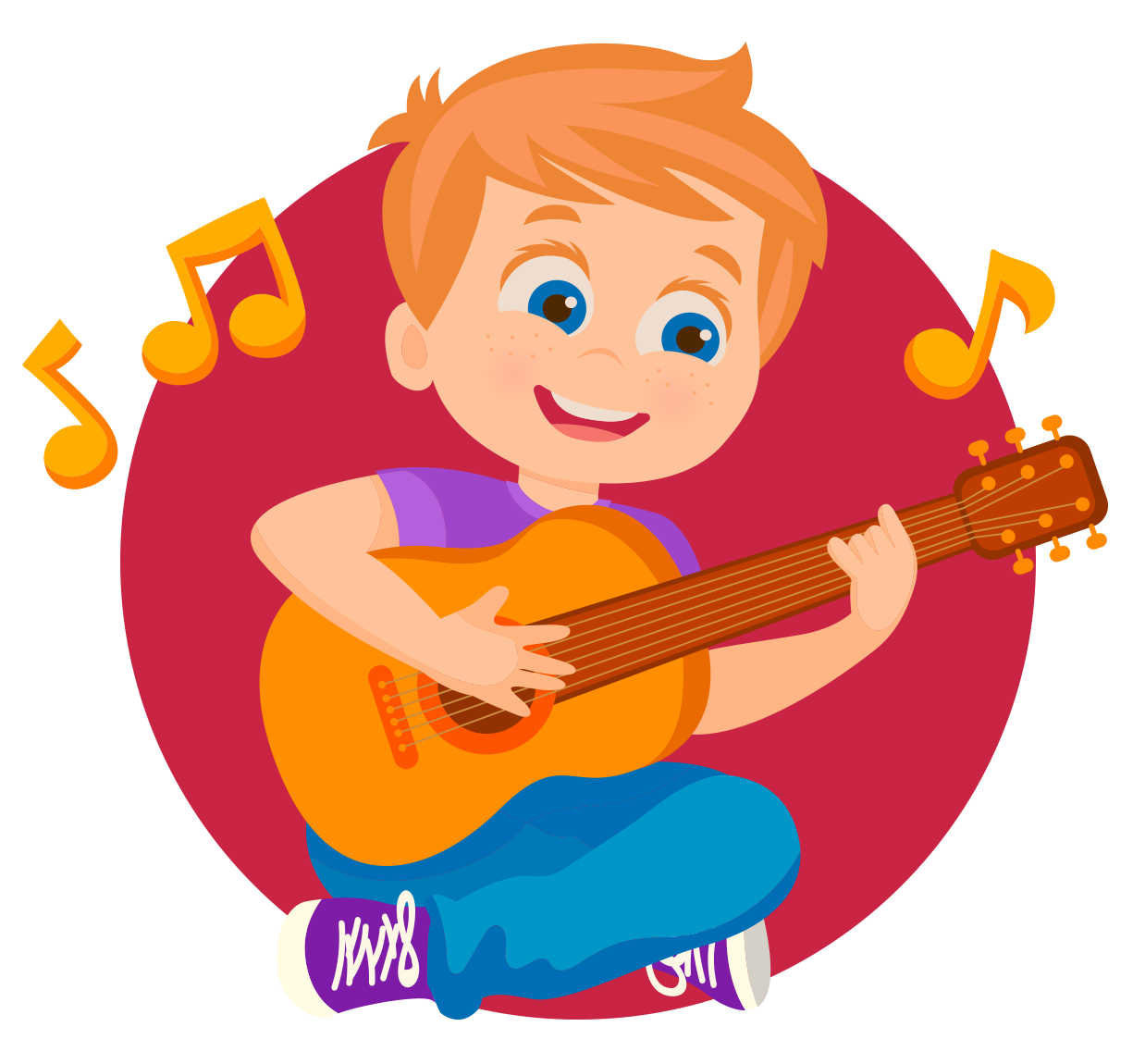 An Incredibly Effective Solution For Kids Guitar Lessons
If you're like most parents, then you're looking for the best value and easiest option for music lessons. You've found it!
The old way of traveling to a music school or a teacher's home for private instrument lessons is not practical for many busy families, and for those who live in remote places. Luckily, easy-to-use technology allows you to have private "in person" lessons with a teacher online in real time!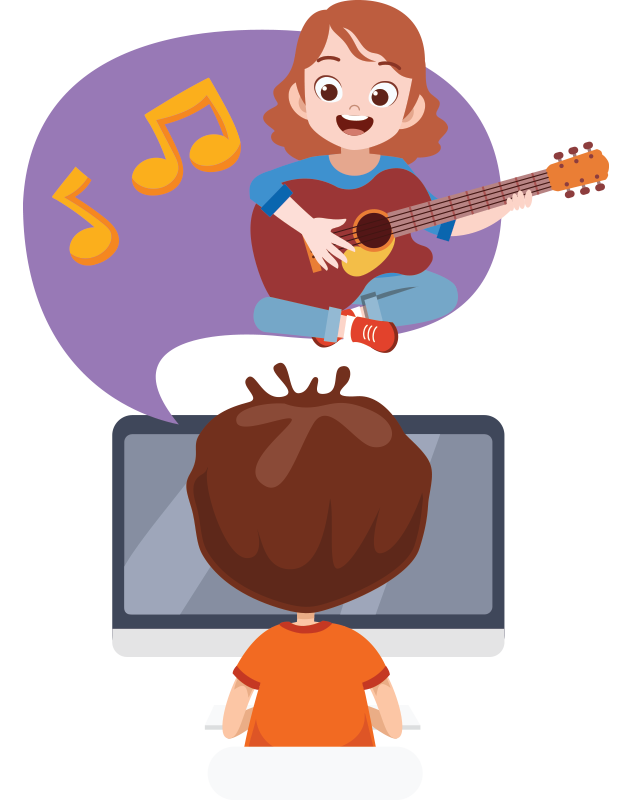 Forget about online video courses, try
Skype

lessons instead!
Private online tuition is way more effective than pre-recorded video lessons. Kids need a mentor and a teacher to guide them and correct their playing. A video can't encourage a child when they're struggling, and it won't engage or praise your child at the key moments. So forget about kids learning from ineffective video courses and try a free LIVE online lesson today!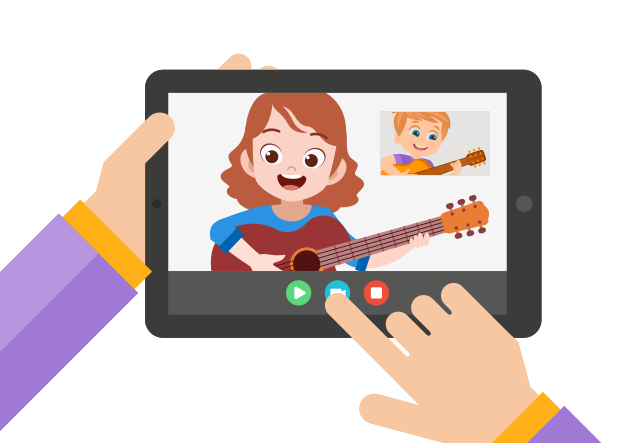 How It Works
It works like any live video conference call. The teacher can see you and your child through a video camera and offers instant feedback and instructions. It's like having a specialist teacher come to your house, but much easier!
Many parents are familiar with the type of online lessons that are pre-recorded on video. But live online lessons are not like that at all. Live lessons are 30min long, and they happen once a week at the same time, just like traditional instrument lessons. The best part is that you don't have to leave your home for your child to learn with a top music specialist!
​​Try out this convenient learning solution by booking a free introductory trial lesson. It's easy!
What You Will Need to Try a Lesson…
INTERNET CONNECTION

You don't need a fast internet connection to have a Skype video call. Suggested at least 3 Mbps.
WEBCAM AND MICROPHONE
Any device such as a laptop, tablet, or smartphone meets these requirements.
SKYPE ACCOUNT

A
Skype
account is necessary to be connected to the teacher. The lesson is also possible via FaceTime or Facebook.
ADULT ASSISTANCE
If your child is under 12, then you and your child must participate in the lessons together and you'll be asked to assist your child during the instruction.
GUITAR
Families with kids ages 5 to 8 do NOT need a guitar to try the first free lesson. The first lesson is designed as an introduction to music. You'll get a fun music theory activity booklet that you'll have to print out and have handy during the lesson. You and your child will clap rhythms and learn to read, trace, color and write music notes.
Families with kids and teens ages 9 to 16+, and adults do need access to a tuned guitar to try the first free lesson. Need help choosing a guitar for a child or teen?
Here's what parents from all over the world are saying about the lessons…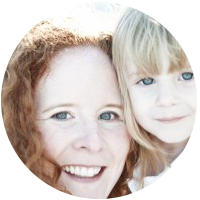 Gentle Guitar™ was really the only guitar tuition service or brand that I came across that's designed specifically for children.  I love the fact that they specialize in teaching online, but that, more importantly, they know how to teach children online.  This is not a skill set that a lot of companies have, believe you me!  — Brandi Jordan, USA (Owner of MamaTeaches.com) .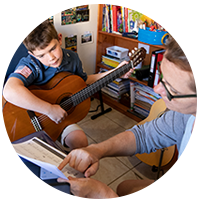 When it came to music, I decided I would need a proper music teacher, after searching locally and in our neighboring countries of Zambia, Zimbabwe and Namibia, I decided to look online for options. If there was ever any doubt if lessons via Skype are possible, watching Connor will most certainly show you that they are. It has been exciting for us to have access to world class guitar teachers whilst living in the African bush! — Tanya S. (Botswana, Africa)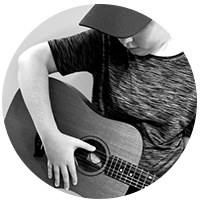 The ease of online lessons is key! We have 5 children and I love not having to load them all up and then sit in the car during lessons with the other children. Give it a try! I was hesitant how well it would work without a teacher being physically present, but we have been so pleasantly surprised and it has been an amazing experience for our family!
— Jennifer T. (North Carolina, USA) (Owner of wellnessinadrop.com)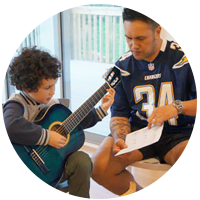 We found out about Gentle Guitar™ through Google Search and the tipping point for us was that Gentle Guitar™ offered Skype lessons. It provided the most practical option that fits with our busy schedule. The best part is the time I get to spend with my son. I have always wanted to learn to play and now I have a great reason to achieve this and also bond with my boy. — Beaufa B. (Auckland, New Zealand)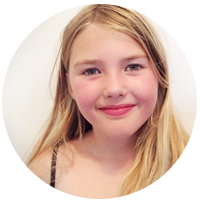 We decided to try Skype lesson because of the convenience and the fact that we were struggling to find time for driving to a lesson. We've been pleased with the variety of activities and lessons. In spite of my skepticism, we have been fully converted. Skype lessons work amazingly well! — Pia J. (Finland)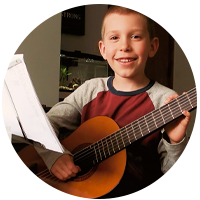 We decided to try the online lessons because the cost of Gentle Guitar™ over Skype was essentially the same as what a local instructor would charge, yet much more convenient! People are amazed when they find out Aaron attends lessons through Skype, but it's such a wonderful way for him to learn. And because I sit with Aaron through the lesson, I'm actually learning right along with him! — Amy B. (Chicago, USA)
Meet Ms. Hope,
and her team of specialist teachers
The Gentle Guitar™ teachers are specialists in kids and beginner guitar tuition.
Over 1000+ lessons, 9 countries, 7 years of results!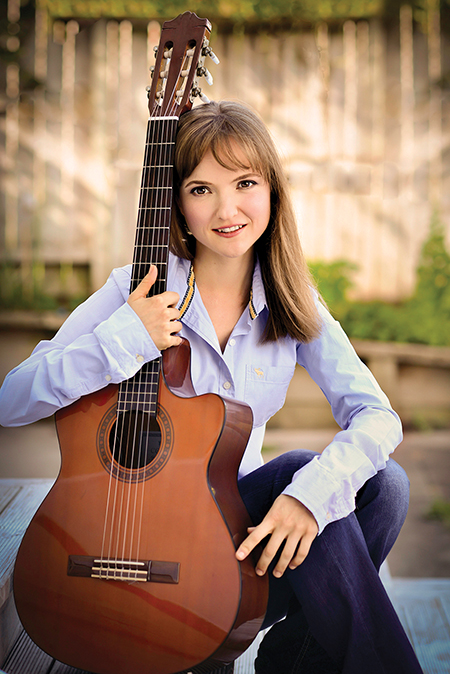 Inga Hope
Considered the #1 authority on teaching kids music and guitar through online lessons. Inga is from New Zealand, and is known in the global homeschool community as the music expert for kids. Ms. Hope is the teacher other teachers go to when they need help with their guitar lessons for children.
Inga is the guitar teacher who is transforming the way that guitar and music are taught to kids.
What's her secret? Inga and her team of highly specialised guitar teachers use SKYPE to teach guitar to kids online.
The reason that these innovative private lessons work so well is because Inga has developed a unique methodology, and likes to involve the parent in the learning process. She wants to make sure that there's always an adult in the room ready to help the child.
With these lessons, you and your child get to stay in the comfort of your home while a specialist guitar teacher works with the two of you via a live video call. It's like having a catch-up with a long-distance relative!
These lessons work amazingly well and are super convenient. Best part? You can try a lesson completely free. All you need is a Skype account and a child who's eager to play guitar!
Best Kids Guitar Method
The Gentle Guitar™ method is taught to hundreds of kids and teens around the world.
Over 1000+ lessons, 9 countries, 7 years of results!

"The instructors really get to know the child" 
- Erin (USA)

"A wonderful way to expose a child to music
in their own environment" — Nikki (New Zealand)
The expert in kids music education and creator of this wonderful program, Ms. Hope would love to meet you and your child live online. Kids under 8 years old don't even need a guitar to get started! Book your free trial lesson and meet with a specialist teacher to get all your questions answered.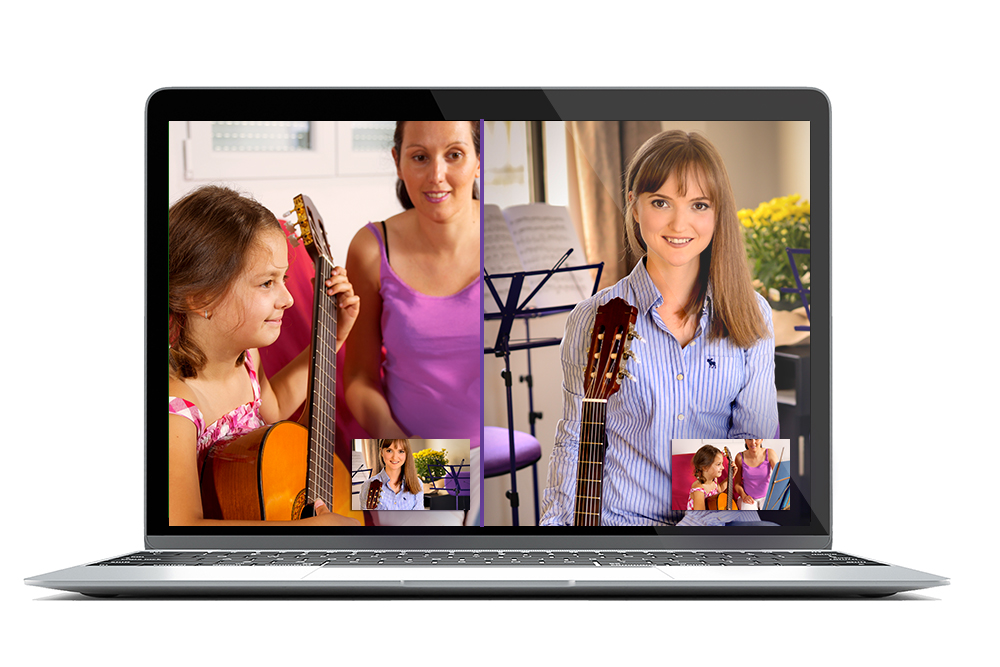 The Gentle Guitar™ method is hand-crafted to stimulate creativity and overall development.
The method adapts to each child's individual learning level and abilities.
You and your child will have a lot of fun learning!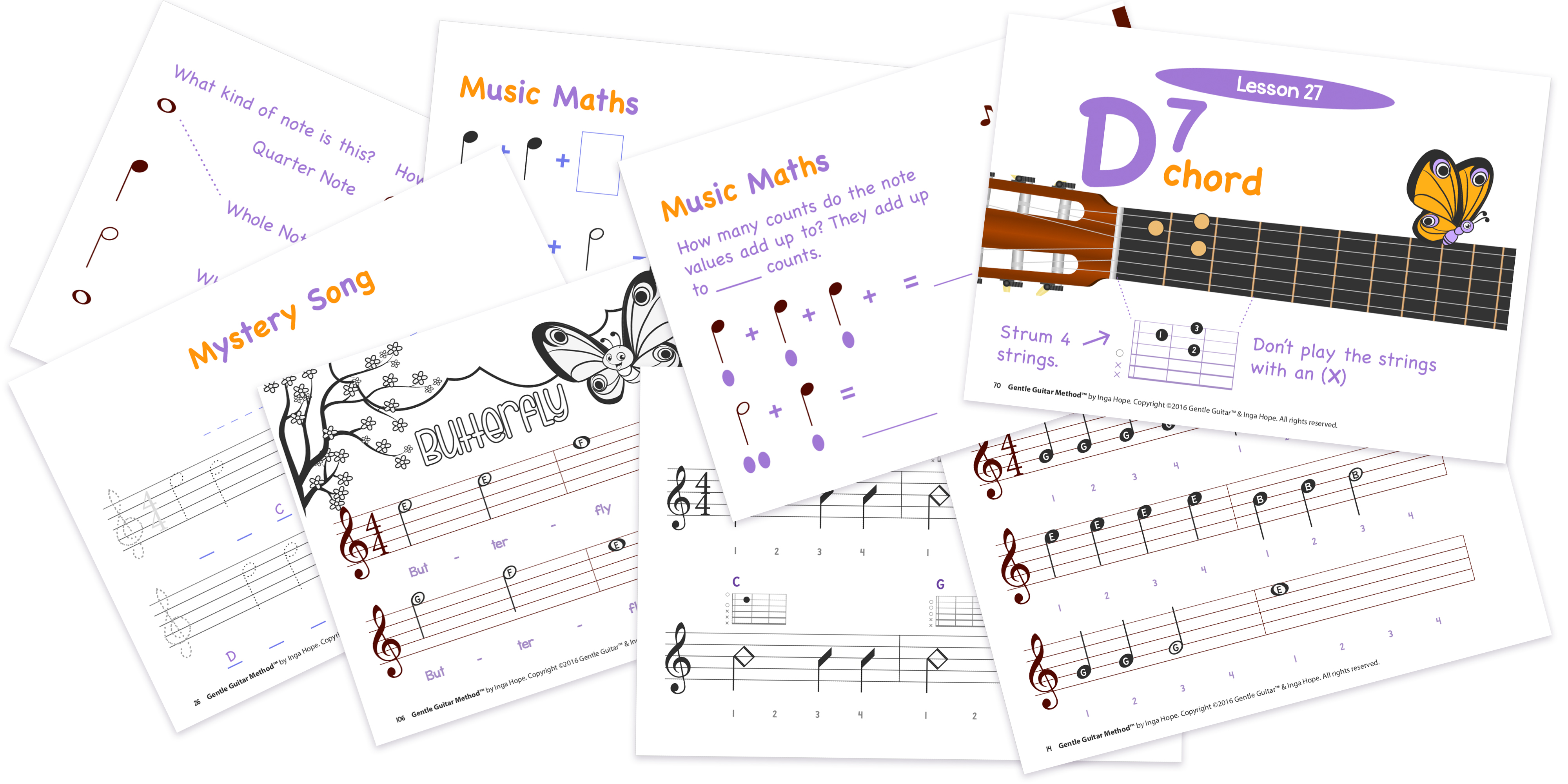 Professional and Fun
All lessons are taught privately one-on-one, with special emphasis on child nurturing and development. These lessons are successful in boosting self esteem, and are especially well suited to shy kids, those who need an understanding instructor, and those who show a particular interest in music and creativity. We offer the highest quality of tuition you can find, and best value music lessons for young kids.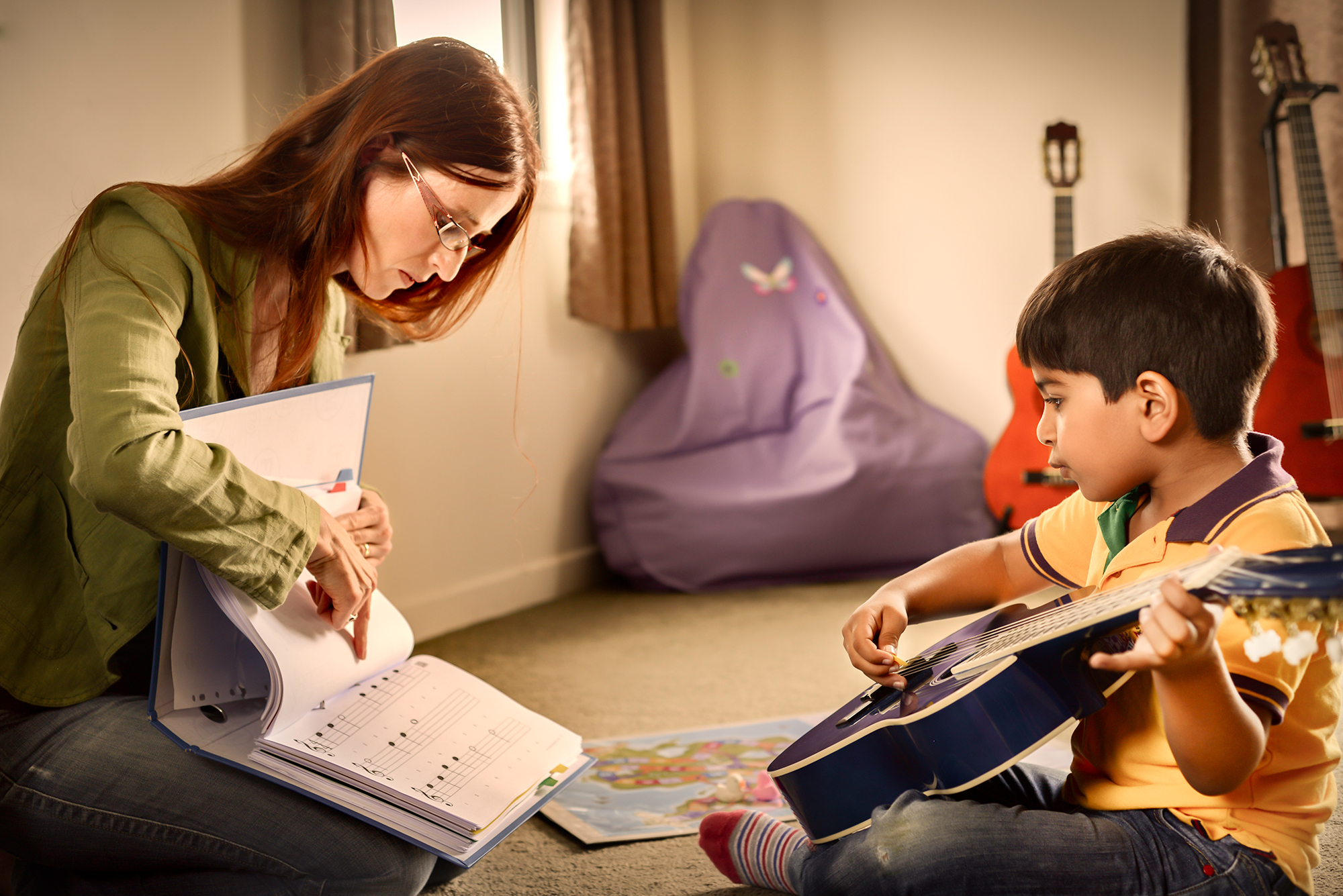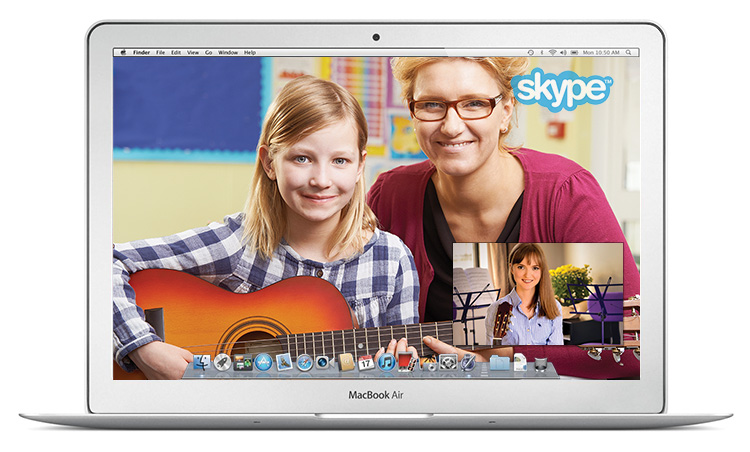 Convenience and Flexibility
Signing-up for a kids guitar lesson has never been easier! The Gentle Guitar™ program is taught to you and your child, one-on-one, via Skype. You'll be on time every time and you won't have to beat traffic and use up valuable time travelling to and from lessons. Instead you'll invest quality time bonding with your child over a rewarding educational experience.
Strong Musical Foundation
Music is fun, but ultimately the purpose of studying music literacy at a young age is to enhance brain development, while the brain is highly plastic. Experts agree that by age five, most children have built the capacities that allow them to be ready for formal music lessons. At this stage the goal is not to make great performers out of them, but to introduce expression and creativity into their lives. But that doesn't mean that kids can't learn professional playing techniques and solid musicianship foundations.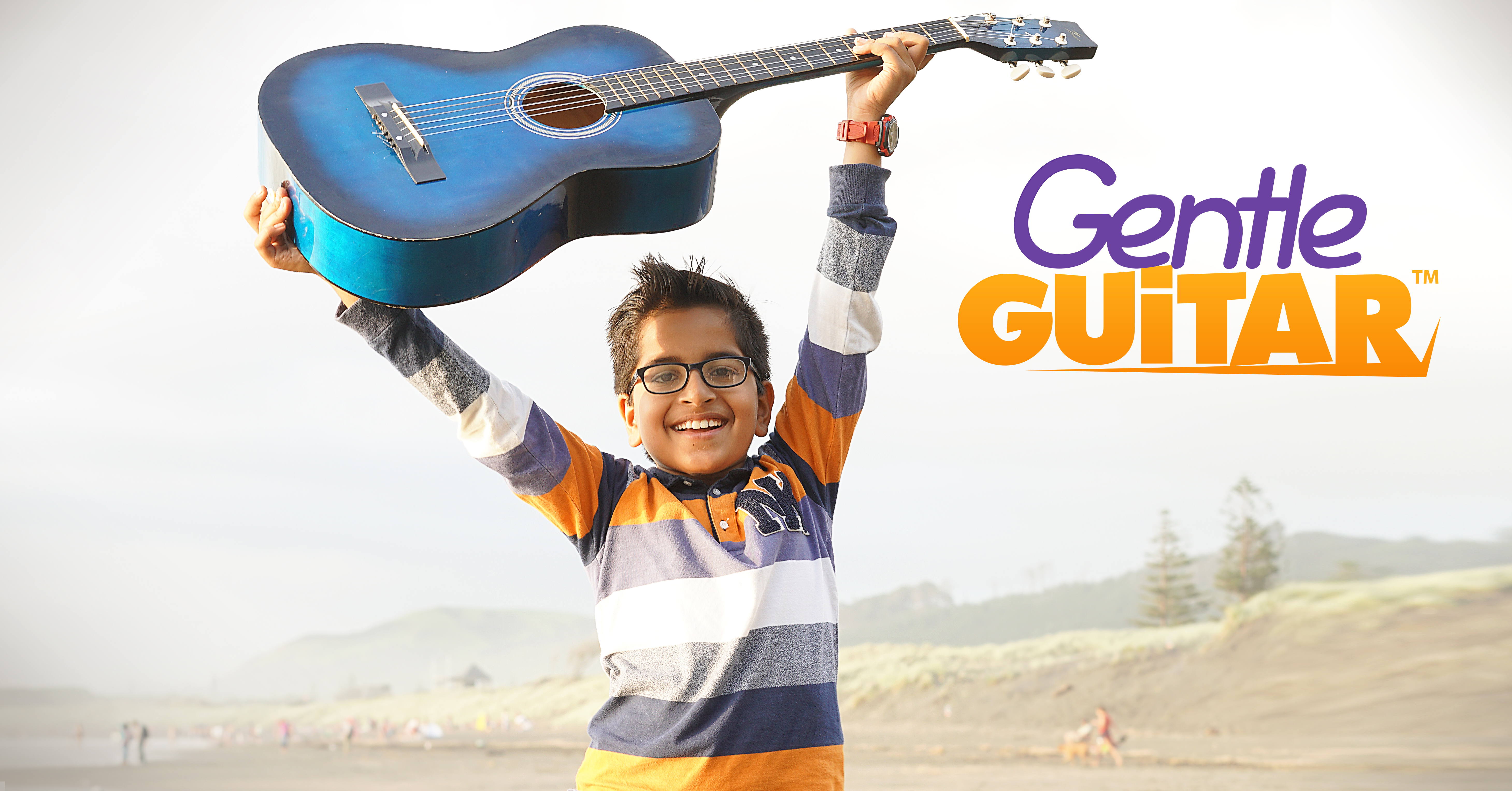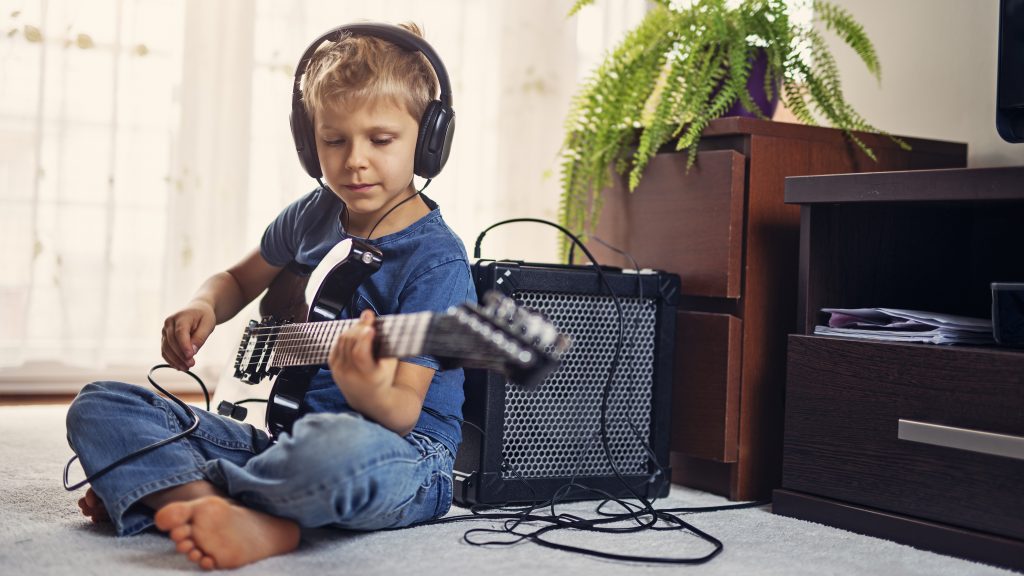 Real Progress and Results
Our proven method has been taught successfully since 2013. We've seen the progress made by our students and are really proud of the results. You can see for yourself! Check out the student performances below!
You and your child meet with your teacher once a week, live via Skype (or FaceTime). The lessons are 30 minutes long.
You get a fun age-appropriate music workbook with exercises, songs and written activities.
The teacher guides you though the workbooks and lessons at a gentle pace that suits your child's personality and learning ability.
You explore music theory, correct guitar playing technique, songwriting, how to play songs and chords, how to read standard music notations, and overall musicianship.
You are encouraged to do progressive daily guitar homework which only takes 10 – 15min to complete.
You get step-by-step instruction. Even if you don't know ANYTHING about music, it's easy to follow along and help your child learn.
The Gentle Guitar™ lessons are designed to boost confidence, build self-esteem and teach universal skills required for success in any discipline.
It's a DEVELOPMENTAL program. It's about using music as a TOOLBOX during those CRUCIAL YEARS in you child's development when the brain is highly plastic between birth and about age 10.
The Gentle Guitar™ lessons are compatible with the major international classical and modern guitar examination boards.
FAQ
Must I commit to something when I reserve a trial lesson?
This free trial lesson is 100% no commitment. It's designed to answer your questions about kids music tuition and give you a feel for what the lessons over Skype are like. This is a no obligation free trial music theory and guitar lesson for kids ages 5 to 16+. Kids who try the free lesson end up loving it, you've been warned!
Can I reserve more than one trial lesson?
We can only schedule one free trial lesson per family, so consider a good time for your family before you book the trial. Once your lesson time has been confirmed, if a cancellation or reschedule request is submitted a lesson fee of $25 USD will be due prior to approving the new booking request.
Does my kid need a guitar?
Kids ages 5 to 8 don't need a guitar to try the lesson. We'll go through a fun activity booklet introducing music theory and written notation. We'll clap simple rhythm patterns, trace notes, and have fun learning together. Kids ages 8+ DO need a guitar during the trial lesson.
Are these for young kids only or do you also teach teens and adults?
We have special programs for kids ages 5 to 8, 9 to 12, 13 to 16+, as well as beginner adults and worship guitar lessons for teens and adults. Beginners of all ages and levels are welcome!
How much do the lessons cost?
The lesson cost is compatible with any private music lessons you could get locally. The ongoing cost of weekly tuition is between $25 and $35 per one-on-one lesson taught once a week. Most families budget $120 per month.
Who Are The Lessons For?
The Gentle Guitar™ Lessons Work Great For…
​Children between ages 5 to 12, accompanied by a parent, family member or another adult.
​Families with no prior musical knowledge who would like to give their child (children) a quality music education.
​Families with musical experience who need a structured and flexible framework for teaching music to their child (children).
​Homeschooling families who need a professional and flexible music curriculum that will fit with their schedule.
​Busy families who need the flexibility to take music lessons from home or on the go.
​Families living in rural areas who would like access to professional high quality music education for their child (children).
​​Shy children who need help thriving. Learning from home with a family member nearby, in a comfortable environment, with an expert who can give gentle guidance — is an ideal environment for shy children to really shine!
​Kids who need an academic boost. Most guitar schools and private teachers don't teach music literacy to children. That's a shame, because kids LOVE it and it gives the brain a super-workout!