Guitar Lessons For Kids Ages 9 to 12
Weekly
Online

Kids Guitar Lessons With A

Private Teacher

ONLINE GUITAR LESSONS FOR KIDS
(Ages 9 to 12)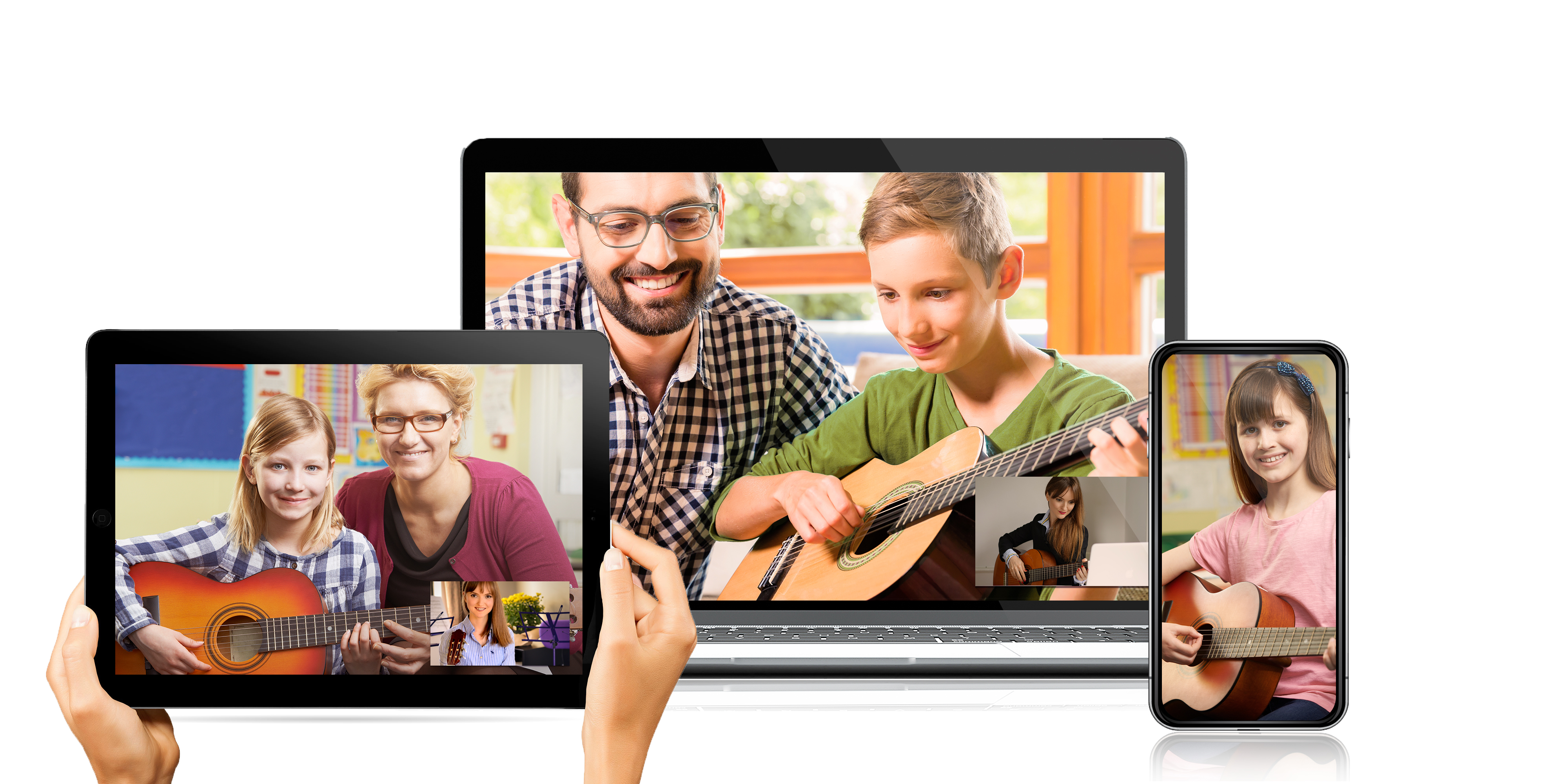 Easy, Convenient, Professional And Fun!
Gentle Guitar™ offers guitar lessons for kids, in the comfort of your home.
Kids learn to play guitar online, at home, with a live teacher!
We connect via live video conference call using Skype or FaceTime.
Children under 12 years old must be assisted by a parent or another adult.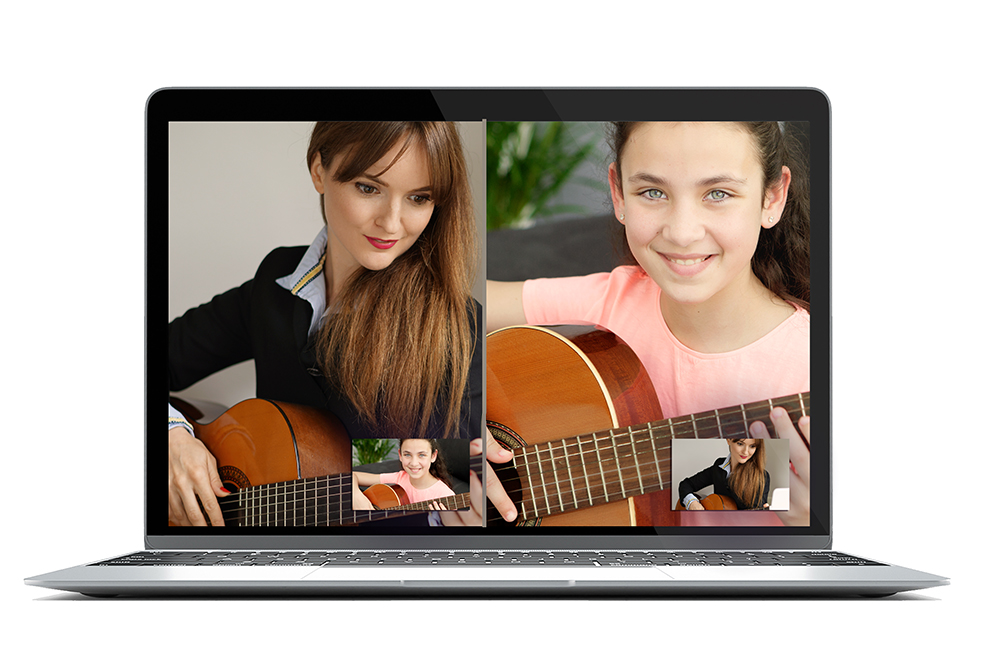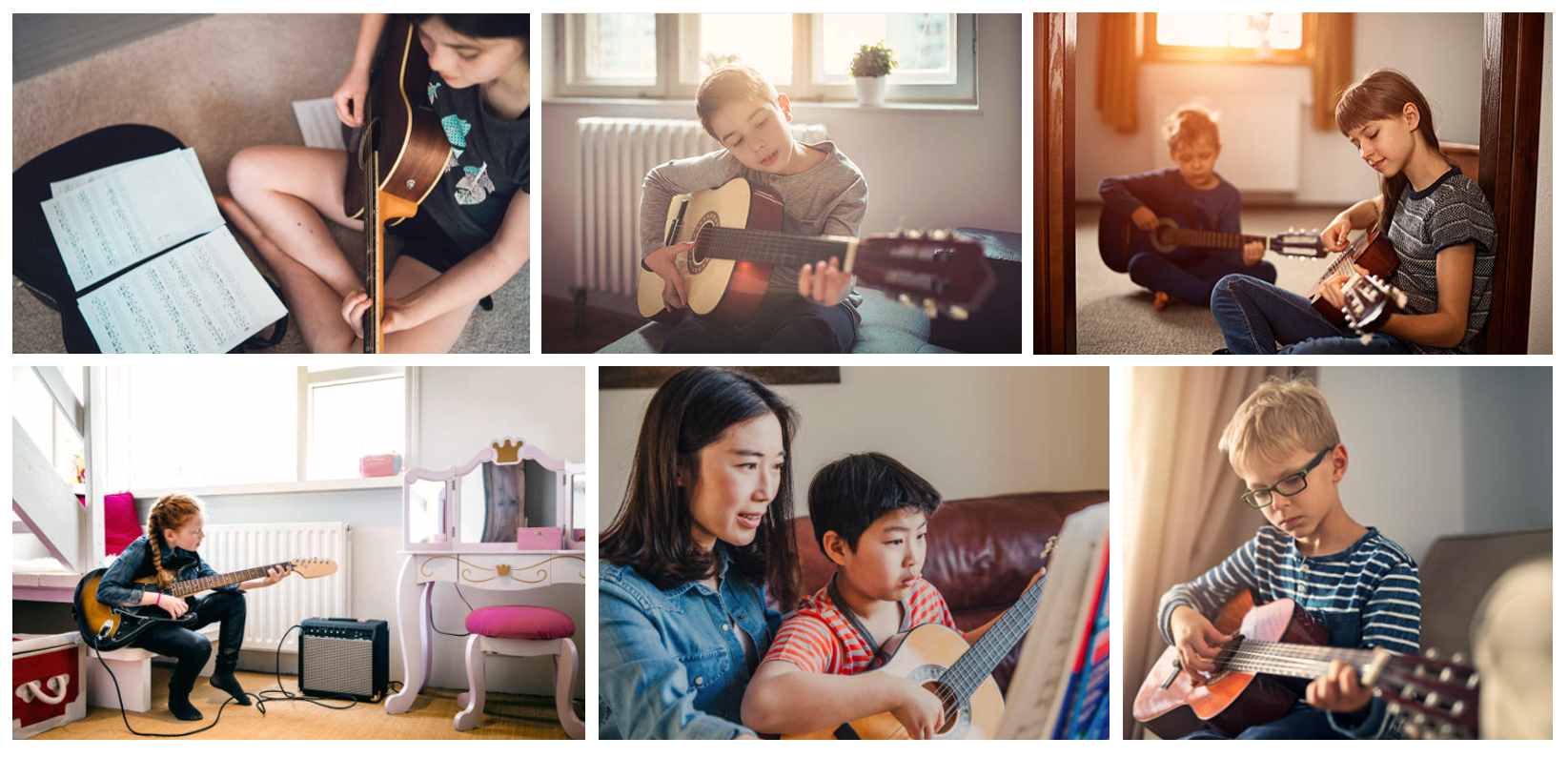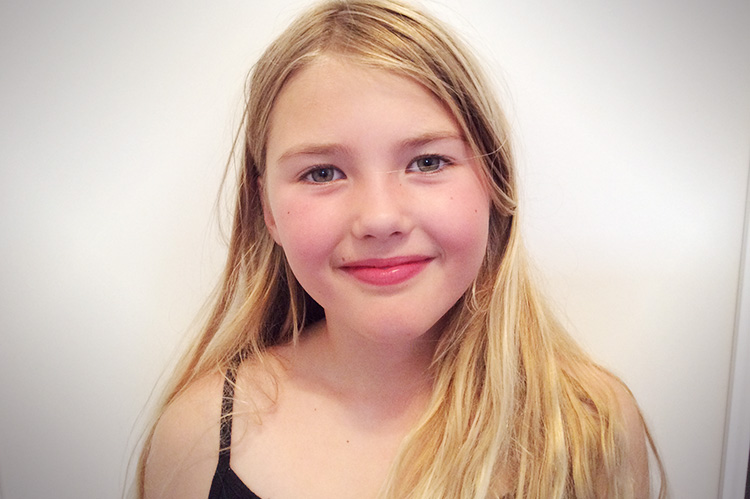 Tiama's family had been very skeptical about Skype lessons at first, but they were surprised by how well it works and that the teacher is able to correct the child's playing technique without problem.
Testimonial
I read an article about Gentle Guitar™ and it sounded like a great method to get inspired. The methodology of teaching children seemed different from just strumming chords.
We decided to try Skype lesson because of the convenience and the fact that we were struggling to find time for driving to a lesson. We've been pleased with the variety of activities and lessons. In spite of my skepticism, we have been fully converted. Skype lessons work amazingly well!
Tiama had been doing lessons at school for a year prior to us starting Gentle Guitar™. She enjoyed the guitar, but really did not like the lessons, she found them boring. Since starting with Gentle Guitar™, she has rediscovered her motivation and her skills have sky rocketed. Very pleased!
— Pia J. (Finland)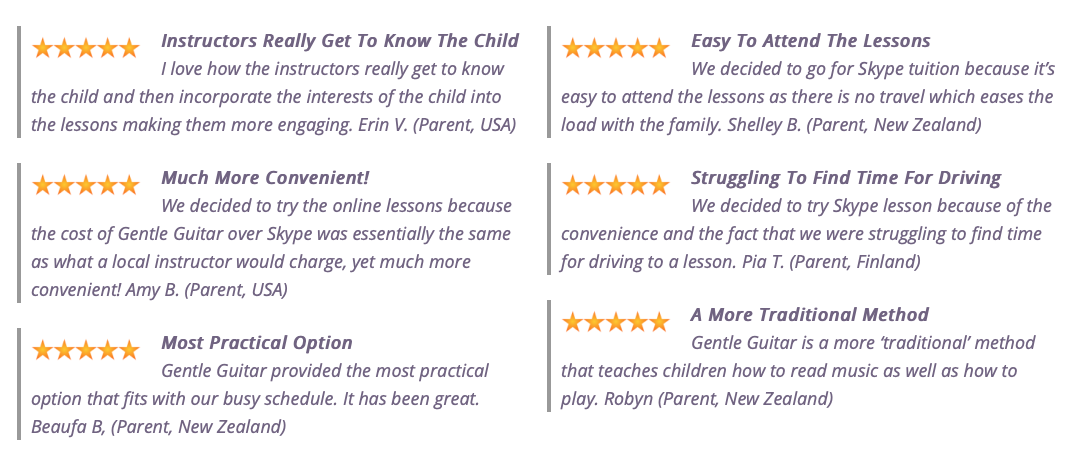 Best Kids Guitar Method
The Gentle Guitar™ method is taught to hundreds of kids and teens around the world.
Over 1000+ lessons, 9 countries, 7 years of results!
The Gentle Guitar™ method is hand-crafted to stimulate creativity and overall development.
The method adapts to each child's individual learning level and abilities.


Music Theory & Standard Notation
The Gentle Guitar™ method is focused on teaching essential musical foundations.
Most other guitar teachers and guitar schools teach guitar playing by ear or TAB and don't focus on music literacy.
We believe that kids should learn to read and write music, and we make it fun and easy!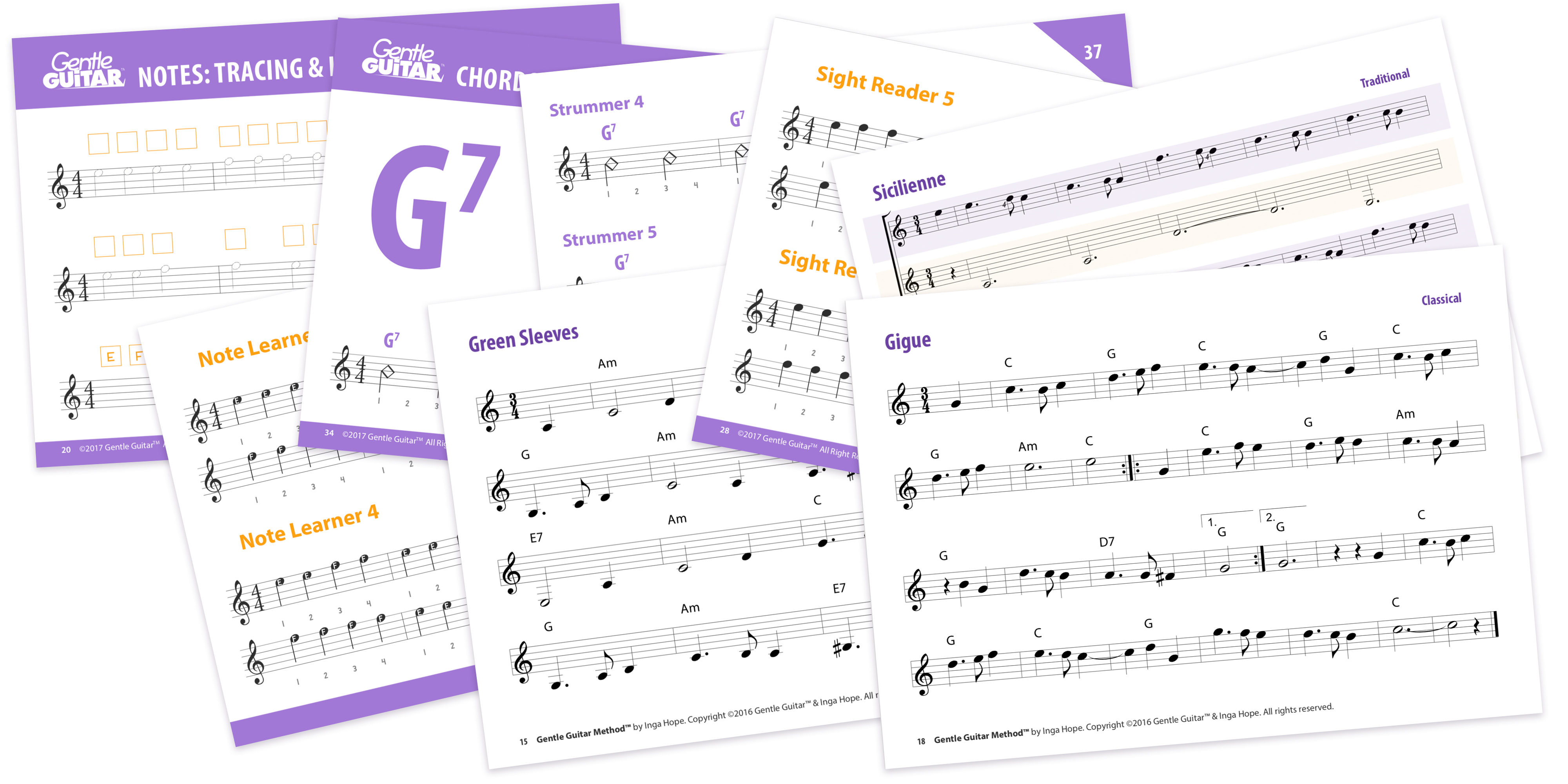 Wide Range of Playing Techniques
We teach classical and a popular guitar music so that kids can build up their own musical preferences and develop a wide range of playing techniques.
The music and lyrics we expose kids to is carefully selected and is 100% child-safe.
Children are exposed to different musical genres and time-periods.

"The instructors really get to know the child" 
— Erin (USA)

"A wonderful way to expose a child to music
in their own environment" — Nikki (New Zealand)
Luci showed an interest for classical guitar and after she completed the Foundations Curriculum, she was encouraged to study the classical guitar techniques and build a repertoire of classical songs that she can now perform.
Testimonial
We feel Luci has really progressed wonderfully. We are impressed that she can not only play songs, but read and write music. In Luci's words she likes 'learning new songs and being good at them'. I think this reflects the really good progression and attention Inga gives to her as a student. She knows how to balance the challenge and fun.
Inga is very passionate and professional and has made us feel very confident to have Luci learn with her. She relates really well to children.
— Samantha M. (Auckland, New Zealand)
Book a no-obligation free trial lesson to connect with a specialist teacher and get all your questions answered!
Professional Musicianship Foundation
We teach classical and modern-acoustic guitar with focus on music theory foundations.
The Gentle Guitar™ method places emphasis on correct left-hand and right-hand technique.
Kids learn good playing habits from the start and this helps them commit to learning the guitar long-term.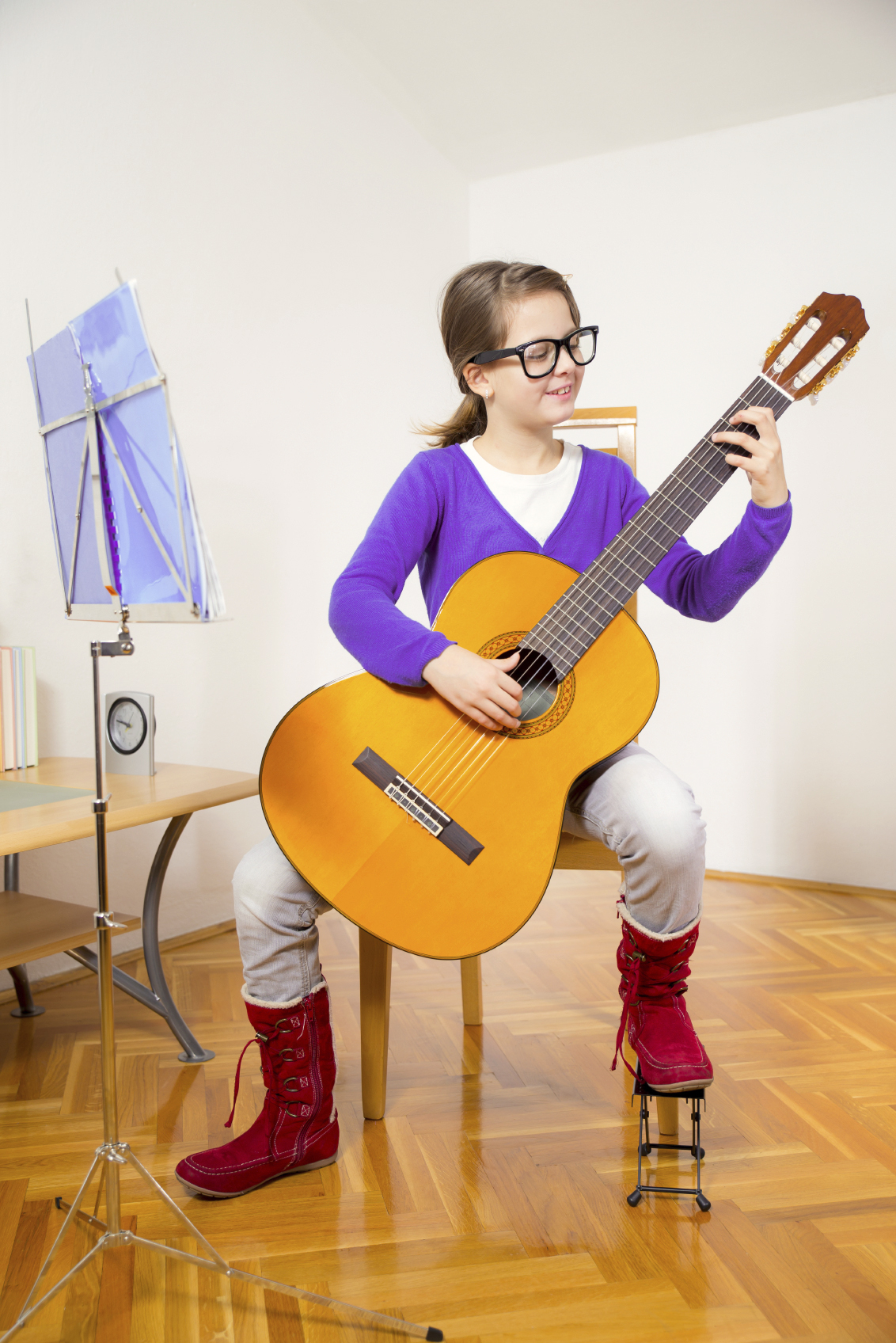 Songwriting on the Guitar
Learning music should allow kids a safe outlet to self-express.
Making music should be fun and creative.
It should also build life-long skills such as patience and perseverance.
Songwriting is a way to motivate kids to learn complex musical concepts and put them into practice.
Many children ages 9 and older enjoy writing their own songs.
Many young girls and boys also love singing and playing the guitar!
What's special about Gentle Guitar™ is that we encourage creativity and teach children to write and record their own songs.
Isabella showed a talent for songwriting, so we focused on developing her natural gift for musical creativity.
So many creative kids get "put in a box" and are not given the full opportunity to develop their unique gifts and abilities.
Our teachers are on the look out for talent.
When we see it, we go out of our way to challenge each child and nurture his or her unique gifts.
Testimonial
Inga has a nice nature, is engaging with children, able to allow them to enjoy and learn simultaneously, and provides honest feedback on the children's progress. I would recommend Gentle Guitar™ for private tuition for children especially as the teachers have a gentle manner and strike a great balance between learning and fun.
— Carmen V. (Auckland, New Zealand)
Ideal For Homeschool Music
The Gentle Guitar™ method is an ideal solution for homeschool music lessons.
Our kids guitar lessons are academic and include theory and standard notation, which provides a rounded music education.
Over 50% of our students are homeschooled.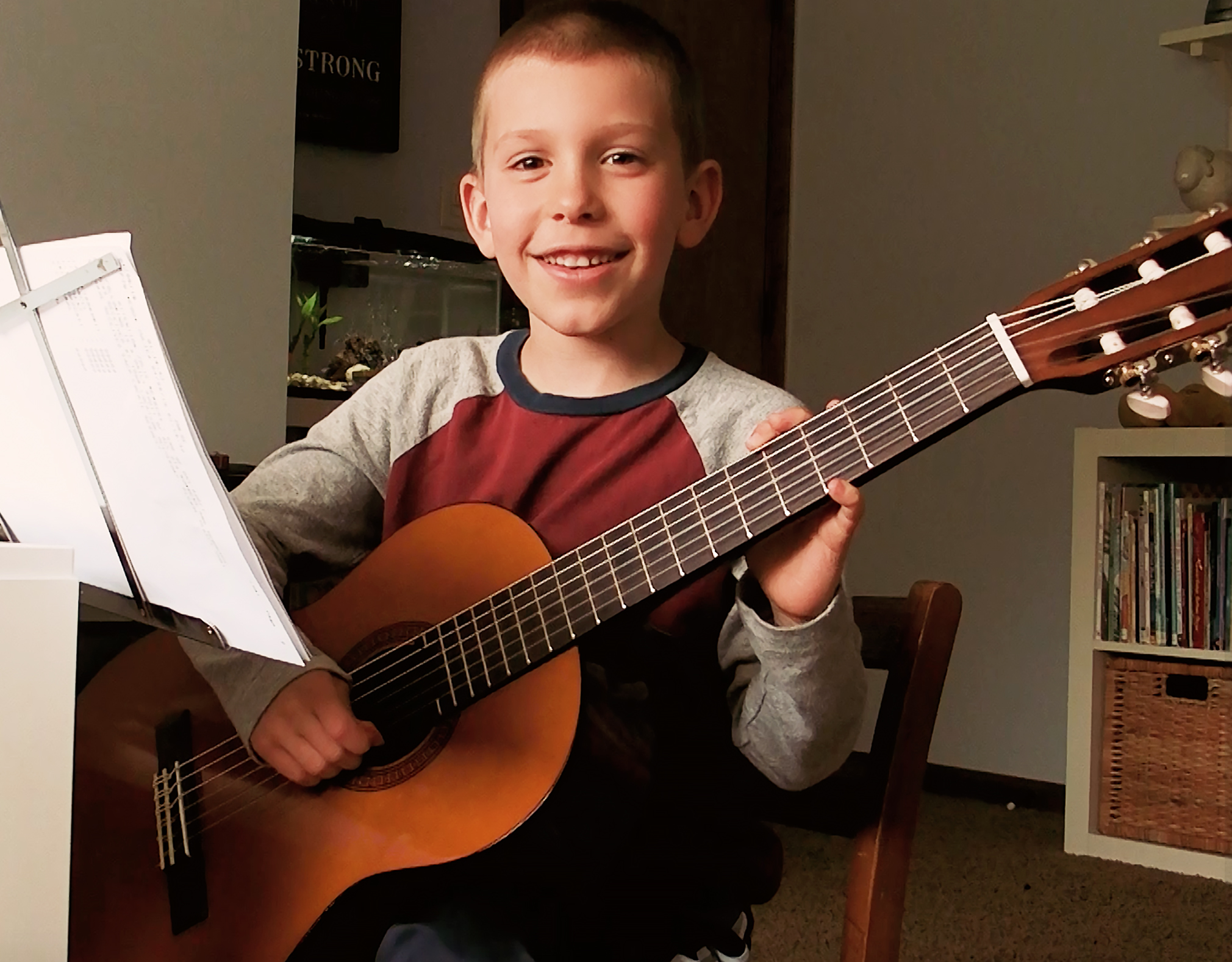 Like most of our students, Aaron has developed an amazing work ethic thanks to his mom who sits in on the lessons and assists Aaron during the homework practice. The lessons have been helping Aaron overcome his perfectionism and teaching him that mistakes are a part of learning. Now Aaron is not afraid to tackle bigger tasks and is no longer intimidated by mistakes.
Testimonial
I first discovered Gentle Guitar™ through Pinterest, as I was researching options of adding guitar instruction to our homeschool curriculum.
I appreciated that with Gentle Guitar™ we can have the lessons at home and at a time convenient for our family and homeschool routine. I love that Aaron's lesson is in the morning as part of our homeschool day. I value Gentle Guitar™ as a component of our overall homeschool curriculum, not just something "extra-curricular".
We decided to try the online lessons because the cost of Gentle Guitar™ over Skype was essentially the same as what a local instructor would charge, yet much more convenient!
Guitar has been a wonderful outlet for Aaron's musical expression. He's learning not just music theory and guitar skills, but he's growing in creativity, discipline, and perseverance. As a mom, I appreciate that Gentle Guitar™ lives up to the name and is truly gentle! The pace is individualized for the student, our teacher's demeanor is very warm and encouraging.
People are amazed when they find out Aaron attends lessons through Skype, but it's such a wonderful way for him to learn. And because I sit with Aaron through the lesson, I'm actually learning right along with him! If a family intends to pursue guitar instruction, there's no reason not to give Gentle Guitar™ a try.
— Amy B. (Chicago, USA)
Christian & Worship Curriculum Available
The Gentle Guitar™ method is available as a Christian Worship Curriculum.
After kids complete our Foundations Curriculum, they can choose to study guitar for worship.
We place emphasis on playing live in Church and help children prepare a repertoire of worship songs.
Our Skype Music Lessons Prepare Kids for a Life Of Success
Most other music schools and teachers work with the child in isolation, while the parent waits in the car or runs errands.
This approach excludes the parents from a thorough understanding of the music-learning process.
Preparing a child for a successful life takes excellent role-models and support from the adults in their lives.
Musicianship for kids, is the process of mentoring a child and instilling the love of learning, using music as a toolbox.
Our method is designed to guide and mentor kids, but we also rely on your family to continue the work at home.
By participating in the lessons with your child, you'll see the excellent work that we do, and you'll be able to provide extra support at home.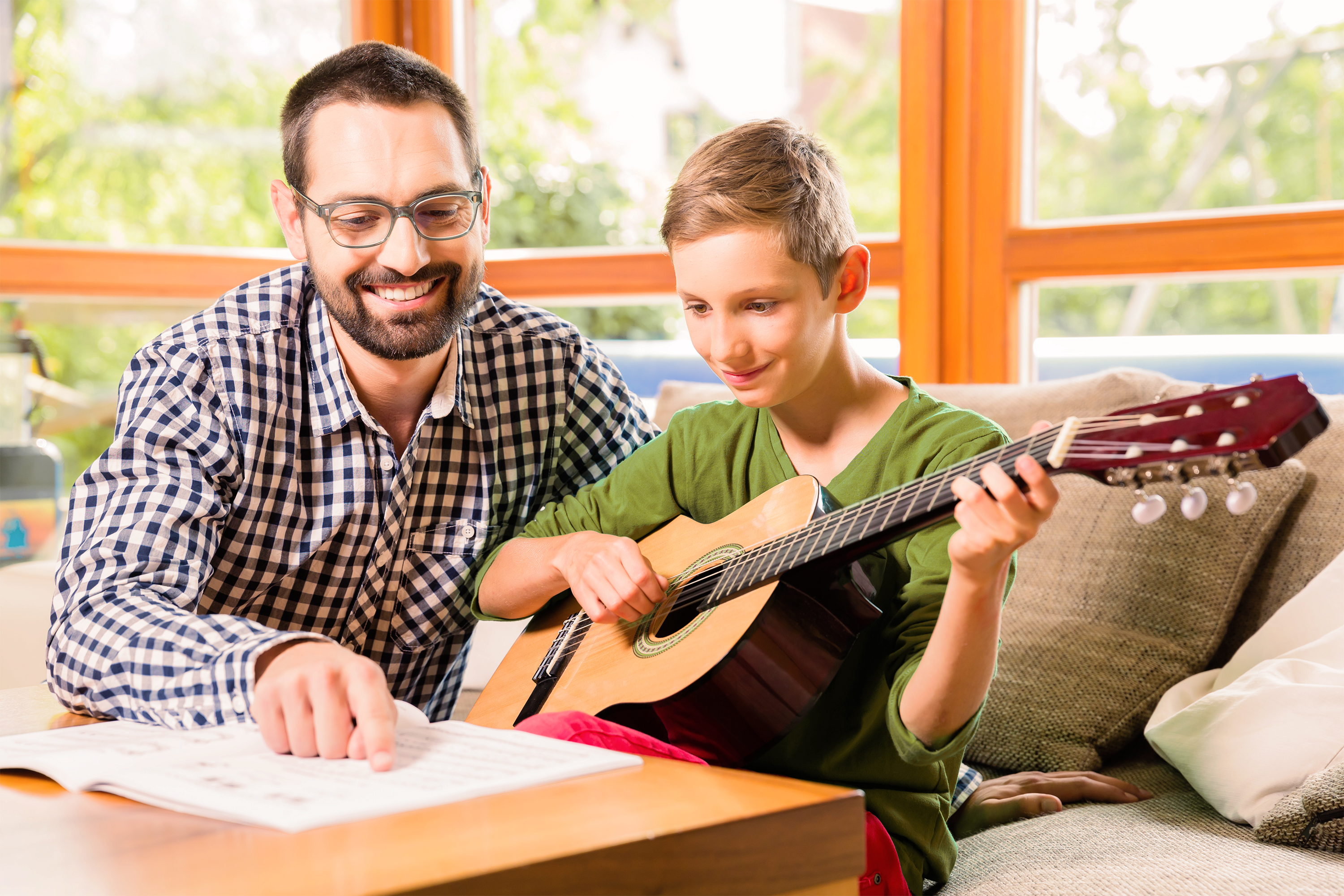 Our private guitar lessons work amazingly well for young beginners and are taught via Skype all over the world!
Gentle Guitar™ Is More Than A Music School
We Are Role-Models And Mentors
Gentle Guitar™ teachers are professional musicians and trained guitar educators.
We work with a unique age-appropriate teaching method and coach each child at their individual level.
With a gentle approach and plenty of patience, we inspire children to get excited about learning!
We go out of our way to be excellent role models for kids and teens of all ages.
We are a small international team, bringing quality music tuition to students all over the world!
The Gentle Guitar™ teachers are specialists in kids and beginner guitar tuition.
Over 1000+ lessons, 9 countries, 7 years of results!
Book a no-obligation free trial lesson to connect with a specialist teacher and get all your questions answered!