Online Beginner Guitar for Kids with Live Teachers
THE FUN & PROFESSIONAL METHOD FOR LEARNING GUITAR FOR KIDS (5 to 12)
10000+ LESSONS, 9 Countries, 7 YEARS OF RESULTS
Let Your Child Learn Music & Guitar Playing at Home with a Live Teacher on Skype
Book a Free Trial Lesson
Finally, the fun and professional guitar learning method used by hundreds of kids and youth students around the world is accessible to you and your child in the comfort of your home.
No more struggling to learn guitar on YouTube or from ineffective local instructors who are not experienced or trained to teach kids and younger children. Now the world's top specialists in kids guitar tuition can come to you no matter where you live. As long as you have a reliable Internet connection and access to Skype (or FaceTime) you can connect with a live teacher who will step you and your child through everything you need to know to get started learning beginner guitar the fast, easy and proven way. We specialize in home school, rural, remote location, expat and ex-patriot guitar lessons!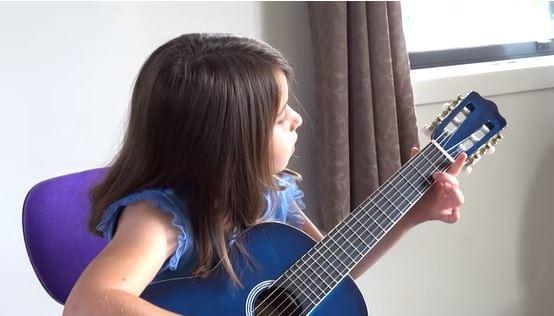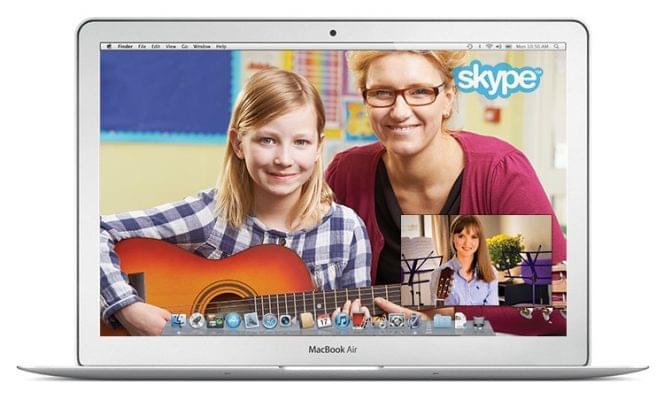 Professional and Fun
All lessons are taught privately one-on-one, with special emphasis on child nurturing and development. These lessons are successful in boosting self esteem, and are especially well suited to shy kids, those who need an
understanding instructor, and those who show a particular interest in music and creativity. We offer the highest quality of tuition you can find, and best value music instruction for grade school or primery school boys and girls ages 6 through 12+.
.
Convenient and Flexible
Signing-up for a kids guitar lesson has never been easier! The Gentle Guitar™ program is taught to you and your son or daughter, one-on-one, via Skype with instructors who are well-versed in the specific challenges of teaching music and guitar to children. 
You'll be on time every time and you won't have to beat traffic and waste valuable time travelling to and from lessons. Instead you'll invest quality time bonding with your child over a rewarding educational experience
Real Progress and Results
The Gentle Guitar™ proven method has been taught successfully since 2013. We've seen the
progress made by our students and are really proud of the results. You can see for yourself! Check out this before and after student performance! More Student Performances
The Gentle Guitar™ Method
For kids from 5 to 12+ years of age


The Gentle Guitar™ method is designed for children. It adapts to the child's individual level of development. A five year old can follow along just as easily as a twelve year old. Complex musical content is broken down into fun written activities, easy progressive exercises and musical games.
While most other guitar methods for kids focus on strumming popular songs, at Gentle Guitar™ we care about giving your child the best possible musical foundation. That's why our method is both fun and academic. Our program is a great introduction to guitar that preps the student correctly for a more advanced classical guitar or pop guitar focus later on.
The Gentle Guitar™ method, at its core, has your child's overall development in mind.
Kids learn to
 Read Music
 Write Music
 Write Their Own Songs
 Establish Good Playing Form
 Have Fun
Age-appropriate musical activities that stimulate the brain and build character
The Gentle Guitar™ method provides a truly comprehensive system of music learning for kids.
Lesson after lesson, your child will become a talented musician who can play, read and understand music.
The method was created back in 2013, originally for use in various settings, including one-to-one, groups and classroom lessons. Since 2015 it has been optimised for online tuition and is now taught 100% on Skype (or FaceTime) to students all around the world.
10000+ LESSONS, 9 Countries, 7 YEARS OF RESULTS. IT'S SIMPLE. IT WORKS.
Book a Free Trial Lesson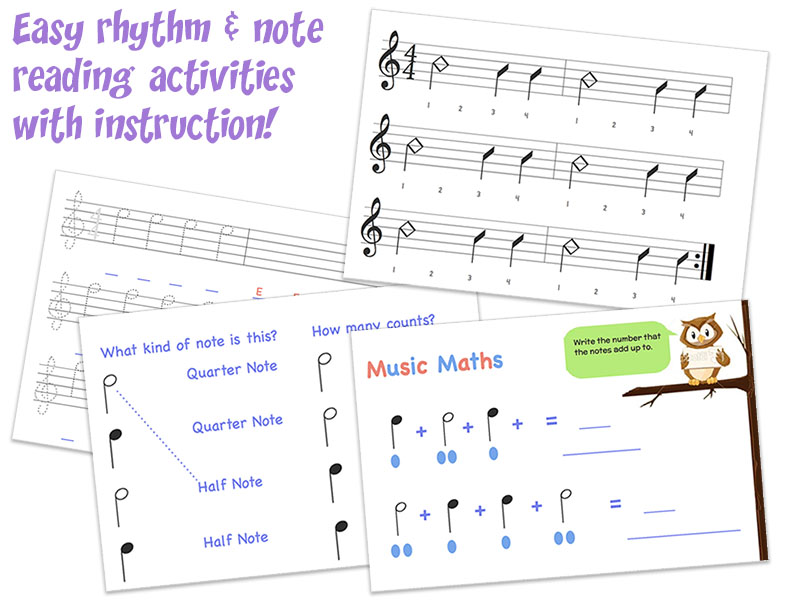 Here's How It Works
The first thing you can do is book a free no obligation trial lesson. If you've never tried learning online with a live teacher before, you're in for a treat! Experience it first-hand to make sure that this format works for you. Our students tell us that it's the best thing they've done because now they feel like they get a professional and specialized lesson without ever having to leave home. It's convenient and it saves travel time and money.
First you will book a free trial lesson and receive a free kids activity PDF workbook which you can then print out and have handy with some color pencils.
You'll pick a time that suits you to meet with a friendly and experienced teacher. You will connect on Skype, (or faceTime) right in the comfort of your home.
Your teacher will ask you about your goals and will take the time to get to know your child.
After establishing a connection with your child, the teacher will encourage you and your child to participate in the lesson by going through simple exercises in the fun PDF activity workbook.
Kids love the workbook because it helps break the ice and gets them to engage with music by tracing, writing, counting and clapping.
Kids between ages 5 and 8 don't need a guitar during the lesson. There will be plenty to do getting to know the A, B, C's of music.
Older kids ages 9+ do need a guitar at the trial lesson because they will be shown simple guitar exercises and they will need an instrument to follow along. (See how to choose the right guitar for a child).
As a parent you'll get to participate in the lesson and experience our efficient lesson format. Our method is a very homeschool-friendly curriculum that encourages parental participation.
You'll experience the warmth and professionalism of your teacher, and ask any questions you have about online tuition and in general about guitar lessons for kids. Our teachers work exclusively with kids and have years of experience helping kids learn guitar the right way from the start.
When you will see how relaxed and engaged your child feels during the lesson, then you can take your time to decide as a family whether the Skype lesson format with Gentle Guitar is the right fit for you.
Starting The Tuition
After the first free trial lesson, if you decide to sign up for the tuition, you and your teacher will pick a fixed weekly lesson time that suits you and your family. Once you agree on a time, you'll receive a PayPal invoice. At Gentle Guitar you pre-pay for 4 lessons at a time. So if for some reason you need to stop lessons, there's no contract or commitment. You can stop anytime. The cost of ongoing tuition varies between $25 and $30 per week depending on the tuition option you select. Your teacher will explain everything during your first free trial lesson.
Parents Give Testimonials
You Will Need:
INTERNET CONNECTION
Suggested at least 3 Mbps.
WEBCAM AND MICROPHONE
Any device such as a laptop, tablet, or smartphone meets these requirements.
SKYPE ACCOUNT
A Skype account is necessary to be connected to the teacher.
PARENTS ASSISTANCE
All kids must be accompanied by a parent or adult during the first lesson.
Kids under the age of 10 must be accompanied by an adult at every lesson and at all times during the instruction.
GUITAR
Families with kids ages 5 – 8 do NOT need a guitar or a musical instrument to try the first free lesson. The first lesson is designed as an introduction to music. You'll get a fun music theory activity booklet that you'll have to print out and have handy during the lesson. You and your child will clap rhythms and learn to read, trace, color and write music notes.
Families with kids ages 9 – 12  DO need access to a tuned guitar to try the first free lesson. Your child will learn how to read and write music, as well as get an introduction to playing the guitar.
Your child will love it!
This free trial lesson is 100% no commitment. It's designed to answer your questions about kids music tuition and give you a feel for what the lessons over Skype are like. The lesson is 30min and packed with fun activities and Q & A.
Book a Free Trial Lesson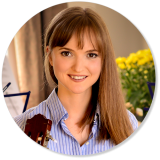 If you don't see a suitable time in the booking calendar, subscribe your details below and I'll get back to you right away! (By subscribing your detail you give me permission to have a personal correspondence with you).
IMPORTANT NOTE
Please note that we can only schedule one free trial lesson per family, so consider a good time for your family before you book the trial. Once your lesson time has been confirmed, if a cancellation or reschedule request is submitted a lesson fee of $25 USD will be due prior to approving the new booking request.