Here you can read reviews by homeschool and parent bloggers. Some of these reviews were sponsored and some of them were written as a part of our affiliate program. The idea behind these reviews is to give you an "inside look" into the lessons. These reviews offer a more in-depth look into what happens in a lesson from the perspective of a parent, and how the tuition works. All of these reviews are honest and were not influenced by Gentle Guitar™. Many of the bloggers who tried Gentle Guitar™ lessons ended up becoming our long-term students!
Guitar Lessons for a Musically Gifted Student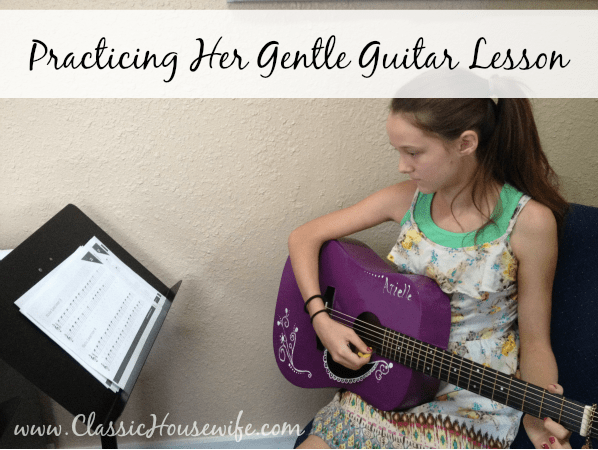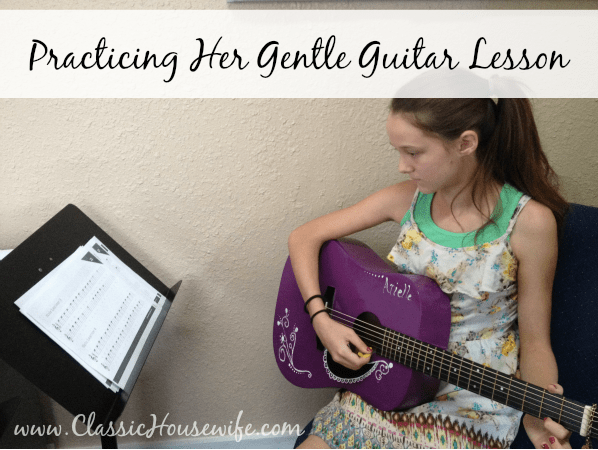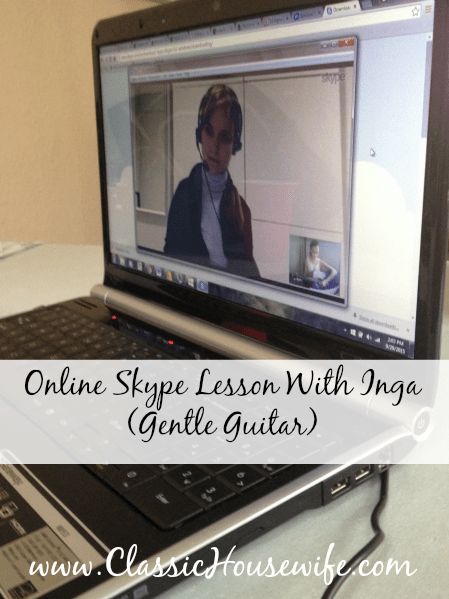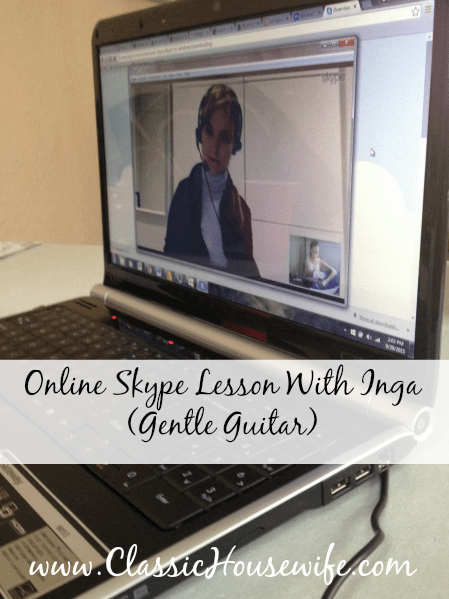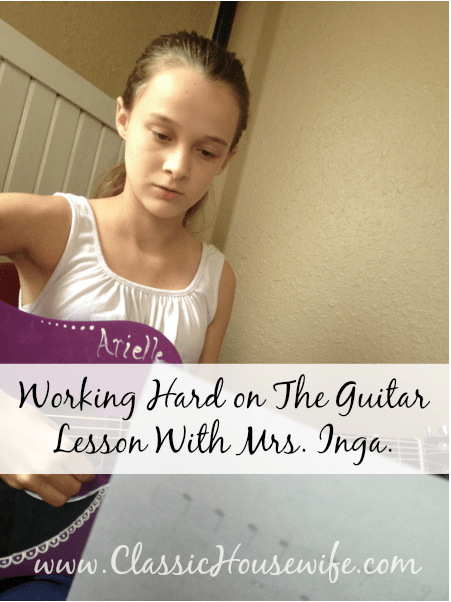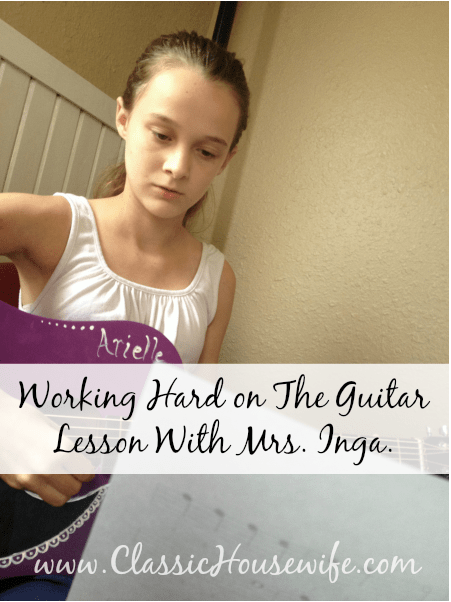 Arielle is our musically gifted child. She has loved to sing as long as I can remember, and 3-4 years ago she took up guitar–this tiny little 9 year old with my husband's great big guitar. Our pastor was giving group guitar lessons after church and she and I both joined. She took to it quickly, learning the basic chords and basic strum rhythms.
For her tenth birthday she got her own (custom painted by mom and dad) child-sized guitar. She practiced and learned a few new songs, and she even wrote a song for me for Mother's Day and another for my birthday! She loves her guitar.
However, she (and her father, and I,) have been largely self-taught and have learned only to play songs with chords written above the words. And with her musical interest, I would like her to learn more of the theory behind the music.
Also, (as often happens with mothers and daughters) I would like to improve her technique, musical style, and variation of strum patterns,. . . but sometimes my suggested improvements come across as picky-mom-criticisms instead.
We need someone who knows more about guitar than I do, who knows how to teach theory and style, who is great at teaching young girls (and who isn't mom.)
Personal Guitar Lessons, Online With Gentle Guitar™
Each week we "met" with our instructor using Skype. The first week we met Inga, we were immediately struck by how warm and friendly she is. (We also love her accent!!) For thirty minutes, she covered material (given to us via eBook,) and gave my daughter gentle tips and pointers for posture and hand position (things I didn't even know!)
She began introducing my daughter to basic music theory, learning about counts and measures and rhythms, helping her when she got confused or missed one. No "picky-mom-effect" here!
At the end of each lesson, Inga would give homework to be practiced and some posture and technique reminders to work on. Afterward, she would email anything we needed for the next lesson.
Over the next two weeks we met two more times for follow-up lessons, and Arielle, with her pre-existing knowledge base was able to move through the material pretty quickly, with Inga adjusting and adapting the work to her pace.
introduction to music theory – check!

improvement of technique – check!

personal attention – check!

encouragement and positive feedback – check!

easy to do from home, outsourcing, no "picky mom" – check, check and check!
At the end of the trial period, we were both very pleased with the experience, and yes, we would very much like to continue with Inga.
Gentle Guitar™ Is The First Brand To Specialize In Online Guitar For Kids
Taylor, our sweet creative ten-year-old daughter, loves her guitar. Before we moved to Mexico some family friends in Kentucky gave her an old, beat-up guitar. When I was asked to review Gentle Guitar™ and try three free lessons, I jumped at it. Taylor loved her lessons and we would like to continue them. I encourage you to give them a try as well. If your kid loves guitar, he will love these music lessons.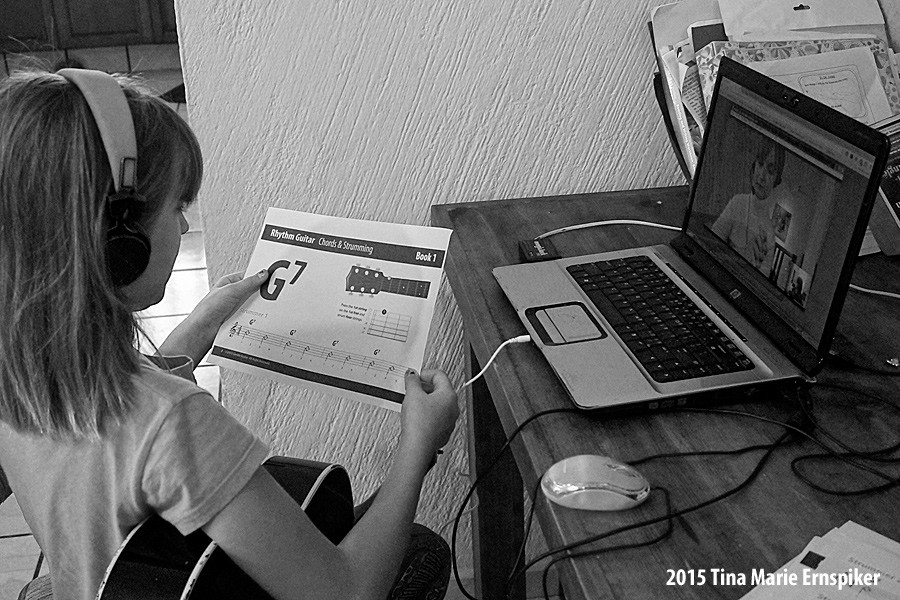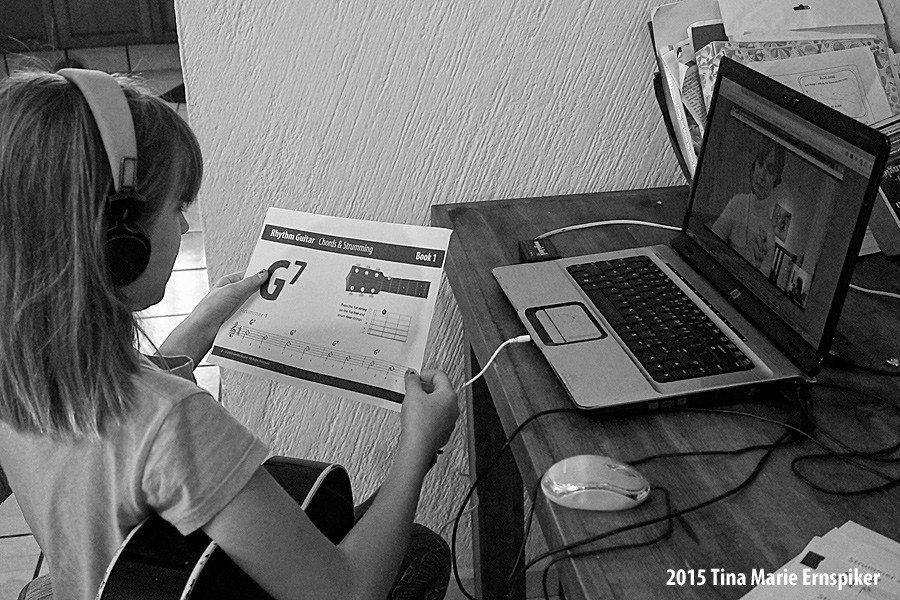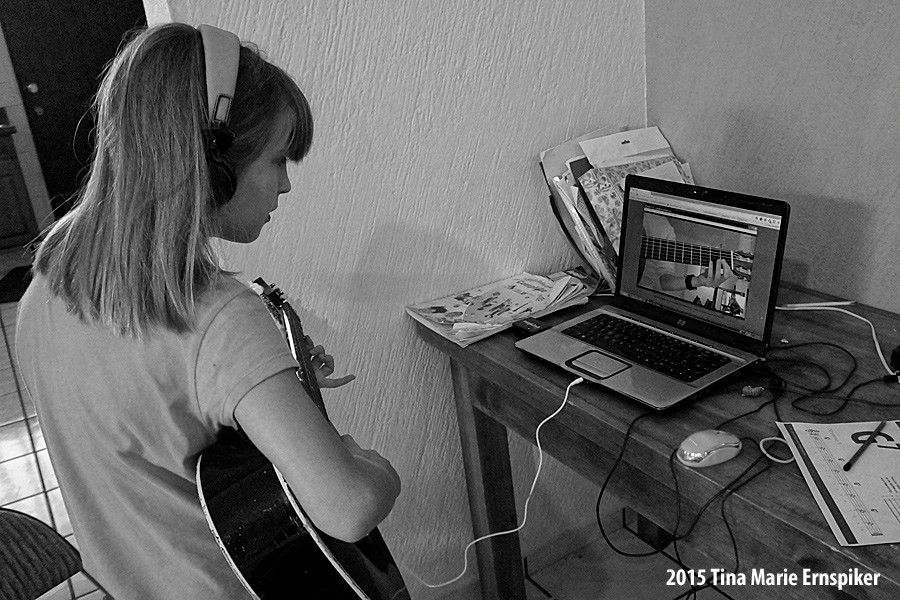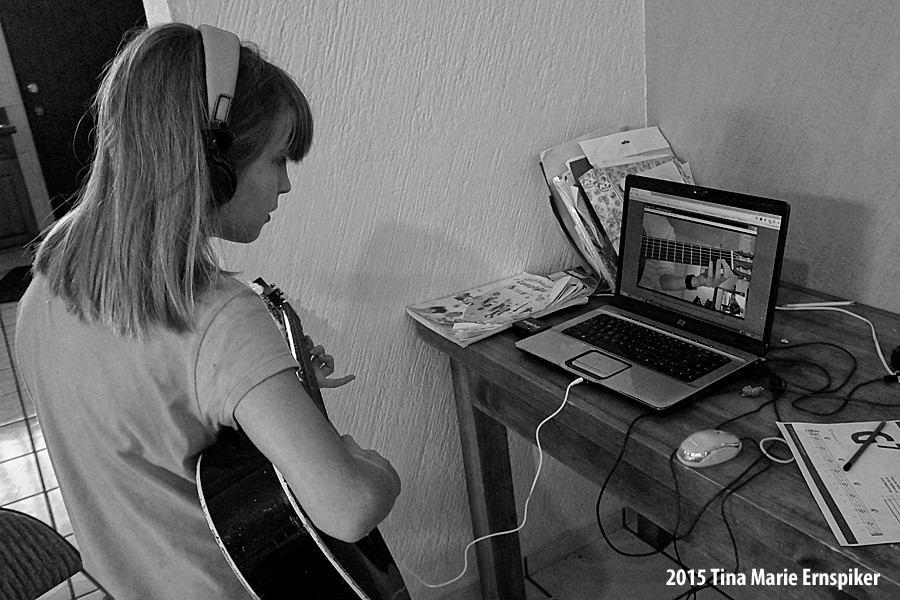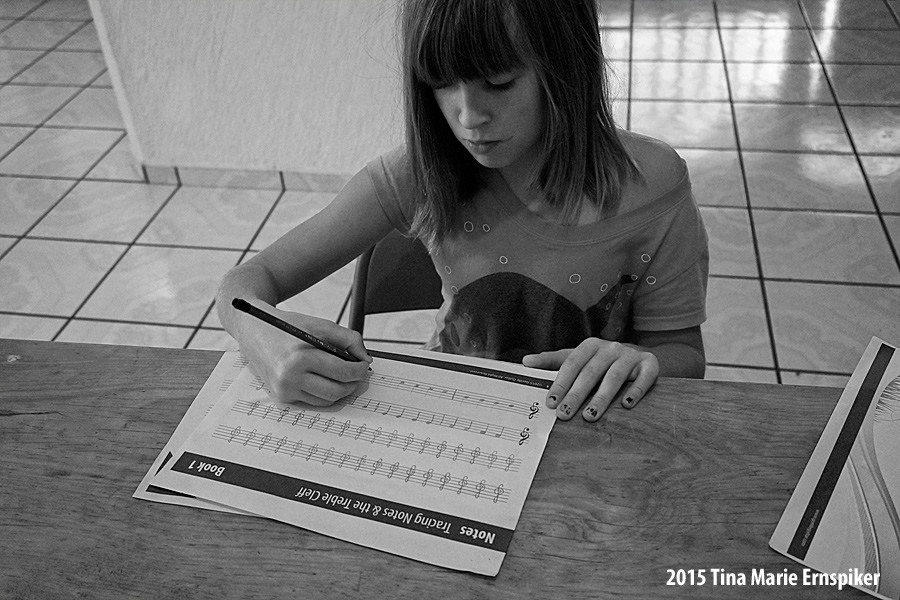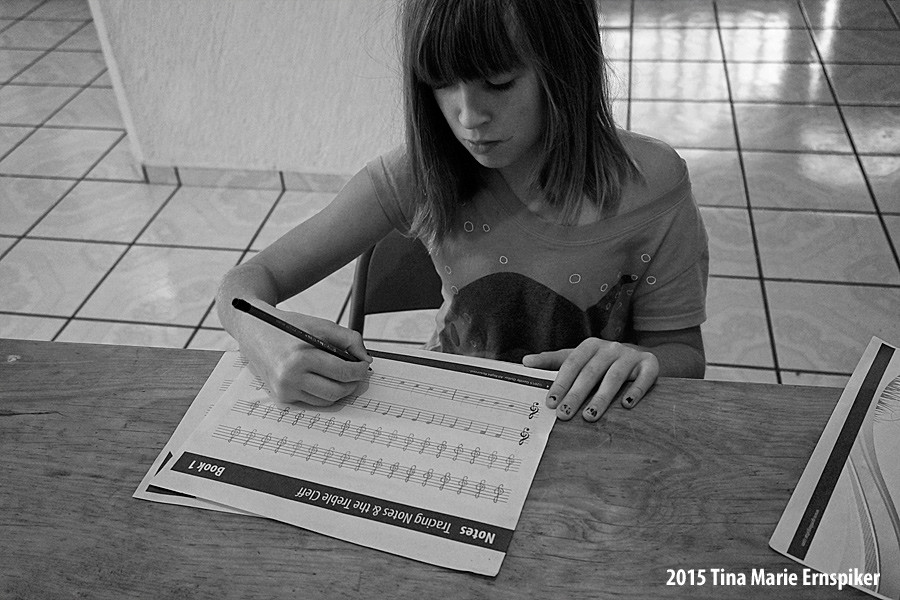 Why Should I Use Gentle Guitar™? Gentle Guitar™ is taking the lead in offering online guitar lessons for children.
There are other companies that offer something similar for adults. But Gentle Guitar™ is going in a new direction and offering guitar tuition for children. They the first brand to specialize in online guitar for kids.
Here are a few things we liked about Gentle Guitar™ and I think you will find these points helpful as well:
With their live Skype lessons Taylor had her very own private tutor.
They worked with our schedule and we were able to pick a convenient time.
They give you printable workbooks to use during class and as homework.
The customer service is superb and communication is fast.
Pricing is very reasonable, with several curriculum options.
We have enjoyed our experience with Gentle Guitar™. We hope you will join us. Give your child the gift of music lessons and watch them glow!
Gentle Guitar™ is an Online Guitar Curriculum Specifically Designed For Children
We all know that the best time for a child to learn a musical instrument is as early as he or she is able to attend and understand. It's a shame that school systems wait so long to introduce music lessons to children.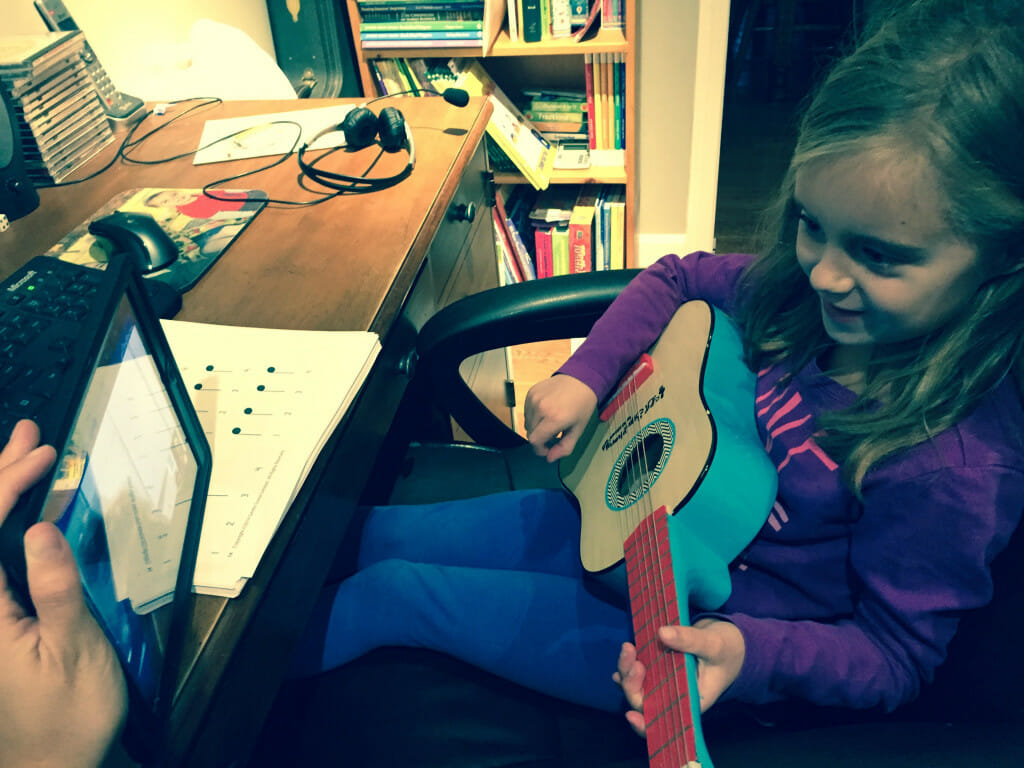 One of the benefits of Gentle Guitar™ is flexibility in scheduling. We are a family of early risers and so on this particular day, our lesson was scheduled for 6:30 am. T was able to have a guitar lesson before catching the bus!
WHAT DID THE 7 1/2-YEAR-OLD THINK OF GENTLE GUITAR?
Leo is 7 1/2-years-old and has been taking piano lessons since he was 6 1/2-years-old, so he went into these lessons with a musical background.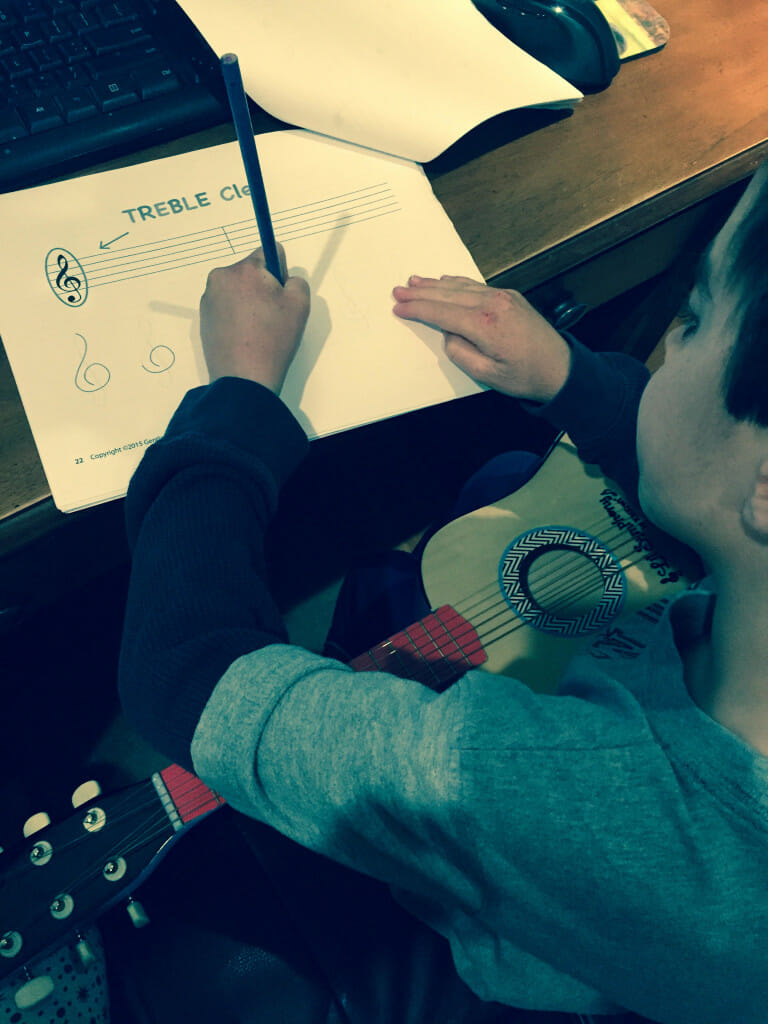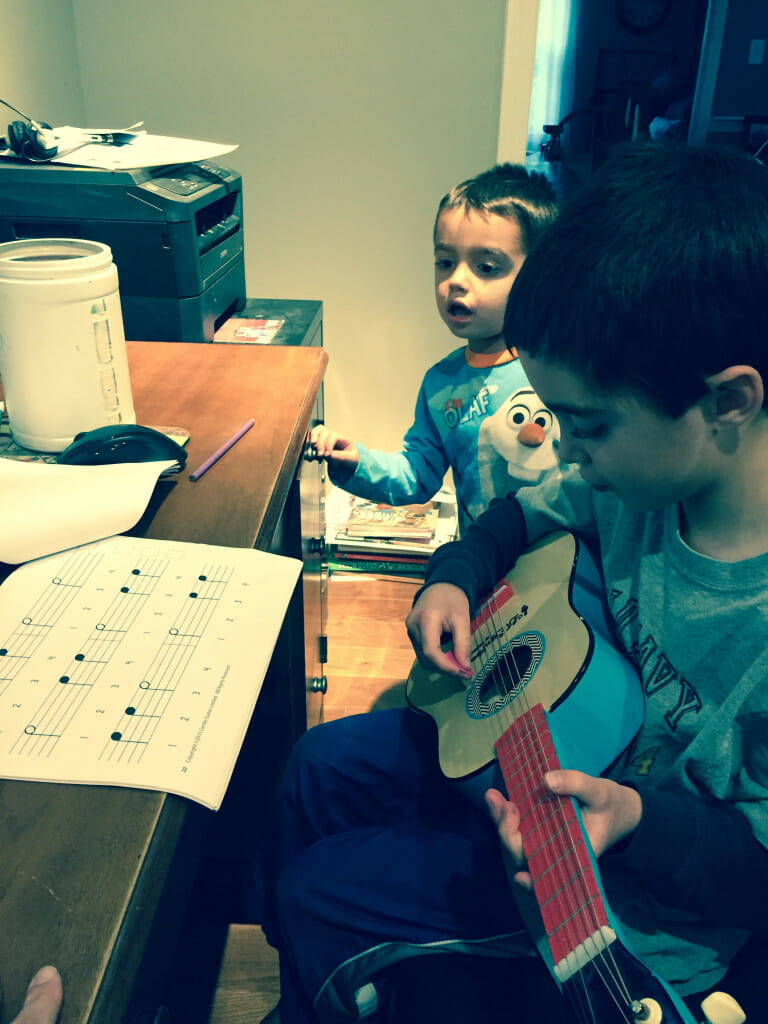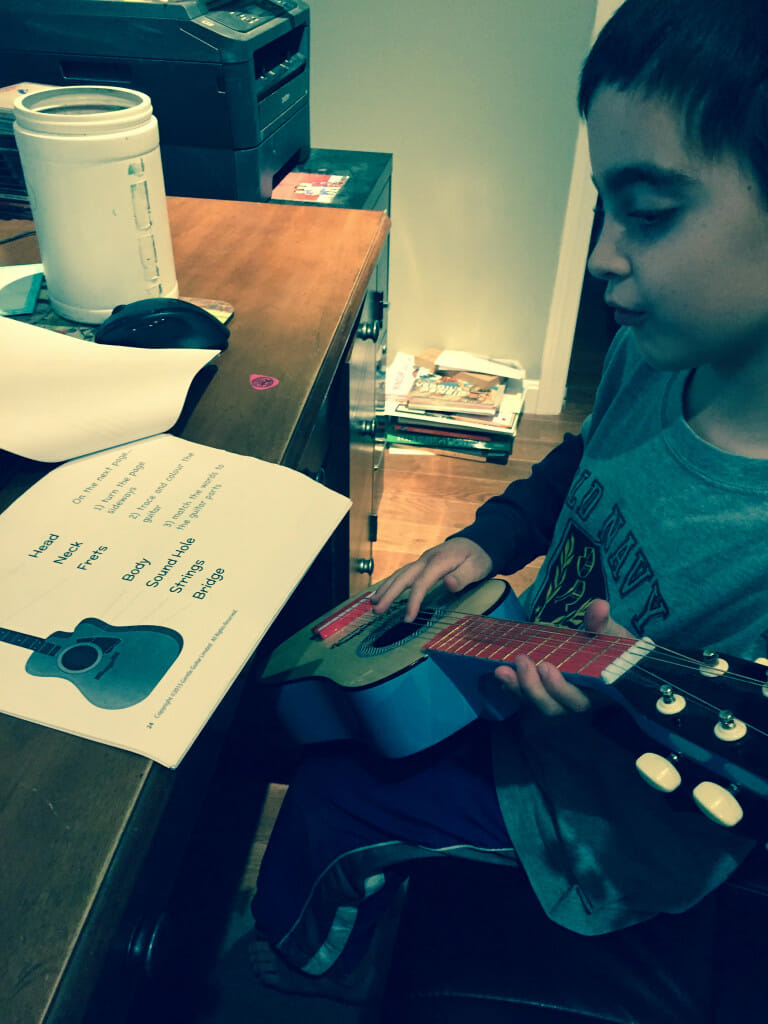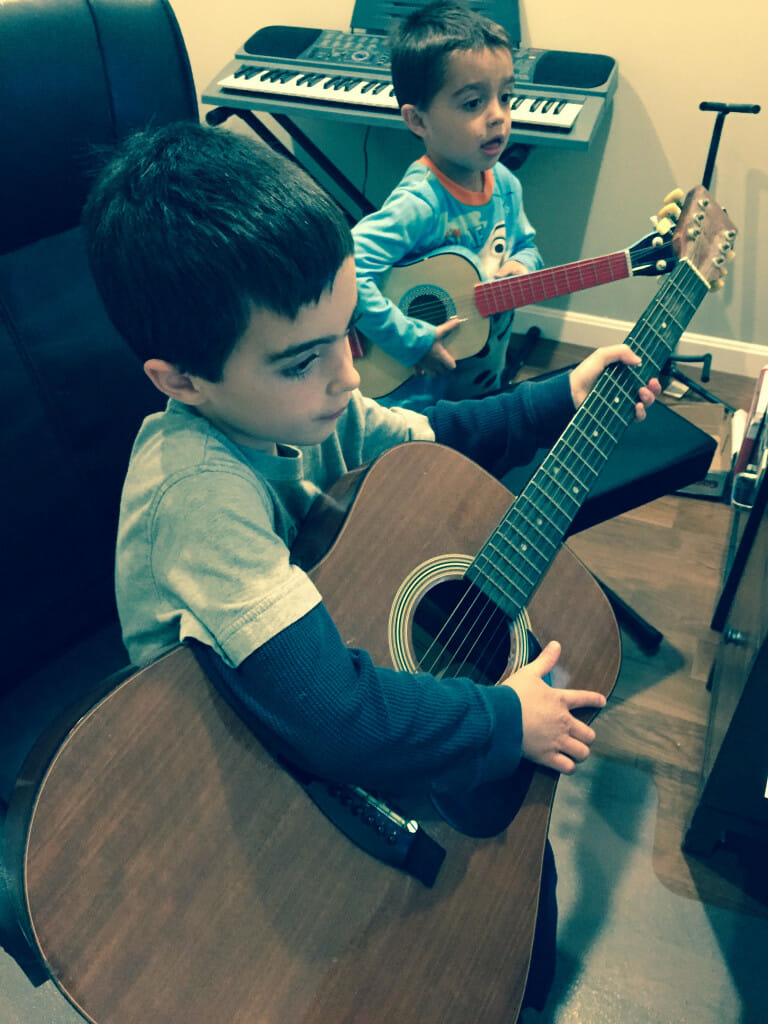 Leo had a blast! He thought it was fantastic that he was chatting with an instructor in New Zealand! During his first lesson, he reviewed some music theory concepts and notes. He also learned the parts of a guitar and how to properly hold and strum the guitar.
Now, as the parent of a gifted child, I thoroughly appreciated how our instructor, Inga Hope, was able to zip through the parts that Leo already knew. There was no drill and kill with Gentle Guitar, but rather if he demonstrated that he knew something, he moved on.
At the beginning of our lessons, our instructor said the guitar would be fine for the first several lessons, but Leo zipped through his lessons and needed an actual guitar (read: one that could hold a tune). It was clear the child-sized guitar pictured above was not going to cut it.
We initially tried the lesson with one of Schizz's old guitars, with little brother happily playing back-up, but our instructor did not want to continue with a steel stringed guitar, as it is too hard on little fingers. As a parent, I appreciated that our instructor was on top of this and concerned for my child.
The moral of this story is to try to stay one step ahead of your gifted child. Leo has his sights on a real, kid-sized guitar for Christmas, and assuming Santa delivers on this hope, that's perfect timing in order to take advantage of Gentle Guitar's February 2016 online guitar course start!
WHAT DID THE ALMOST 6-YEAR-OLD THINK OF GENTLE GUITAR?
T was thrilled when she learned that she could finish up our Gentle Guitar™ lessons. She had been watching Leo's lessons and was anxious to get started. At almost 6-years-old, T has yet to take music lessons of any kind so these were her very first lessons!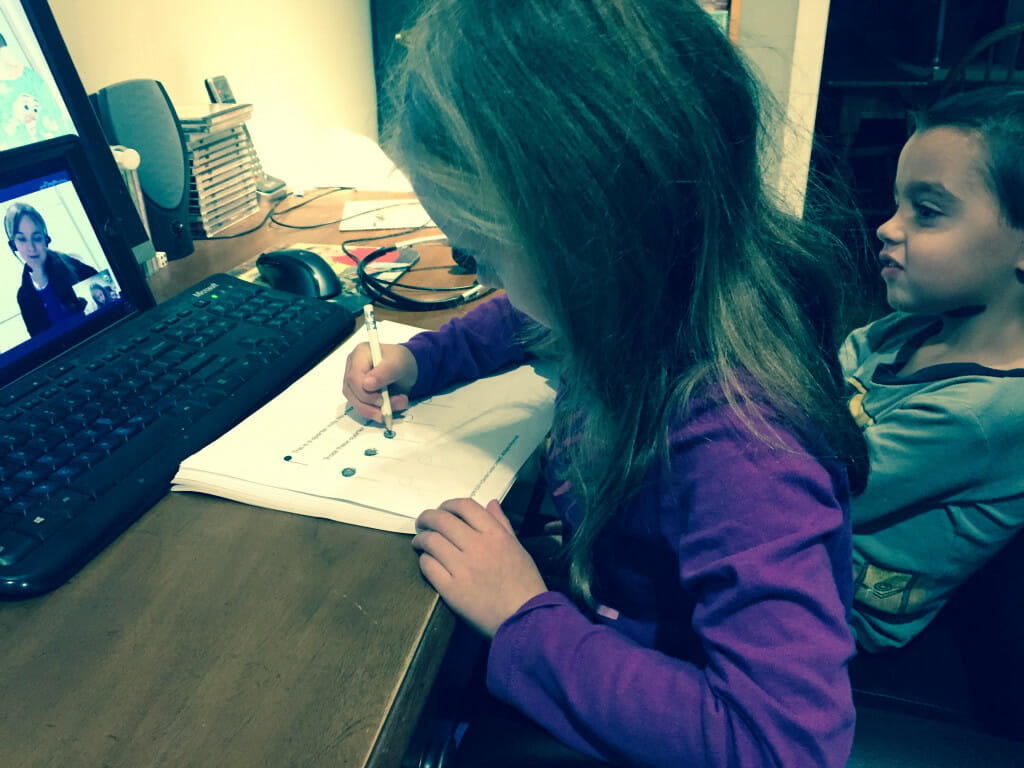 1.T's first lesson started off with an introduction to quarter notes. She learned what quarter notes look like and how many counts they have. After tracing the notes herself, it was time to try them out. First, by clapping and, later, by strumming the guitar.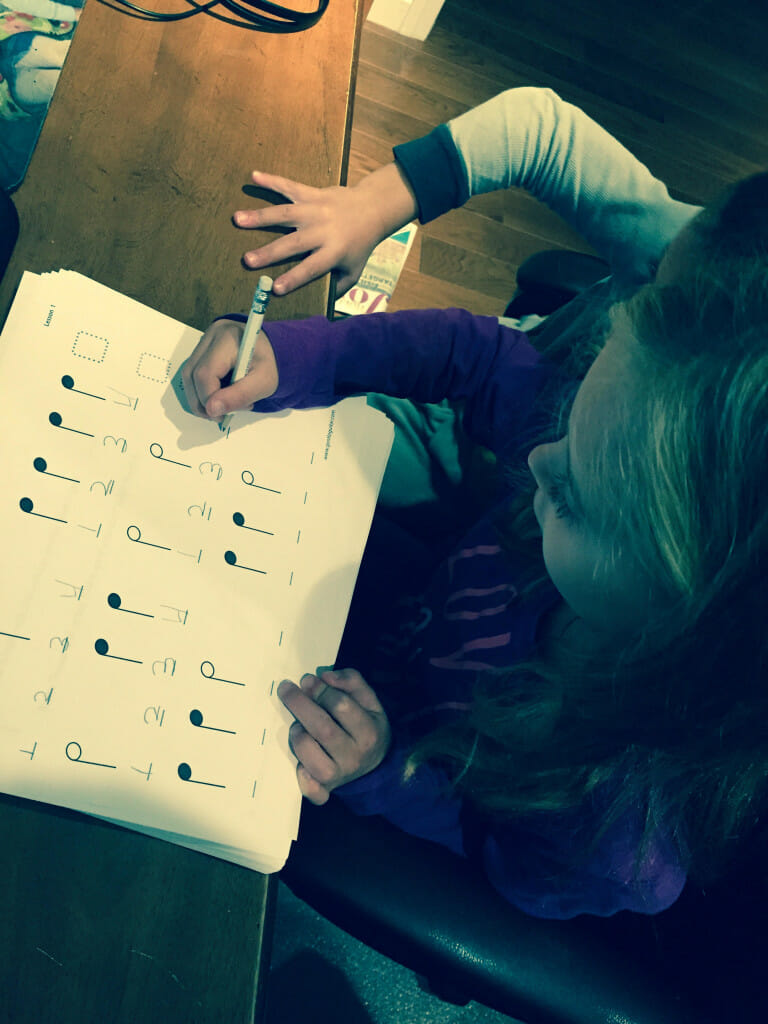 2.Next, it was time for T to learn about half notes. Then, it was time to mix it up. T was asked to look at this page and fill in the number of counts below each note. When she was finished, she followed along by clapping.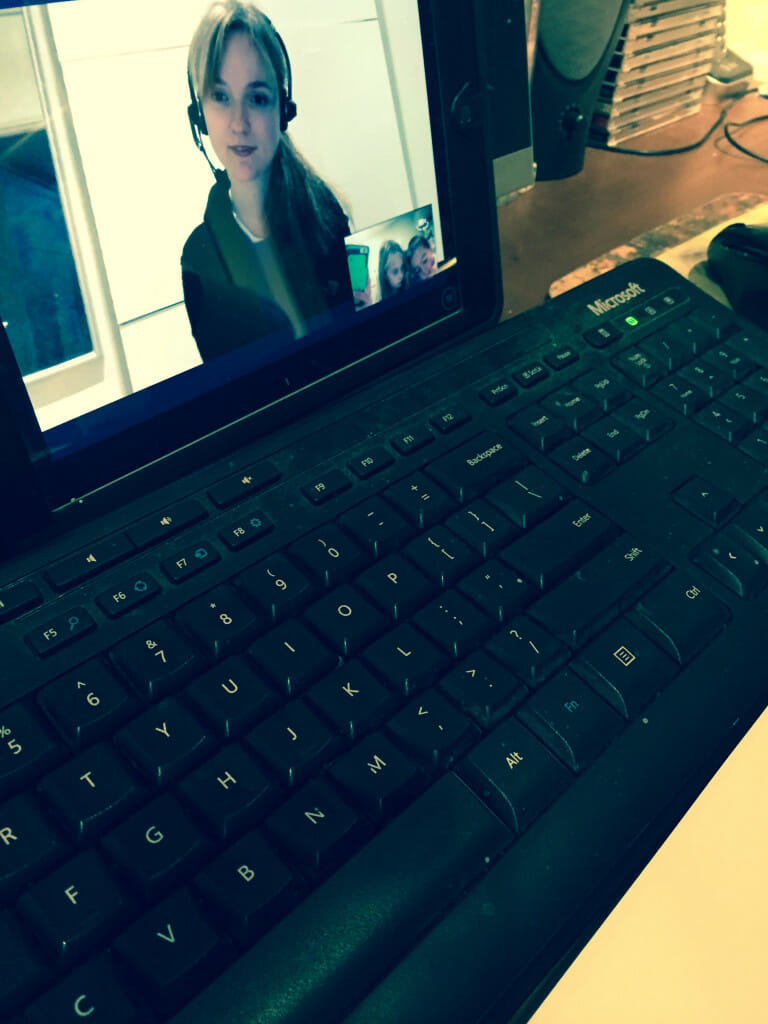 3.At times, my sweet T got nervous. Our instructor, Inga Hope, handled this beautifully. She encouraged my little two to sit together. There is safety in numbers!
It is safe to say that Miss T loved her first music lesson. And, do you want to know a bonus? We had a blast eating breakfast together, chatting about New Zealand and geography. T was over-the-moon that she had Skyped with someone on the other side of the globe!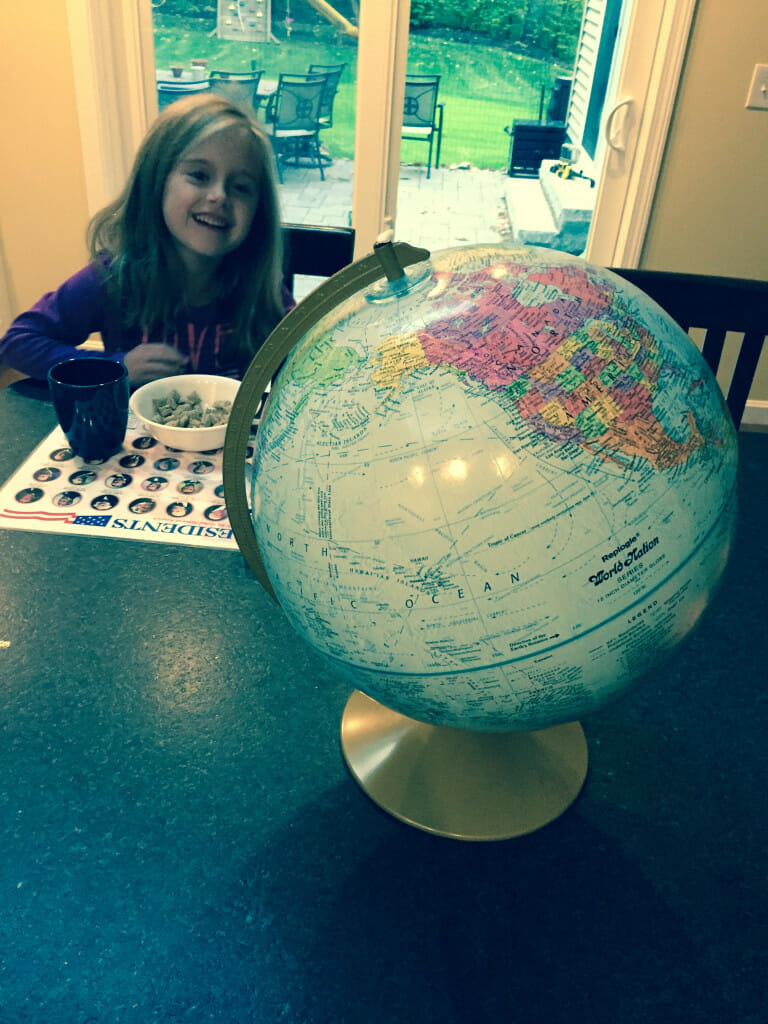 Gentle Guitar ™ Provides Private Online Guitar Lessons For Early Elementary Students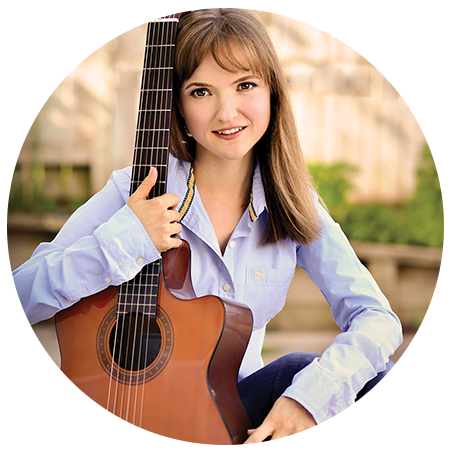 Inga, with Gentle Guitar™, had a very gentle teaching style that immediately attracted my initially shy girls. As a fellow music teacher, I also appreciated the precision with which she expected my daughter to read her beginning rhythms.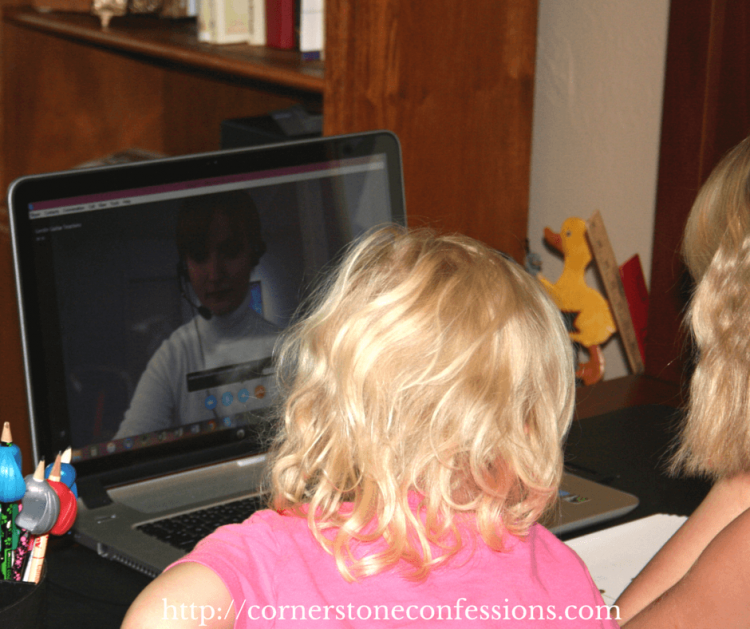 Try Online Music Lessons
There are so many online music lesson options out there today. Just do a google search for "online music lessons," and you will receive scores of online lesson opportunities for nearly every instrument.
At first I was very leary of these types of music lessons because the online lessons that I was familiar with were the kind that involved pre-recorded video lessons with no student-teacher interaction. How could a child expect to improve if he/she didn't have personal help from an instructor?
Well, online music lessons are not like that anymore. Now music lessons online are INTERACTIVE. By that, I mean the online teacher actually communicates with and teaches the student directly through the use of Skype, submission of practice videos, and other live feed connections. It's fabulous!
You can literally have a live private music lesson for nearly any musical instrument (including voice) from the privacy of your own home. You don't have to drive somewhere. You just have to have a computer and be at your computer on time! That's it!
Our Online Music Lessons Experience
One opportunity my girls recently experienced in preparation for this potential move was with Gentle Guitar who provides private online guitar lessons for early elementary students. My girls thought it was so neat that they had a private teacher all the way from New Zealand who not only knew her stuff, but also had a pretty neat accent.
Inga, with Gentle Guitar™, had a very gentle teaching style that immediately attracted my initially shy girls. As a fellow music teacher, I also appreciated the precision with which she expected my daughter to read her beginning rhythms.
To begin, Peanut had a music packet to download, print, and have ready at the first lesson. Inga then worked through the packet with Peanut one page at a time, and then gave her homework to practice throughout the week and mark off. The program was very well organized and, to my delighted surprise, began teaching rhythmic notation right away.
By the way, a little sidenote, Gentle Guitar™, is one of the few online music lessons that I found geared primarily toward younger elementary students. So, if this  is something you are considering for someone in that age group, I would seriously consider starting here. They teach you basic musical notation that can easily be transferred later on to nearly any instrument, not just guitar. Oh, and you don't even have to have a guitar for your first few lessons (which you can try out for FREE). Any type of instrument will do!
Amazing Program Where Guitar Lessons Are Done Via Skype
Do you have a child that would love to play guitar?
Maybe you are thinking you have no idea how to fit in running to one more lesson in your schedule?
I know the feeling, and I know that Gentle Guitar™ could be a solution for you!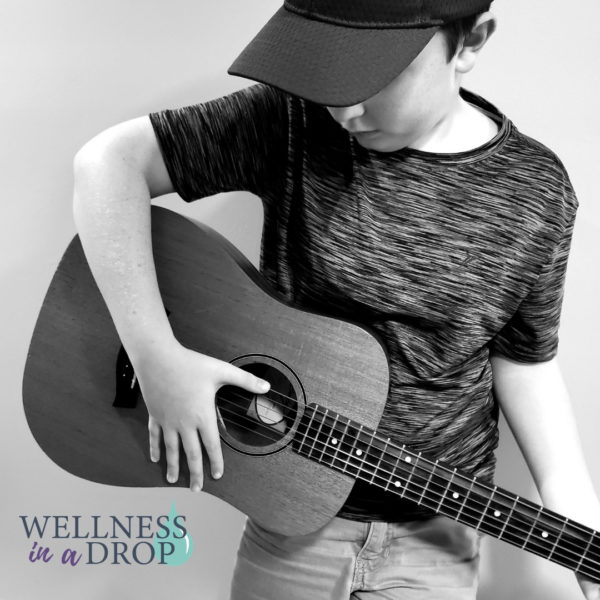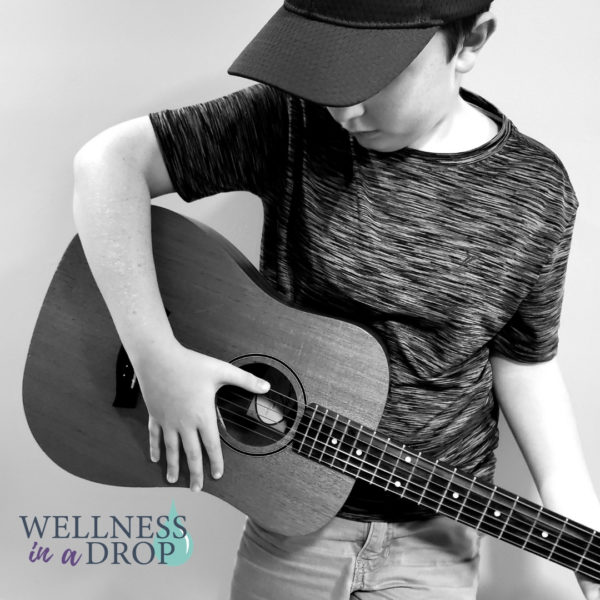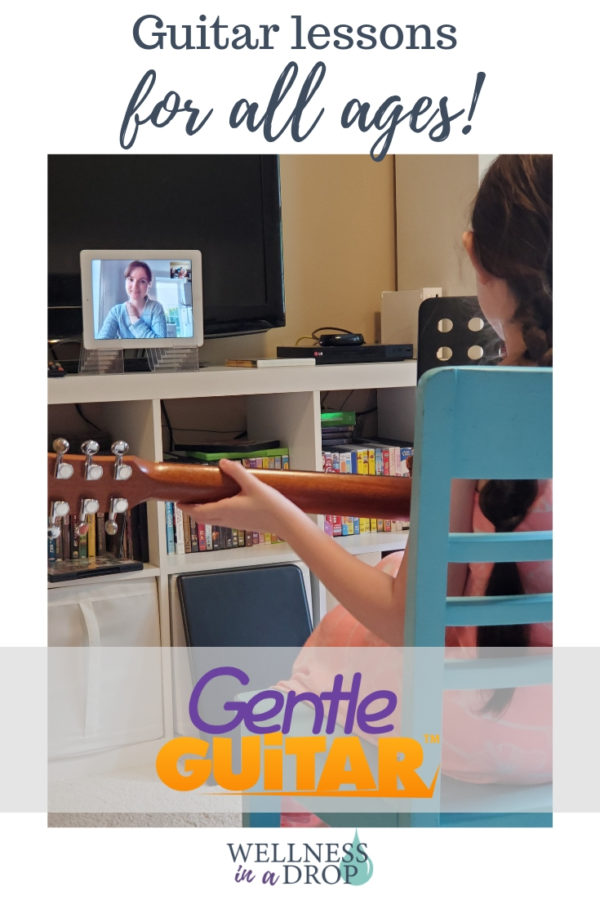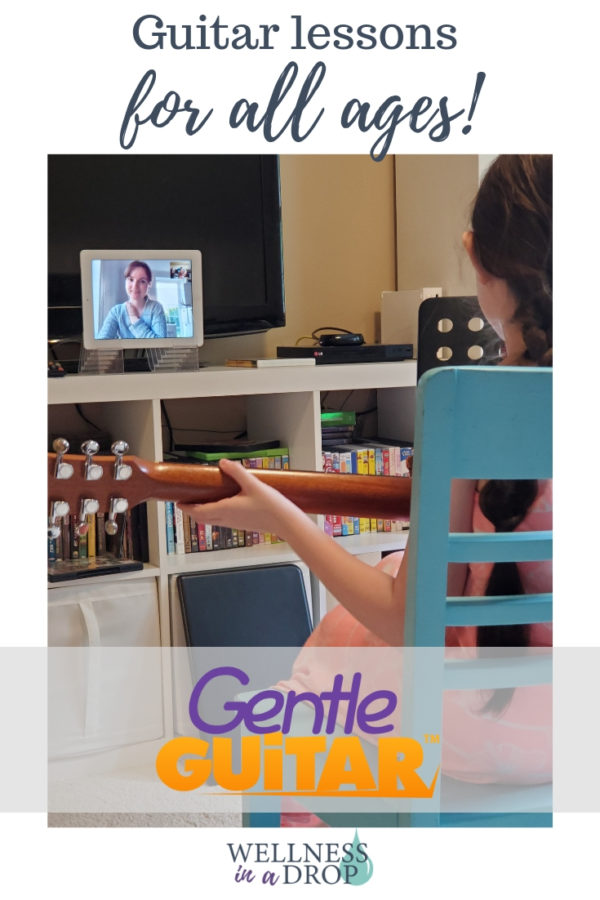 A couple of years ago, we found Gentle Guitar™ and it is an amazing program where lessons are done via Skype. I love that I don't have to load up all 5 of our kids and go sit in the car while one child is in a lesson.
I love that we get to do lessons from the comfort of our home. That means a 30 minute lesson, literally takes 30 minutes. No 20 minute drive time, 30 minute lesson, 20 minute drive time back home! It really saves me so much time and sanity!
Inga Hope is the creator of this program and she picked the perfect name. It really is such a gentle way of teaching guitar and my children have excelled with this method! Gentle Guitar™ has teachers in several different parts of the world, which is also great because the kids really enjoy learning from them!
I'll be honest, I was a little apprehensive about how lessons would go via Skype but I was so pleasantly surprised when we had our first lesson. Inga was really observant even through a video to make sure she could see positioning and posture and she was very quick to make sure it was correct from the beginning. Our son now does lessons with Lance, while our daughter does lessons with Inga, and we adore them both. They are so encouraging and really tailor the lesson to each child, where there are, and what they need.
It is becoming a great outlet for them. Especially our older one, when he is stressed, he often goes to pick up his guitar! I also see it building their confidence and helping them to set goals to work through. It is strengthening their minds and their bodies and I know this is going to be an amazing tool for them to use for their emotional health for years to come!