Guitar Lessons for Kids Near Me — What to look for in local lessons
You type a search:
"Guitar lessons for kids near me"
You hope to find a selection of local music schools or guitar teachers in your area.
But do you know what to look for?
Have you thought of all the guitar learning options for your child?
What about your child learning guitar right at home? That would save time and money.
When it comes to professional music tuition for kids, you have several options:
Travel to a local music school or guitar teacher
Pay a local guitar teacher to travel to your home
Learn with a live teacher on Skype
Purchase an online video course
Perhaps you've already considered some of these options. But here's what you should know before signing your child up for lessons:
Look for a kids guitar teacher
Finding the right guitar teacher is more important than finding the nearest teacher.
Kids and adults don't learn guitar in the same way. Young kids, under the age of 9, have different learning needs compared to older kids and adults.
Your local music school may not have a specialist teacher for the younger age group. Most guitar teachers prefer to work with kids ages 9 and older.
So your local teacher may not be the best option for your child if your child is between 5 and 8 years old.
Children ages 5 to 8 need a specialist teacher
If you are looking for the best kids guitar lessons for ages 5 to 8, then try to find a specialist children's guitar teacher.
A specialist guitar teacher has training and experience. It is worth to travel extra distance to work with a specialist teacher.
The good news is that you don't have to go far!
Gentle Guitar™ online school has special guitar classes for kids ages 5 to 8. Our specialist teachers teach the lessons to you and your child right in your home via a Skype video call.
Kids love to learn guitar at home. They feel it's a safe and comfortable environment. As a parent or family member, you get to participate in the lessons. It's fun and easy and you get to learn along with your child.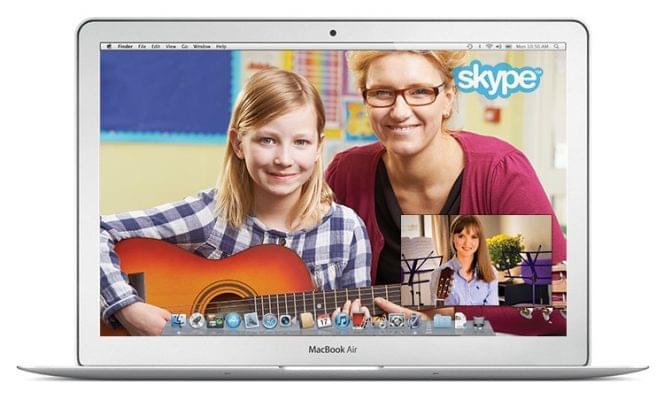 What about Skype lessons for older kids?
Our Skype guitar lessons work amazingly well for beginners of all ages. The secret to great Skype lessons is in the training and experience of the teacher giving the lessons.
All our teachers are trained to work with beginners, and especially with kids and teens.
What About Technique?
Here at Gentle Guitar™ school we are passionate about good playing technique. We teach both modern and classical guitar technique. We also teach music reading and writing. It's a professional guitar curriculum with focus on modern and classical guitar playing.
A teacher who is experienced in teaching kids, will teach your child better on Skype, than a local teacher who is not used to teaching children.
Not all teachers have the same level of teaching experience.
Different schools have different employment requirements. Across the USA and other countries guitar teachers are not required to be trained in kids guitar tuition. This makes it very hard to find the right teacher for your child.
Before you sign your child up for local guitar lessons, be sure to ask the local teacher about his or her experience teaching children. Ask to see reviews & testimonials and student performance videos.
When you are sure that your local teacher has talent and experience teaching children, then you can take your child for a free trial lesson. Most private teachers are happy to offer a sample lesson free of charge. It's a great opportunity to meet the teacher and assess his or her rapport with your child.
As an alternative to lessons near you, try our free Skype guitar lesson for kids. We have over 10 years experience teaching guitar to children ages 5 to 12+. You will be surprised at the quality, professionalism and convenience of our Skype lessons.
You don't loose anything by trying. You and your child will save travel time and enjoy a wonderful learning activity together at home.
Lean more about the Gentle Guitar™ Skype classes for kids.
When you are ready, book a free trial here.
Are Kids Skype Guitar Lessons For You?
Skype guitar lessons are not for every family. Some families prefer to drop the child off at the local lesson and wait in the car or run errands. At our school we encourage that you participate in the lessons and enjoy the tuition together with your child. You and your Skype teacher will connect weekly and work together as a team.
If you are looking to:
Bond with your child over music
Give your child an academic music foundation as early as possible
Take the lessons in the comfort of your home
Work with a specialist teacher trained in kids guitar tuition
Study with a proven kids guitar method
Then our Skype lessons could be the ideal fit for you and your child. We teach our Skype lessons to kids all over the world. It works amazingly well!
Instructors Really Get To Know The Child
I love how the instructors really get to know the child and then incorporate the interests of the child into the lessons making them more engaging. Erin V. (Parent, USA)
Much More Convenient!
We decided to try the online lessons because the cost of Gentle Guitar over Skype was essentially the same as what a local instructor would charge, yet much more convenient! Amy B. (Parent, USA)
Most Practical Option
Gentle Guitar provided the most practical option that fits with our busy schedule. It has been great. Beaufa B, (Parent, New Zealand)
Easy To Attend The Lessons
We decided to go for Skype tuition because it's easy to attend the lessons as there is no travel which eases the load with the family. Shelley B. (Parent, New Zealand)
Struggling To Find Time For Driving
We decided to try Skype lesson because of the convenience and the fact that we were struggling to find time for driving to a lesson. Pia T. (Parent, Finland)
A More Traditional Method
Gentle Guitar is a more 'traditional' method that teaches children how to read music as well as how to play. Robyn (Parent, New Zealand)