How to choose a guitar for a child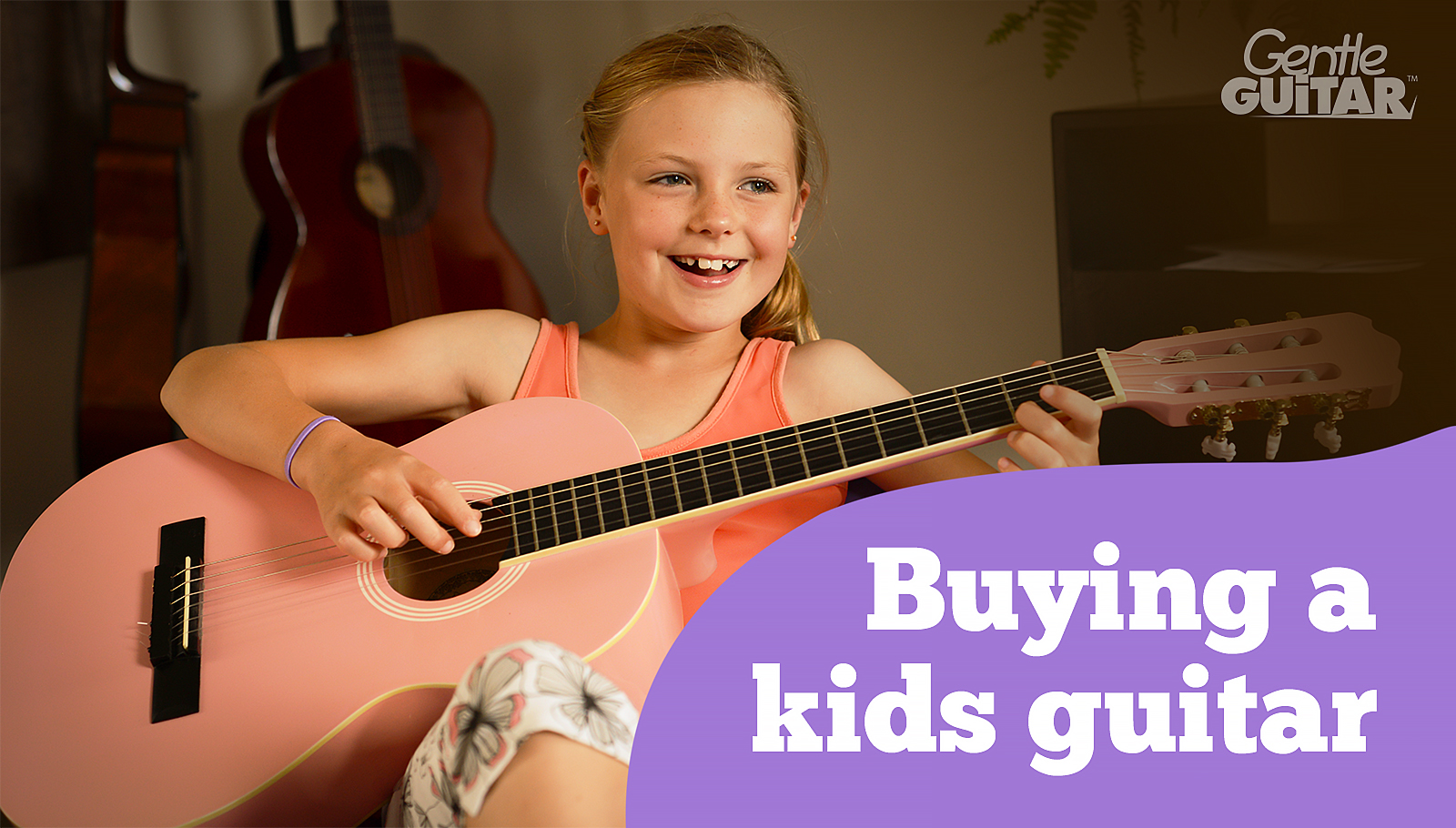 Has your 5 to 12 year old just asked for a guitar? Wondering which guitar to buy for your child?
Music shops are not always as helpful or reliable as you'd expect when advising customers about guitars for kids. Why?
Their main aim is to sell guitars, whatever is in stock is usually the "right" guitar for your kid
They are not experienced guitar teachers, they are experienced sales people (and sometimes not even that!)
Of course music sales staff try to help, but the advice isn't always reliable, even when well-meant. For reliable advice about which guitar type and size to get for your child ask YOUR experienced guitar teacher. Don't have a guitar teacher yet? Check out How to choose the right guitar teacher for your child.
The basics you need to know when buying a guitar for a child:
You should know about the different guitar types
Classical Nylon String Guitar
Acoustic Steel String Guitar
Electric Guitar
Jazz Guitar
The two guitar types suitable for a young beginner are:
Classical Nylon String and Electric. The jazz guitar is not typically manufactured in kid sizes and the acoustic steel string is out of the question because of its strings. Steel strings are hard to press down. They cut into untrained fingertips and are frustrating and painful for children to learn on.
The choice for young beginners comes down to classical or electric. The choice depends upon your child's age and your teacher's method of teaching.
Classical or Electric?
For a 5 to 8 year old, choose the classical guitar. The electric, even child sized, is too heavy for this age group. The classical guitar is lighter and comes in 4 sizes so you can get just the right fit.
For kids 10 and older, choose from either classical or electric. Both come in kid sizes. The safe choice is the classical guitar. But the electric is also good to learn on for ages 10+. The electric is heavier to hold than the classical, but it can be more fun to play with an amp and an effects pedal if you have a little rocker! Most children, however, prefer to learn on the classical because it's easier to hold and play.
At Gentle Guitar™ we work with classical guitars for kids aged 5 through 12. It's a traditional guitar and the lightness and hourglass body shape of the classical guitar is ideal for our program which incorporates modern and traditional (classical) playing techniques.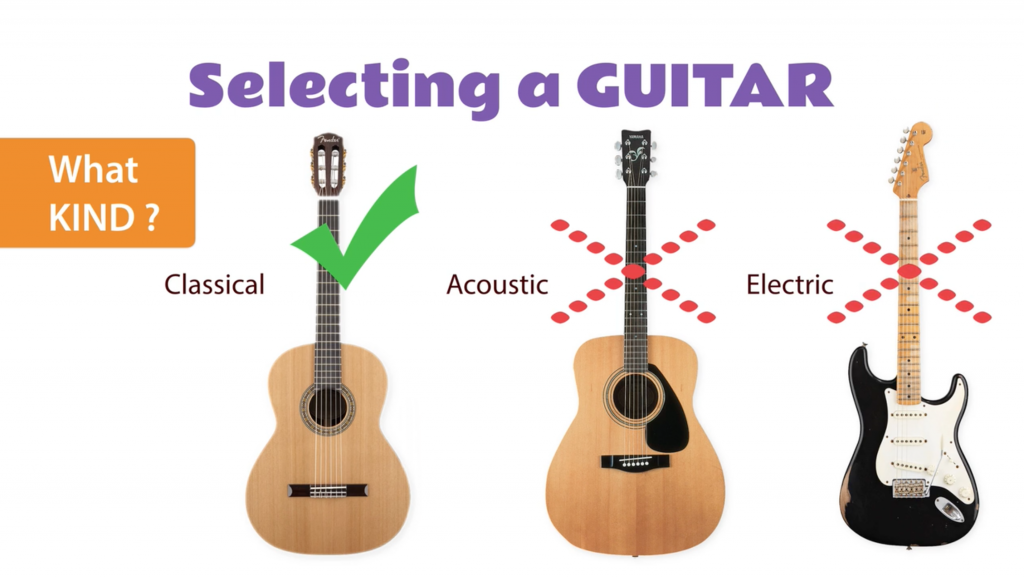 Your teacher will advise you which guitar type is recommended for his/her method and teaching style.
Which size?
Size suggestions are approximate. Kids grow fast and at different rates. Often kids are in between sizes. Here are classical guitar size suggestions for kids 5 to 12
The classical guitar comes in 3 student sizes: 1/4, 1/2 and 3/4. The adult sizes also vary from adult full size to adult 3/4 (a.k.a concert size).
5 year old — 1/4 classical (this size is safe to get for someone just turning 5, and 99% of the time it's a good fit)
5 1/2 – 6 year old — 1/4 classical (if you can afford to upgrade in 6-12 months)
6 year old, 7, 7 1/2 year old — 1/2 classical
8 to 10 year old — 3/4 classical
11 to 12+ — 3/4 classical, adult full size or adult 3/4 (concert size).
Some 12 year olds are comfortable with a full size adult classical. A petite 14 or 16 year old would be more comfortable with a 3/4 classical kid size or a 3/4 classical adult (concert size).
Sizes are individual and the best thing you can do is ask your teacher and also try a size up and down to see which looks best and feels most comfortable. Make sure you don't get a guitar that's too small! Many parents make that mistake and then it's just as uncomfortable as a guitar that's too big! Getting it RIGHT will make a HUGE difference to your young player!
The ideal person to advise you on the right guitar size is your guitar teacher, who will know which guitar size and type will work best for your child and be suited to the teaching method. And if you don't have a guitar teacher yet please check out How to choose the right guitar teacher for your child.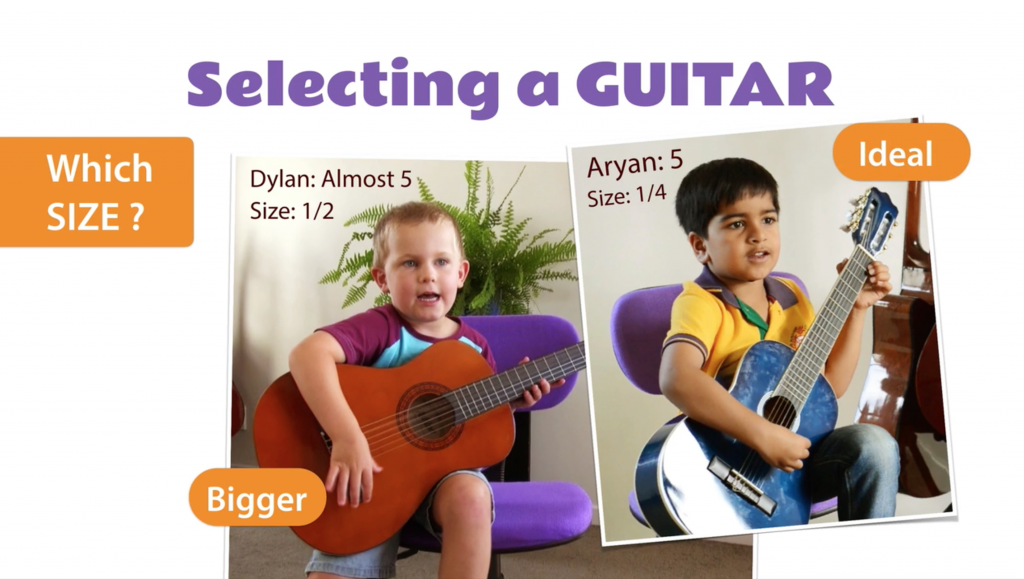 Which Brand?
If you're in Australia or New Zealand, Ashton makes a good quality affordable beginner guitar package in 4 sizes. And they come in different colours too!
For the rest of the world, Yamaha is a fantastic brand that makes good quality affordable student guitars in the 4 main sizes.
Comments
comments