Lance C.


Gentle Guitar™ Teacher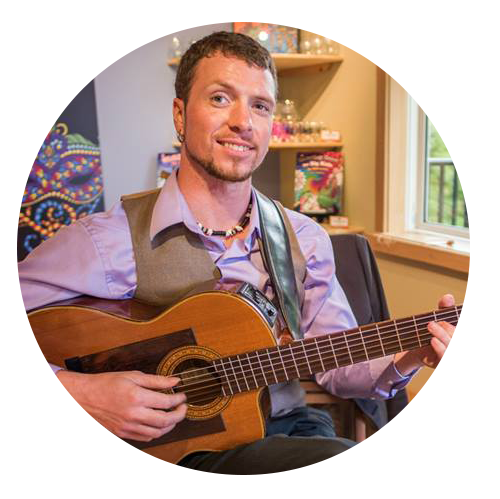 Lance lives in British Columbia, Canada
Lance is trained in the Gentle Guitar method and is a seasoned performer and experienced teacher. Lance has toured as a solo artist and in ensembles, including with the Grammy Award winning Gypsy Kings.
Training & Background
In high school Lance won a local battle of the bands talent show and was awarded "Best Guitarist". Receiving scholarships to further his education, Lance studied Jazz & Classical Guitar at Trinity Western University, Capilano College, and RockSchool Canada. With a diploma in music and education, Lance became a sought after teacher and session guitarist, was featured on several albums, and toured the world.
In 2013 Lance released his own solo spanish guitar album El Gitano. The album was released a year after winning the 2012 CFG Malaga Award which included a 1945 Marcelo Barbero Flamenco Guitar. His album El Gitano featured original compositions and the Spanish masterpiece "La Vida Breve" composed by Manuel de Falla — originally for two guitars, arranged and performed solo. Here is a video from Lance's solo album:
Some of Lance's musical travels brought him the opportunity to perform and teach with Tibetans in the Himalayan mountain range, learn Indian classical music and rhythmic chant (Konnakol) in a Hindu Temple in a remote village in Nepal, perform at the World Trade Center in Riga, Latvia, and rock out onstage in front of thousands at Lithuania's Visaginas Country Music Festival.
For Lance, one of the most rewarding parts of being a teacher is seeing his students practise, persevere, and progress. As a young student Lance remembers the years of lessons and practise, and is grateful for that foundation because it opened a world of opportunity musically, professionally, and personally. It was through childhood music lessons that Lance learnt the value of regular practise and steadfast determination. Today Lance teaches the Gentle Guitar method to students around the world. The lessons build character and promote personal and academic success. If it wasn't for those early years, Lance says, he wouldn't have been given the opportunities and experiences of traveling the world, and the magic of making, performing, and teaching music.
Personal Facts About Lance
When he's not teaching or playing the guitar, Lance spends time with his family. Raising four children, cheering at football and sports, and enjoying the outdoors, as well as wakeboarding, kayaking and playing hockey!
Other little things you may like to know about Lance:
Lives by the Okanagan Lake near the legendary Ogopogo.
Favourite food is Nepali and East Indian cuisine.
Grows fruits & vegetables with his children in the family garden.
Grew up on a farm, rode in a rodeo, and worked as a ranch hand.
Enjoys travel, languages, and world history.