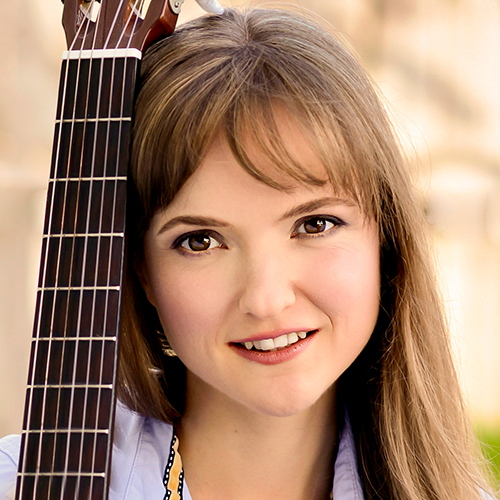 Inga Hope
Title: Founder, Headteacher
Subtitle: Creator of the Gentle Guitar™ school and Music Ed magazine, author of the Gentle Guitar™ method for kids.
Short Description: Inga Hope is considered the #1 authority on teaching kids music and guitar through online lessons. Inga is the expert teacher other teachers go to when they need help with their teaching methods, materials and guitar lessons for kids.
About: A New Zealand national, Inga is currently living in Denmark. Inga has been featured on the New Zealand's National Breakfast Show as an expert in kids music tuition and is making a name in the international homeschool scene as a speaker and music educator. Inga lives and breathes music and desires to make teaching music to kids easier and more accessible for everyone involved. Her innovative take on kids music education and her creative spark make her a sought after speaker and author of articles and teaching resources.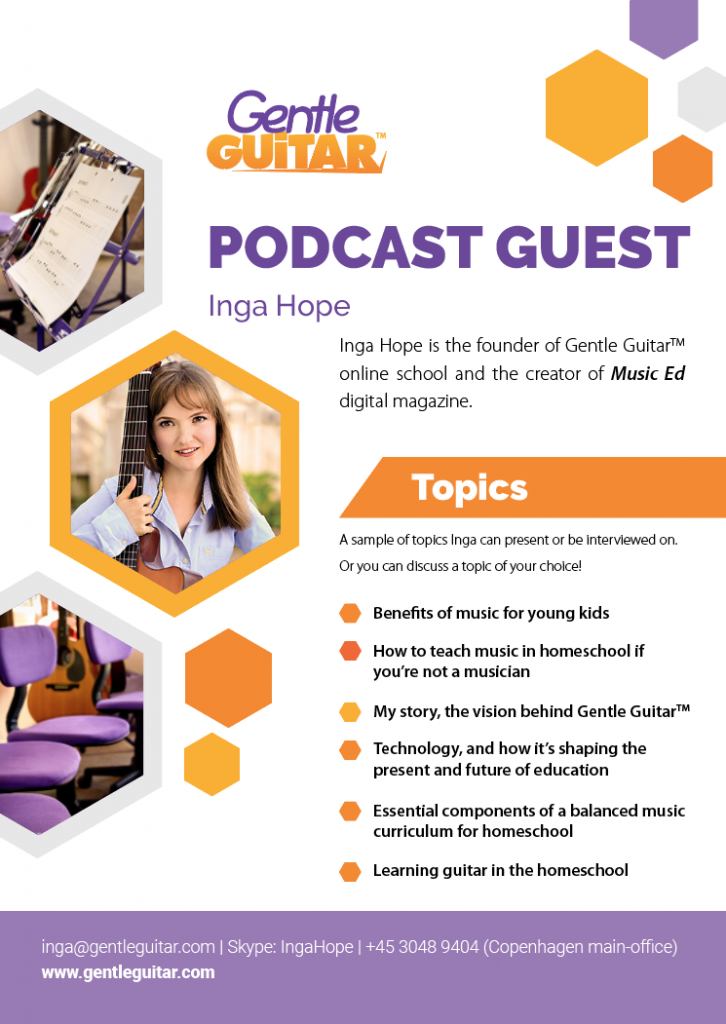 Guest Speaker on Your Podcast
PDF introducing Inga as a guest for your show.
The PDF contains a short bio and a list of engaging topics.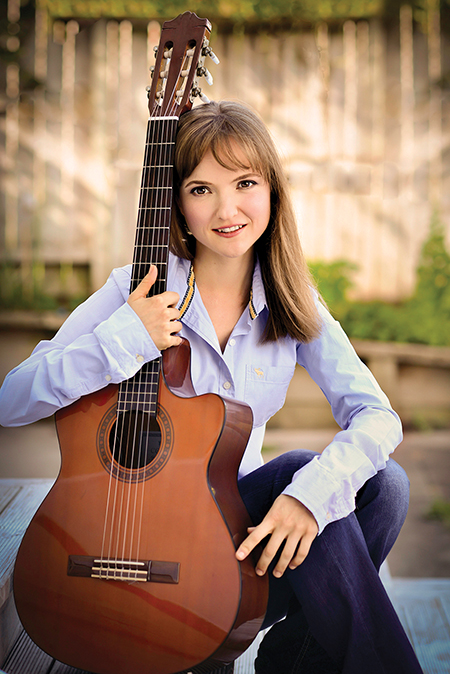 Size: 4016 × 6016 pixels (240dpi)
File Type: JPG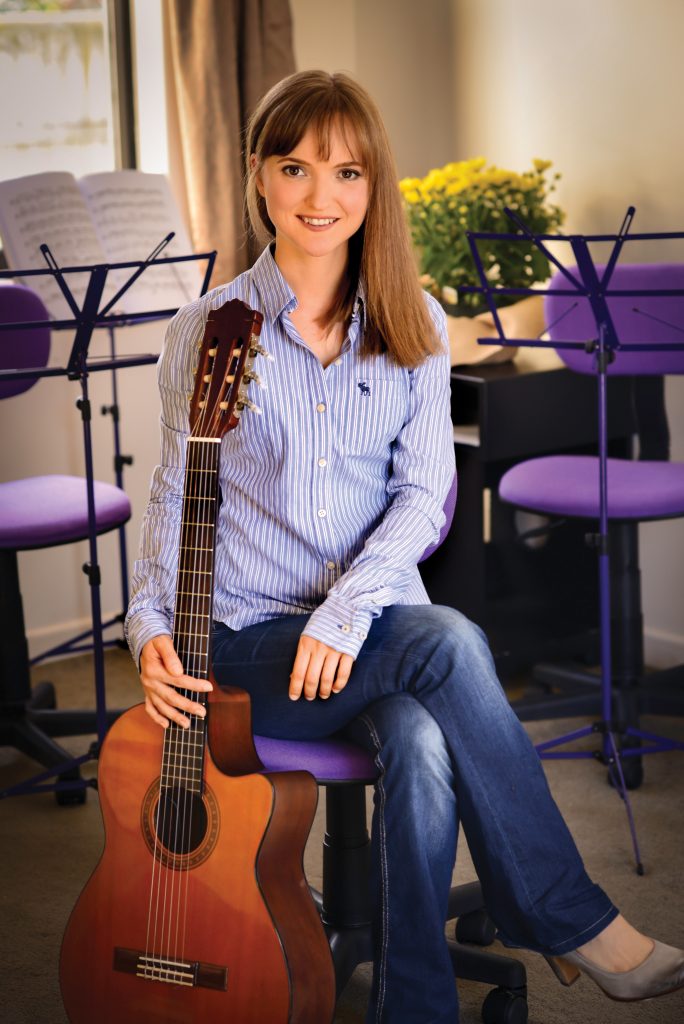 Size: 4016 × 6016 pixels (240dpi)
File Type: JPG
Gentle Guitar™ School
Title: Gentle Guitar™
Subtitle: Experts in Kids Guitar Tuition
Short Description: #1 online guitar school for kids specialising in private tuition for children ages 5 to 12+
About the School: Founded in Auckland, New Zealand by Inga Hope. The school's main office is in Denmark. The teachers are based in New Zealand, Canada, UK and Denmark. The students take lessons via Skype from all over the world. The majority of students are homeschool families based in the USA. Other students include expat families from China, South Africa, Mexico and Europe.
Differentiation: How is Gentle Guitar™ unique?
Specialization: The school's focus is guitar tuition for kids in a narrow age-group (5 – 12+). Most other private guitar teachers and music schools offer lessons to all ages. The specialisation allows the Gentle Guitar™ school to emerge as a leading expert in kids guitar tuition, produce its own curriculum and methodology while placing emphasis on pedagogy, research and child psychology.
Unique Methodology: Most other music schools (both online and offline) act as administrators and intermediaries between the teachers and the students. Other schools offer lessons on many different instruments and serve as a connecting platform. In other schools it is customary that each teacher is free to teach their own curriculum. It's not common to have a standardised methodology within the school. Gentle Guitar™ is different, it specialises in guitar lessons for kids. Guitar is the only instrument taught, and the teachers are trained to teach within the framework of the Gentle Guitar™ method. This unifies the teachers, delivers a proven curriculum and consistent tuition with measurable results.
A Visionary Approach to Music Education: The lessons are taught to kids live via Skype 100% online! Most people are at first surprised, but the lessons work amazingly well because of the Gentle Guitar™ method and visionary approach to music education. The methodology was tested in various learning environments and optimised for one-on-one online learning. What is unique about the methodology, is that it requires the participation of an adult. Most other music lessons happen between the teacher and the child while the parent waits in the car or runs errands. The founder, Inga Hope, firmly believes that the parent's role is crucial in the musical development of kids under the age of 12. The parent plays a central role in Gentle Guitar's online lessons and is guided and instructed along with the child.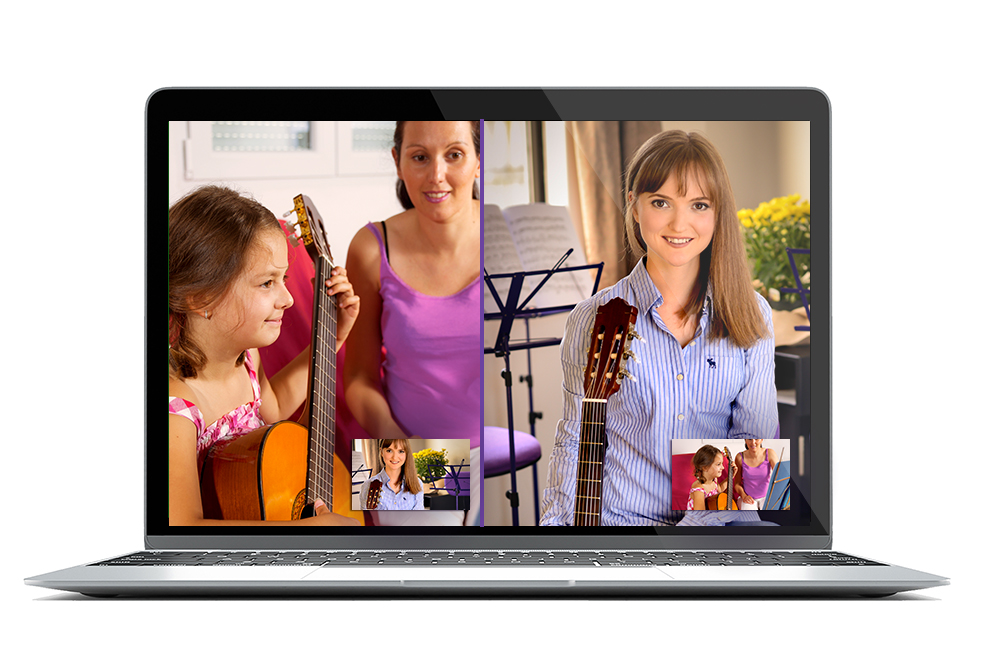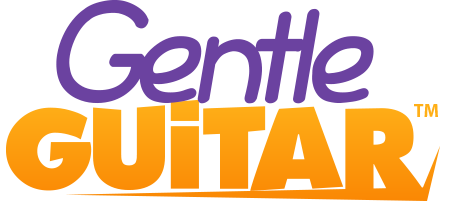 Magazine
Title: Music Ed Magazine
Subtitle: FOR PARENTS AND TEACHERS
Short Description: Music Ed unites parents and music teachers with one common goal —
to improve music education for kids!
About the Magazine: The digital magazine is published quarterly by Gentle Guitar™. It started as the school's newsletter, but today it has a wider audience and is the first and only magazine that is designed to unite parents and music teachers.
Features:
The primary purpose of the magazine is to guide parents of students who are enrolled in music lessons, to provide inspiration and resources for homeschool families, and to support educators who are teaching music to kids.
The Music Ed digital magazine bridges the communication gap between the parent and the music teacher. It helps each side understand how to best support children on their musical journeys.
The magazine addresses common problems that both music teachers and parents of music students face, and invites both sides to consider the issues from the child's perspective.
Each issue is packed with the latest research, tips, games, teaching resources and creative ideas to make teaching and learning music easy and enjoyable for everyone.
The magazine is both academic and fun, it is an educational tool, yet entertaining to read with a cup of coffee on a rainy afternoon.
Each issue has fun activities and printouts to engage kids in music study.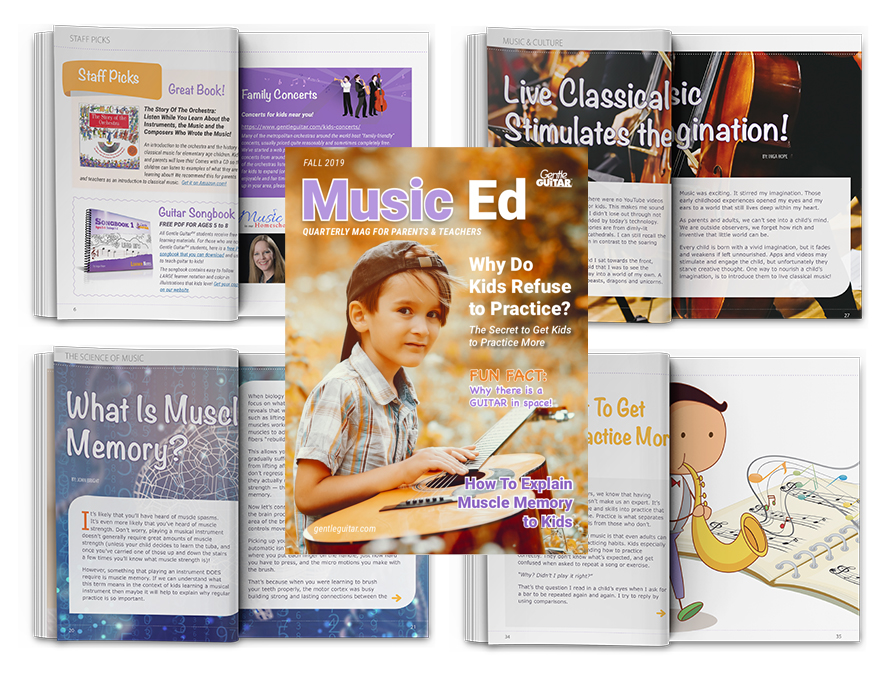 Download File