Guitar Lessons For 5 to 8 Year Old
Weekly
Online

Kids Guitar Lessons With A

Private Teacher

ONLINE GUITAR LESSONS FOR KIDS
(Ages 5 to 8)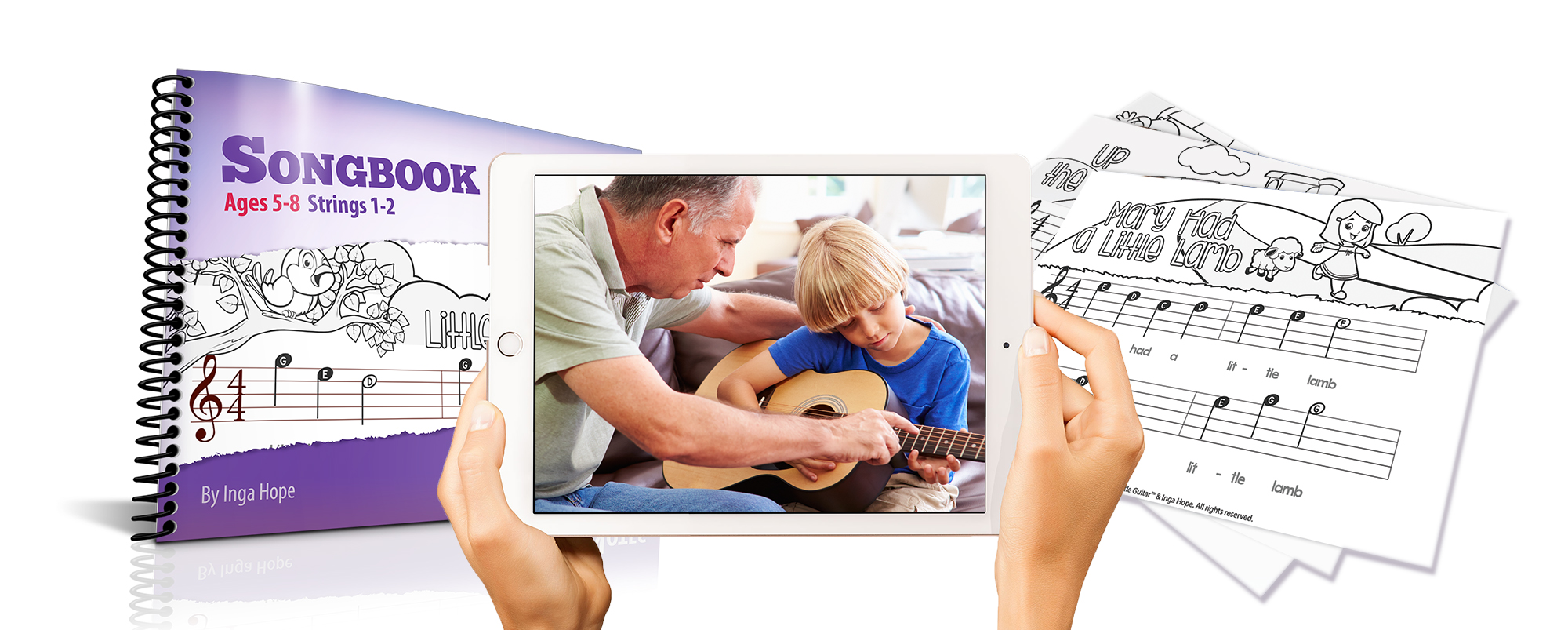 Easy, Convenient, Professional And Fun!
Gentle Guitar™ offers guitar lessons for kids, in the comfort of your home.
Kids learn to play guitar online, at home, with a live teacher!
We connect via live video conference call using Skype or FaceTime.
Children under 12 years old must be assisted by a parent or another adult.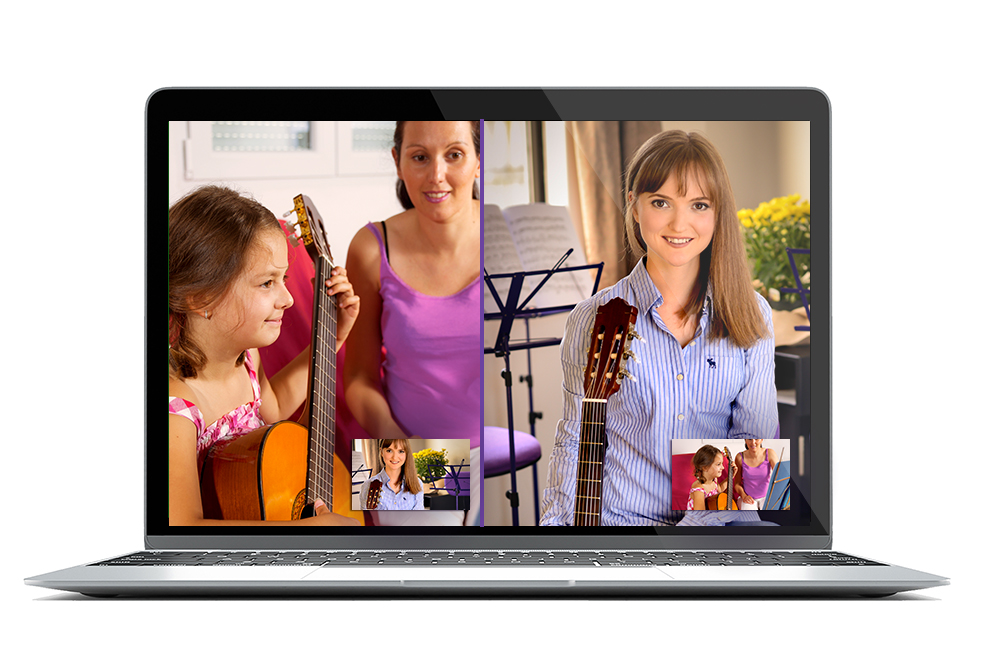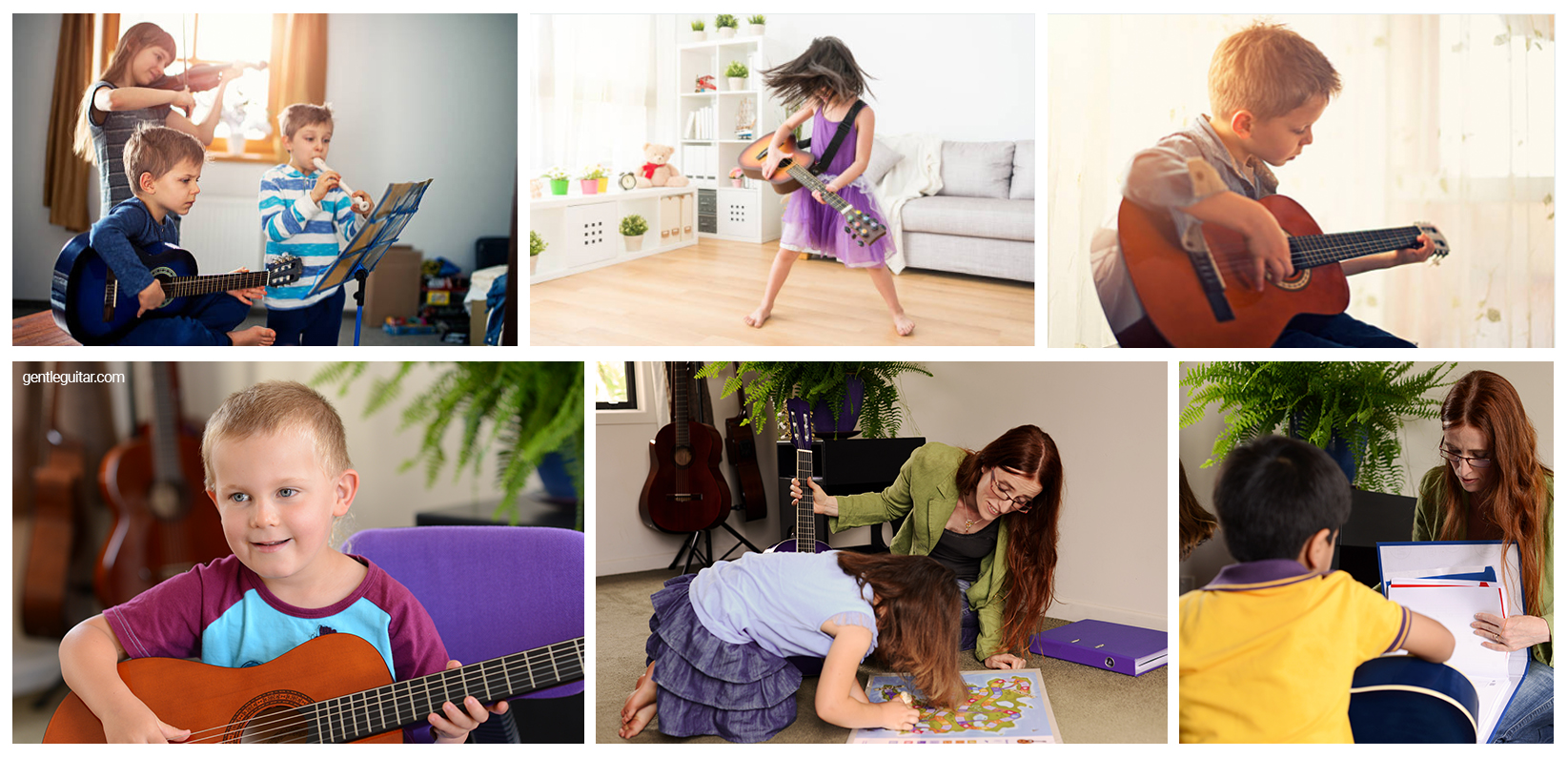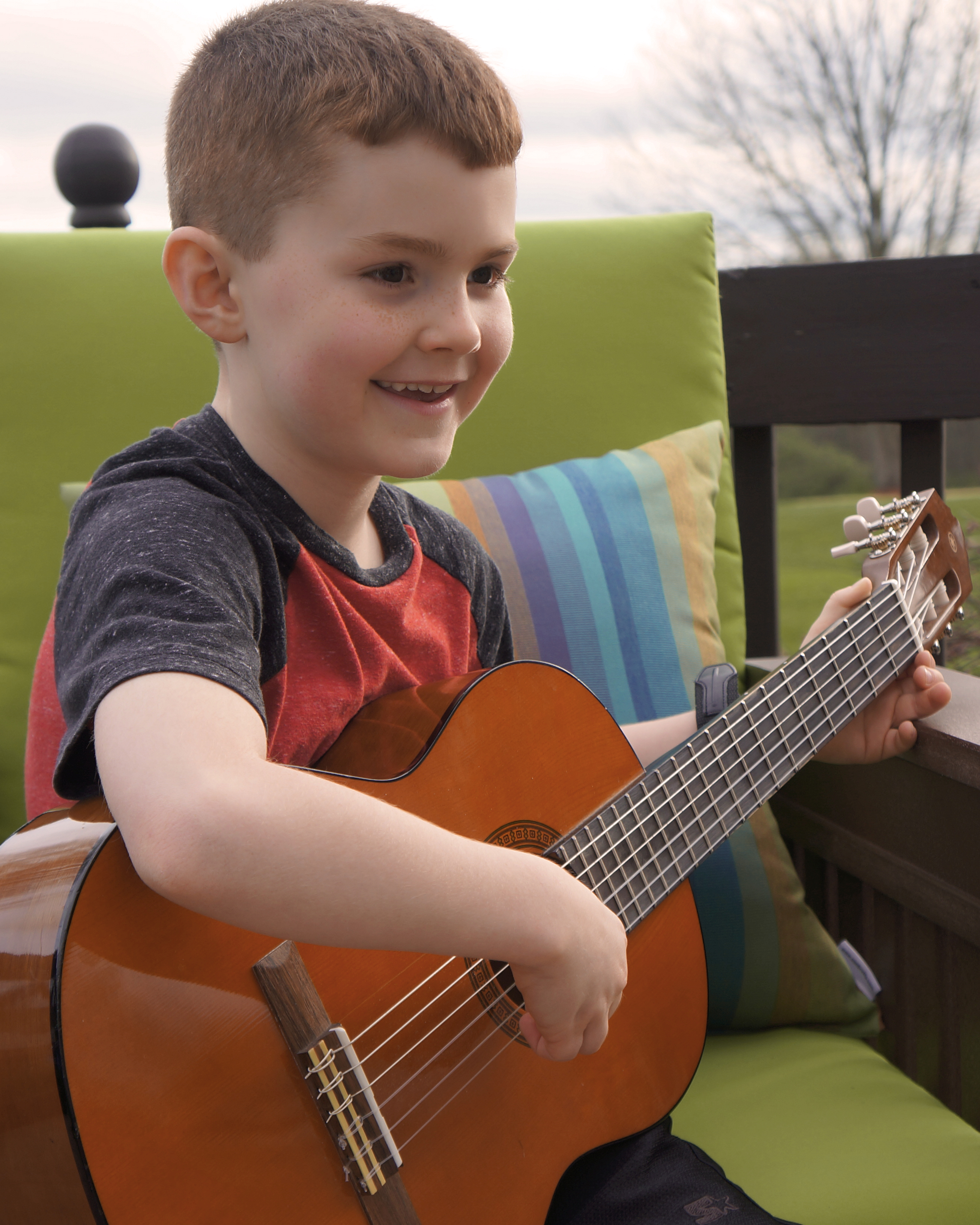 Raylan started guitar lessons at the age of 5. Now he is 7 years old and still enjoying Skype guitar lessons with his teacher Inga Hope.
Testimonial
We first found out about Gentle Guitar™ from The Homeschool Sisters Podcast, and have been taking lessons for 2 years. The price is comparable to other musical options in our area and we enjoy the benefit of one-on-one lessons within our own home during a time that fits best for our family schedule.
As a homeschool family, we enjoy the ability to have a lesson with a professional without having to get up and get all the kids out the door to make a lesson on time or have to feel like the house needs to be ready for a guest to visit for an in-home lesson.
My other children can be busy with their schoolwork or playing while guitar lessons are taking place.
Raylan and his dad enjoy playing guitar together and playing guitar has given Raylan confidence to preform in front of others. Raylan is teaching his dad a few notes which just solidifies his comprehension. His little brother started showing interest in playing a musical instrument, too!
Gentle Guitar™ has given Raylan the opportunity to interact with adults from different areas of the world that he would not have had otherwise at his young age. The instructors are timely, kind, encouraging and engage in conversations that allow for both instructor and child to get to know each other.
I truly believe you will not be disappointed if you gave Gentle Guitar™ a try!
— Amy H. (Columbus, USA)
Best Kids Guitar Method
The Gentle Guitar™ method is taught to hundreds of kids and teens around the world.
Over 1000+ lessons, 9 countries, 7 years of results!
The Gentle Guitar™ method is hand-crafted to stimulate creativity and overall development.
The method adapts to each child's individual learning level and abilities.


How Is It Different From Other Kids Guitar Methods?
Other popular kids guitar methods are published for one general age group.
The general age group includes ages 5 to 12.
Unfortunately, a 5 year old child will struggle to use the same learning materials as a 12 year old.
That's why most other kids guitar methods are ineffective for young kids.
Guitar teachers who've used other kids guitar methods, know that lessons with young kids often end in tears.
The Gentle Guitar™ method is different.
A five year old can follow along as easily as a twelve year old!
Our method boosts confidence and inspires children to learn music theory and standard notation.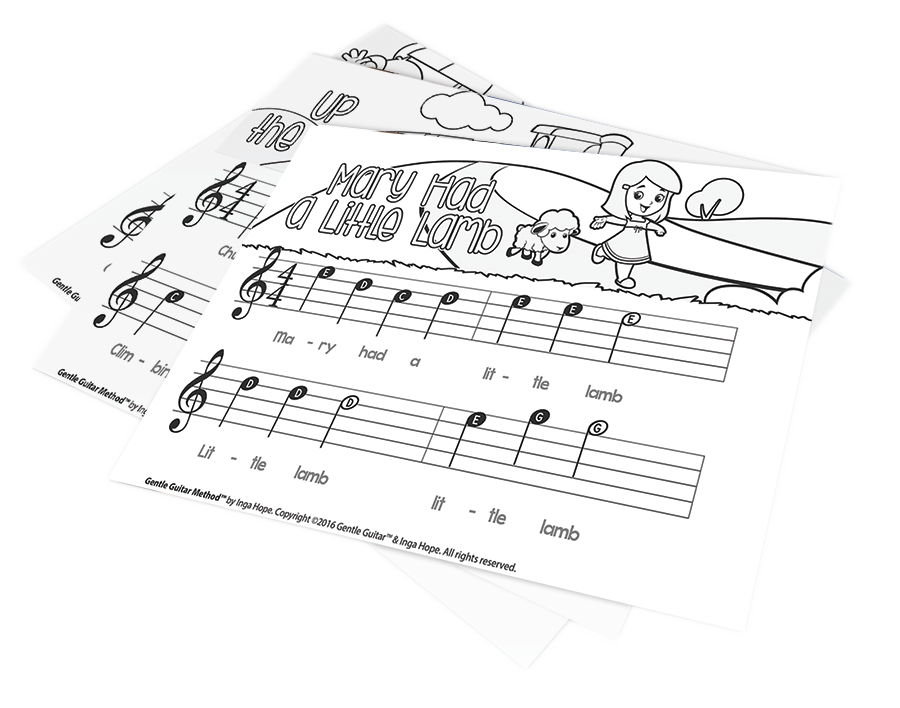 Guitar Lessons For A 5 Year Old
Kids learn differently than teens and adults.
Children need age-appropriate learning materials with pictures, activities and extra large notation.
With this method even a 5-year-old can learn to read and write music notes!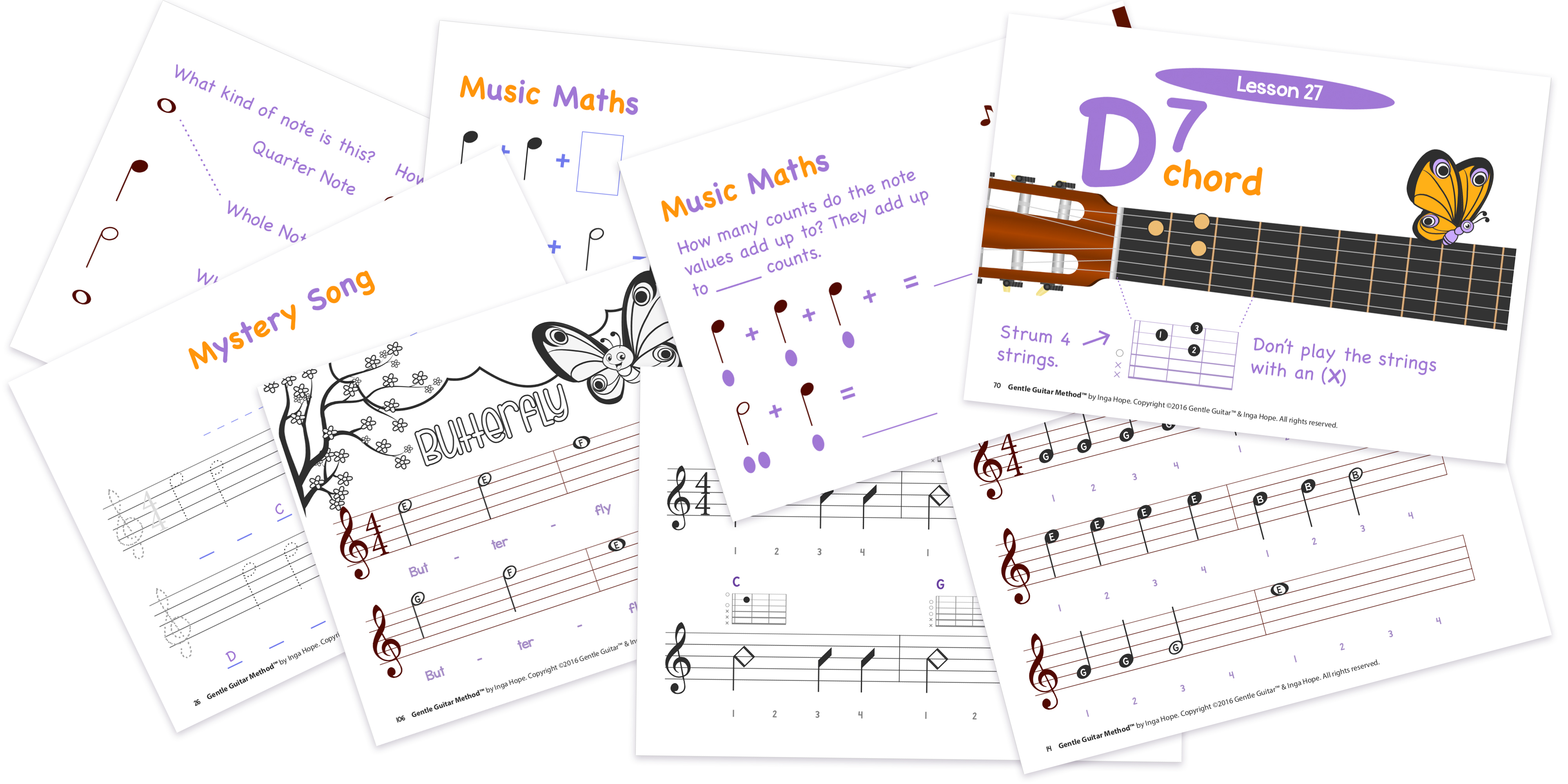 "The instructors really get to know the child" 
— Erin (USA)

"A wonderful way to expose a child to music
in their own environment" — Nikki (New Zealand)
Book a no-obligation free trial lesson to connect with a specialist teacher and get all your questions answered!
The Role of the Parent (Or Caregiver)
What's new and revolutionary about Gentle Guitar™ is that we involve the parent in the learning process.
A 5-year-old does not yet have the work ethic to work independently.
Therefore, it's crucial that the teacher and the parent work together to create a structured and nurturing learning environment.
The concept of learning along with your child, allows you to guide your child during the daily homework practices so that he or she does all the required work responsibly and correctly.
A Work Ethic For Life
Through the weekly lessons your child will learn to embrace challenges and achieve results.
This work ethic will give your child an advantage for life.
The personal skills that your child will develop during the lessons will serve him or her for many years to come.
Isaac Plays "Twinkle Twinkle Little Star"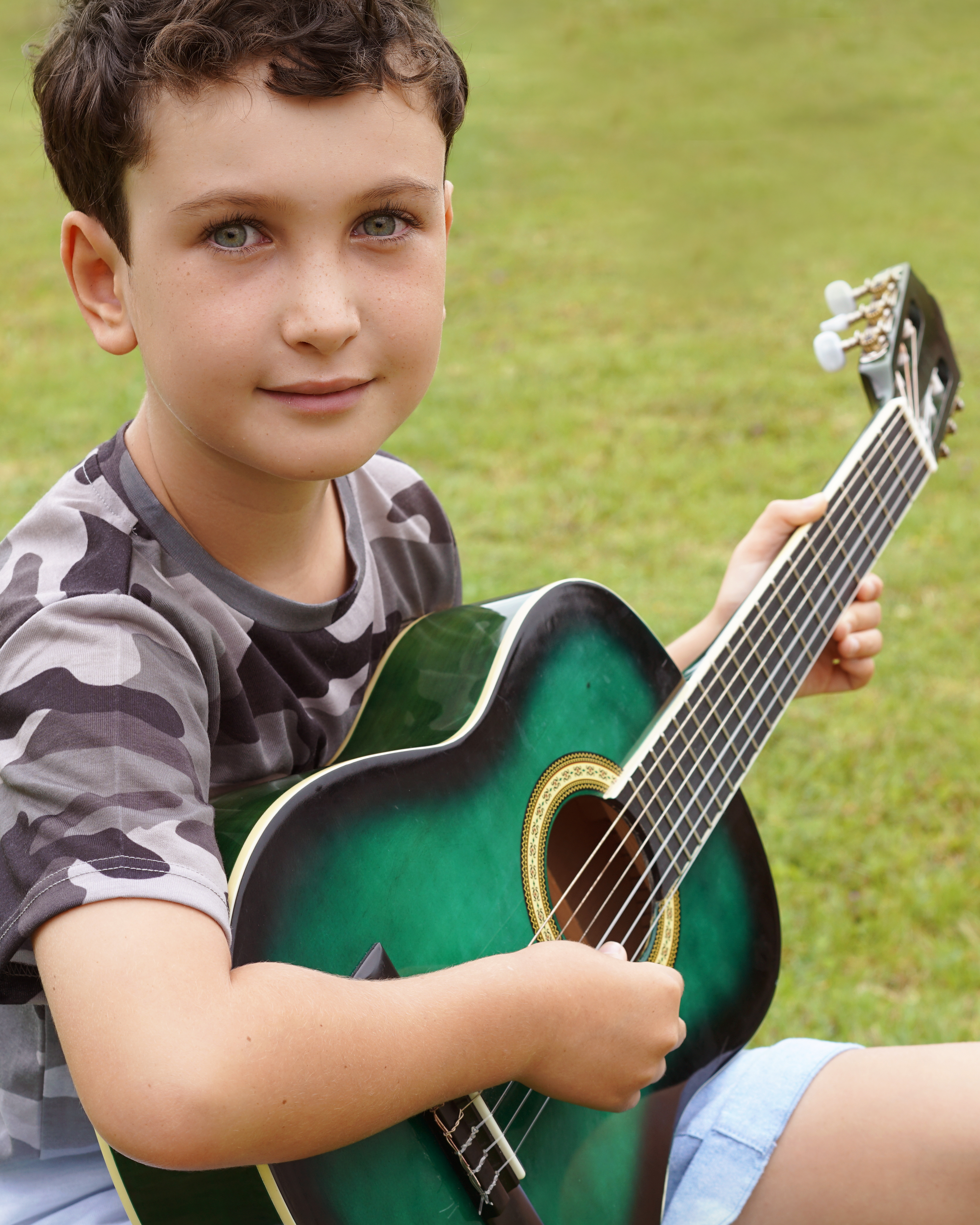 Isaac started guitar lessons at the age of 6. Now he is 9 years old and still enjoying Skype guitar lessons with his teacher Maddie. Maddie, as well as Isaac and his family, live in New Zealand and love the convenience of Skype lessons.
Testimonial
We found out about Gentle Guitar™ through Google Search and the tipping point for us was that Gentle Guitar™ offered Skype lessons. We originally enquired about direct lessons but decided to go with the Skype option. It provided the most practical option that fits with our busy schedule. It has been great.
I have been able to learn at the same time as my son because I can teach him directly when we do our homework. He also likes to make sure I have my notes sorted when it is my time to do the homework. We both enjoy the guessing game. The fact that I get to have some personal time with him is a bonus and my wife also gets the opportunity to have some personal time with our daughter while the guitar enthusiasts do their thing. The progression in learning is just right for us. I find that it also helps me in teaching my son when we are left to our own devices.
The best part is the time I get to spend with my son. I have always wanted to learn to play and now I have a great reason to achieve this and also bond with my boy. It feels like my son and I are in control and Gentle Guitar™ provides the guidance to keep us on track. I have a feeling that Isaac and I will be teaching my daughter when she is able get her hands on my sons current guitar.
— Beaufa Brown (Auckland, New Zealand)
Learning Should Be Structured & Fun!
Many other schools and teachers don't expect kids to study music properly until after the age of 8.
Therefore, most music lessons for young kids are unstructured and taught just for fun.
That's a good start, but we do it better!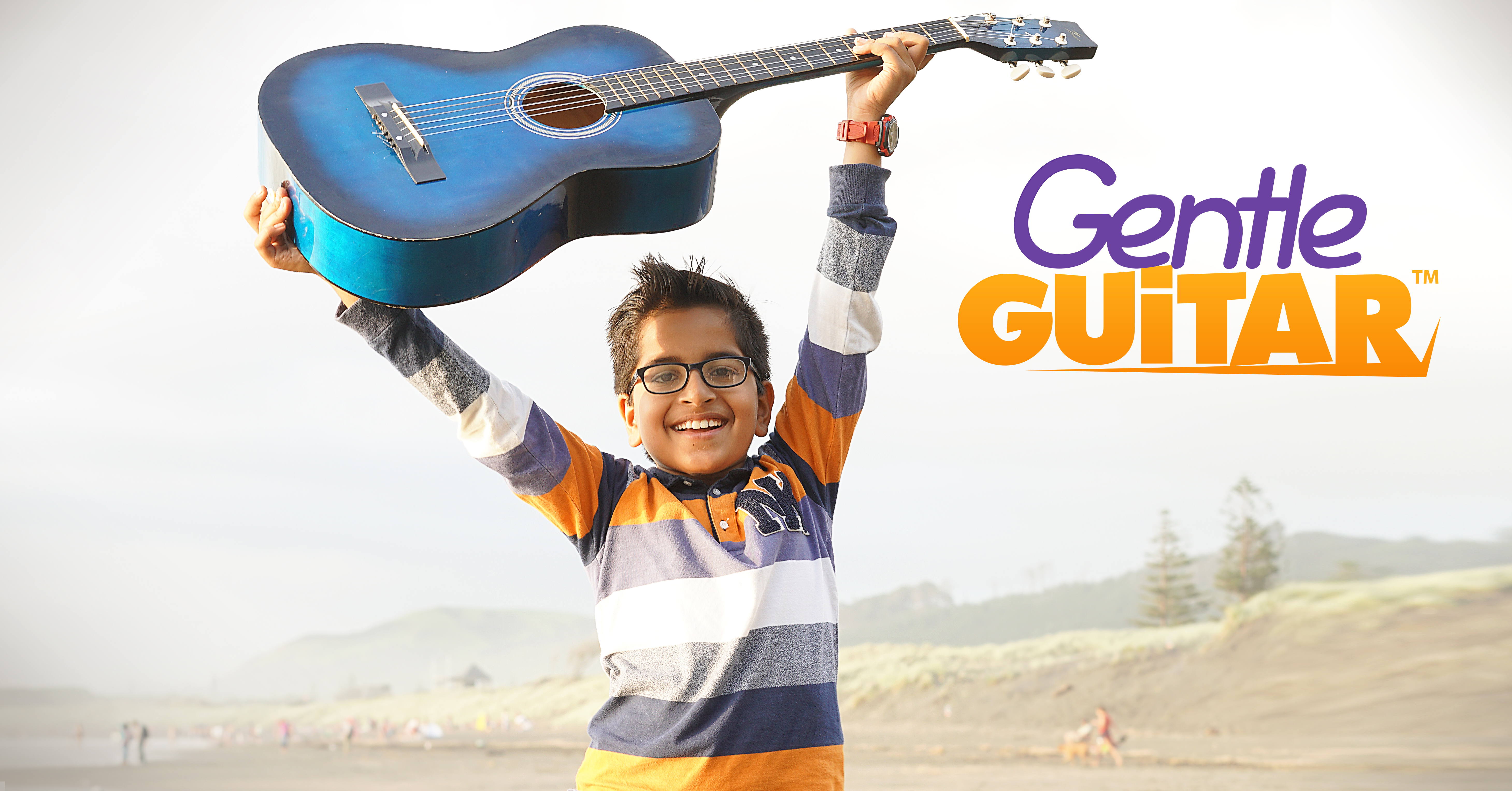 Professional Instruction From The Start
Gentle Guitar™ lessons are engaging and academic from the start.
Gentle Guitar™ lessons have both structure and fun built into the method.
Kids as young as 5 can begin professional guitar tuition with a private teacher.
A Correct Approach To Learning
We believe that children should learn music theory and proper playing technique from the start.
We also believe that kids learn best in a nurturing environment that supports fun activities and educational games.
Click Here to Read About Aryan T.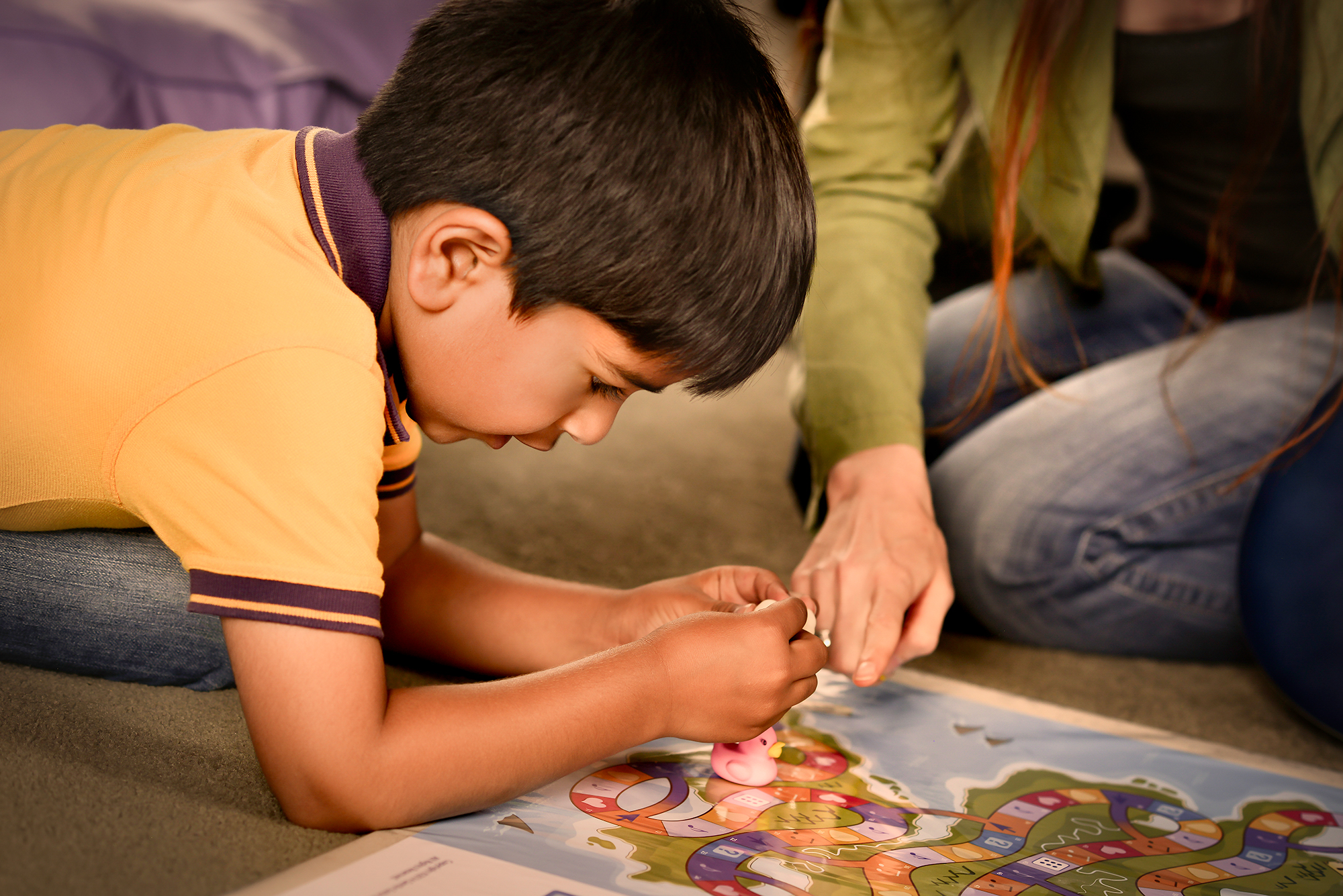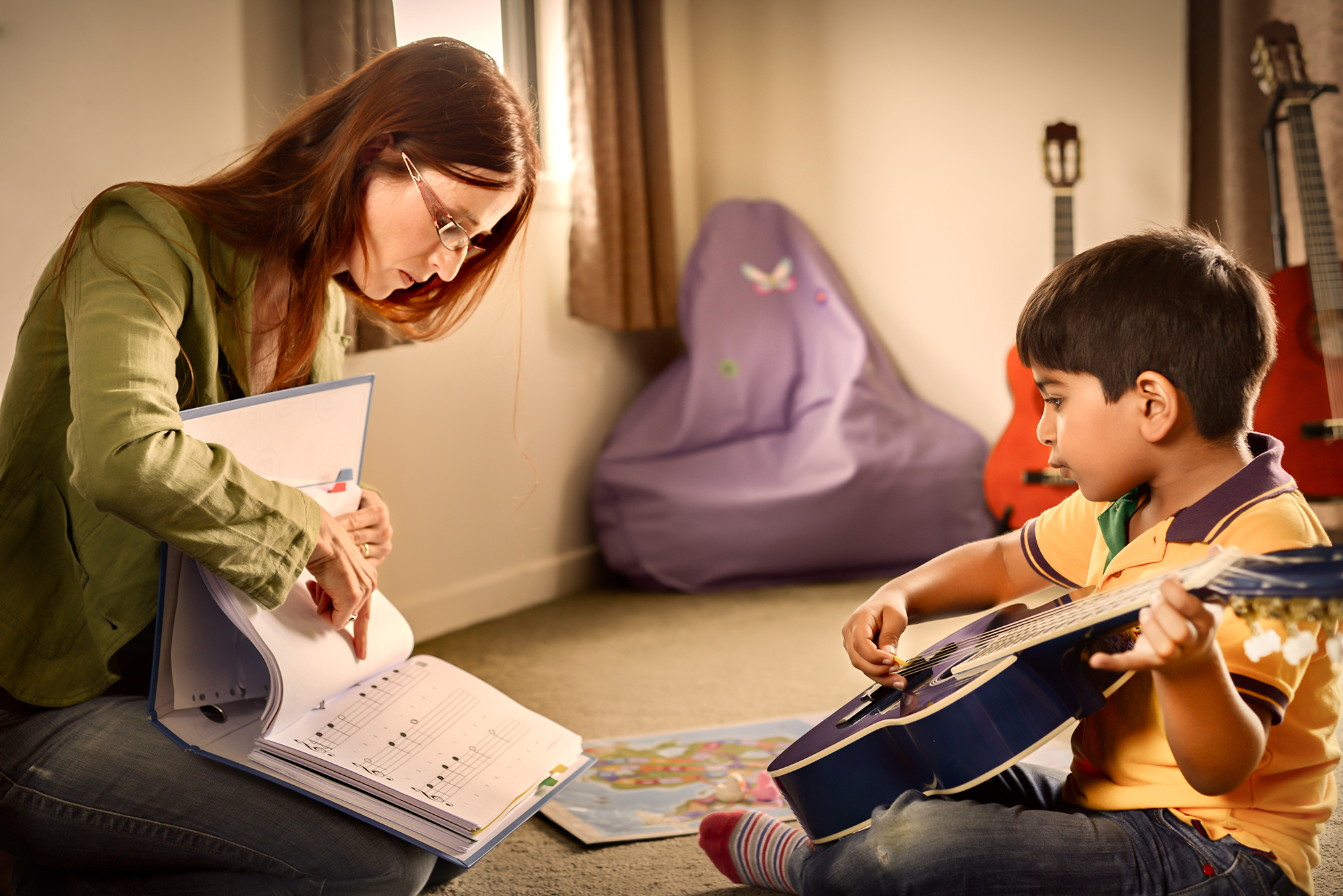 Before & After Student Performance
The Crucial Formative Years
The younger a child starts learning to read and write music notes and play a musical instrument, the better!
Between birth and the age of 10 a child's brain is highly plastic.
The Gentle Guitar™ method uses music as a toolbox to stimulate creativity and enhance brain development.
The Best Age To Start Guitar Lessons Is Between 5 And 8.
The early formative years are the best time to learn a musical instrument.
Our method is designed to inspire the love of learning and to make playing an instrument fun and easy!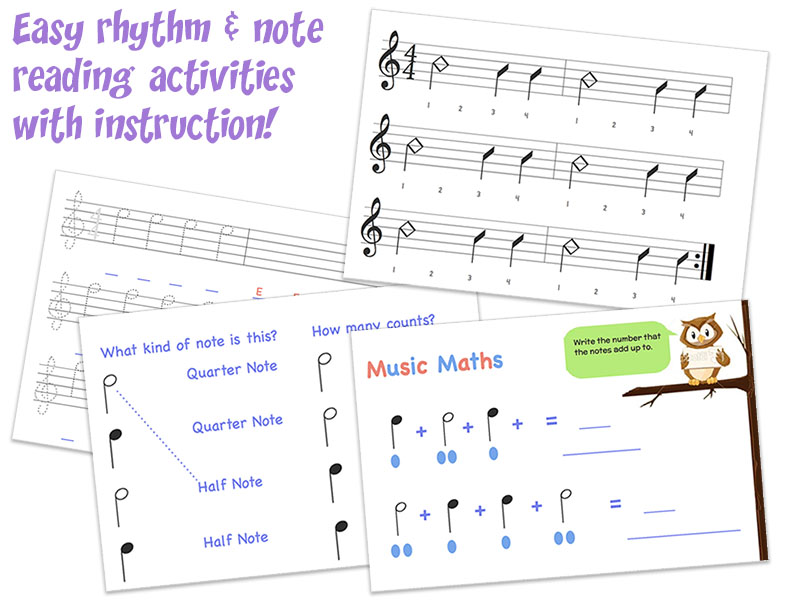 30min of Individualised Attention Every Week!
Your child will get individualised one-on-one attention and free access to our method books and songbooks.
The Gentle Guitar™ Skype Lessons for Kids work amazingly well because of our proven teaching tools and methodology.
And, because our teachers take the time to connect and inspire each individual child to do his or her very best.
Children feel proud to do the work and try hard to impress their teacher.
The best learning happens when the student has a great mentor to look up to!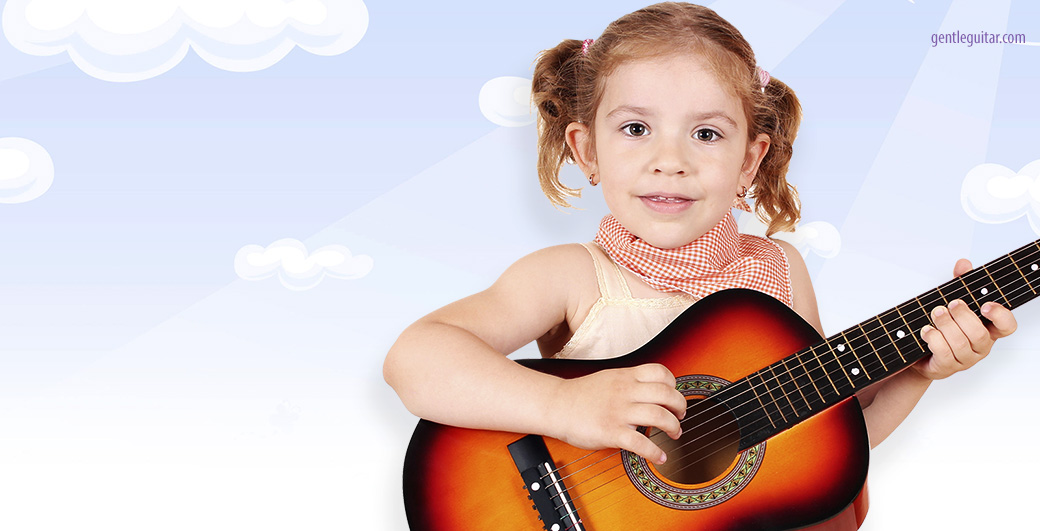 Our private guitar lessons work amazingly well for very young beginners and are taught via Skype all over the world!
Gentle Guitar™ Is More Than A Music School
We Are Role-Models And Mentors
Gentle Guitar™ teachers are professional musicians and trained guitar educators.
We work with a unique age-appropriate teaching method and coach each child at their individual level.
With a gentle approach and plenty of patience, we inspire children to get excited about learning!
We go out of our way to be excellent role models for kids and teens of all ages.
We are a small international team, bringing quality music tuition to students all over the world!
The Gentle Guitar™ teachers are specialists in kids and beginner guitar tuition.
Over 1000+ lessons, 9 countries, 7 years of results!
Book a no-obligation free trial lesson to connect with a specialist teacher and get all your questions answered!