Gentle Guitar™ Team
Our international team of teachers is ready to cover your timezone! Wherever in the world you are, we'll connect at a time that suits your family.
About Us
Our mission is to make guitar tuition easy, fun and affordable to every family with an Internet connection and a desire to give their children a quality music education.
Gentle Guitar™ is an International online guitar tuition provider for children ages 5½ to 12+
The Digital Education Revolution
Online education is convenient. You can learn anything at your own pace from home or on the go. You save time and money because you no longer have to wait in traffic or rush around getting to and from lessons. If you don't have an expert in your local town, no worries! Connect with an expert on the other side of the globe! Online education is a revolution pioneered by major universities across the world. You can now learn anything, from algebra, calculus and programming to history, languages and music.
Online home-based education works especially well for children, because kids thrive with expert guidance in a nurturing and familiar environment.
Gentle Guitar™ is at the forefront of online music education for children. You get the benefits of one-on-one lessons, such as instant guidance and feedback from a specialist teacher. Plus, you get the convenience of online learning. Thanks to Skype and FaceTime, you get the best of both worlds — a touch of humanity with the efficiency of technology.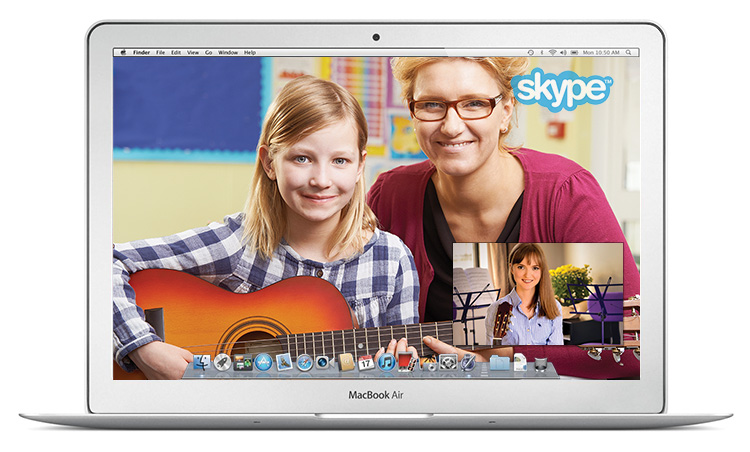 Gentle Guitar™ Tuition is ideal for:
Children between ages 5½ to 10, accompanied by a parent, family member or another adult.
Families with no prior musical knowledge who would like to give their child (children) a quality music education.
Families with musical experience who need a structured and flexible framework for teaching music to their child (children).
Homeschooling families who need a professional and flexible music curriculum that will fit with their schedule and can work on any budget.
Busy families who need the flexibility to take music lessons from home or on the go.
Families living in rural areas who would like access to professional high quality music education for their child (children).
Shy children who need help thriving. Learning from home with a family member nearby, in a comfortable environment, with an expert who can give gentle guidance — is an ideal environment for shy children to really shine!
Kids who need an academic boost. Most guitar schools and private teachers don't teach music literacy to children. That's a shame, because kids LOVE it and it gives the brain a super-workout!
A Proven Method
With so many learning options out there, how do you know who to trust? With no international standard for guitar teachers, anyone can set up a website and start offering lessons. Gentle Guitar™ is different. We're not a website that sprang up overnight. We come with a teaching record from Auckland, New Zealand, where the school was founded as a local practice in 2010 by Inga Hope.
A trained guitar coach, Inga encountered a lack of age-graded teaching materials. With a background in graphic design, she hand-crafted the Gentle Guitar Method™. In 2013 her local teaching practice expanded to three locations around Auckland. In 2016 the Gentle Guitar™ school shifted gears onto the online platform and is now teaching kids from all over the world!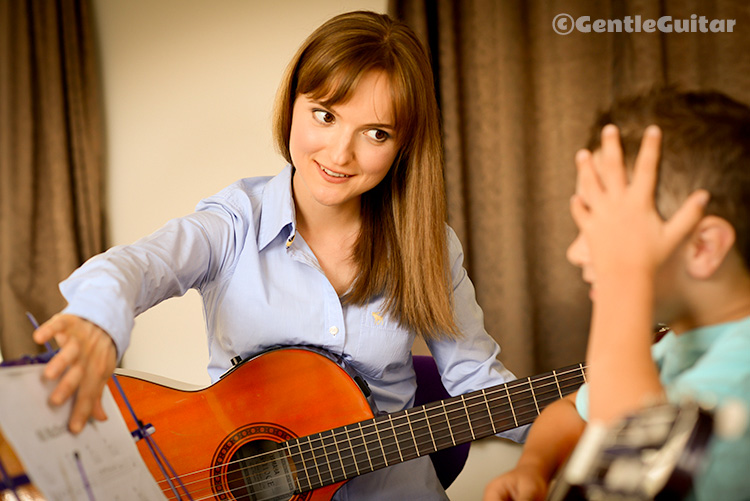 A Method Designed for Children
The Gentle Guitar™ method is designed for children. It adapts to them at their level of development. A five year old can follow along just as easily as a twelve year old. Complex musical content is broken down into fun written activities, easy progressive exercises and musical games.
Music as a Toolbox for Development
The Gentle Guitar Method™, at its core, has the child's development in mind. Music is fun, but ultimately the purpose of studying music literacy at a young age is to enhance brain development, while the brain is highly plastic (ideally before age 10). Sadly, most guitar schools and private teachers don't teach music literacy to young kids. It's simply too steep a learning curve for most teachers to deal with, but at Gentle Guitar™ — that's what we specialize in, and kids LOVE it!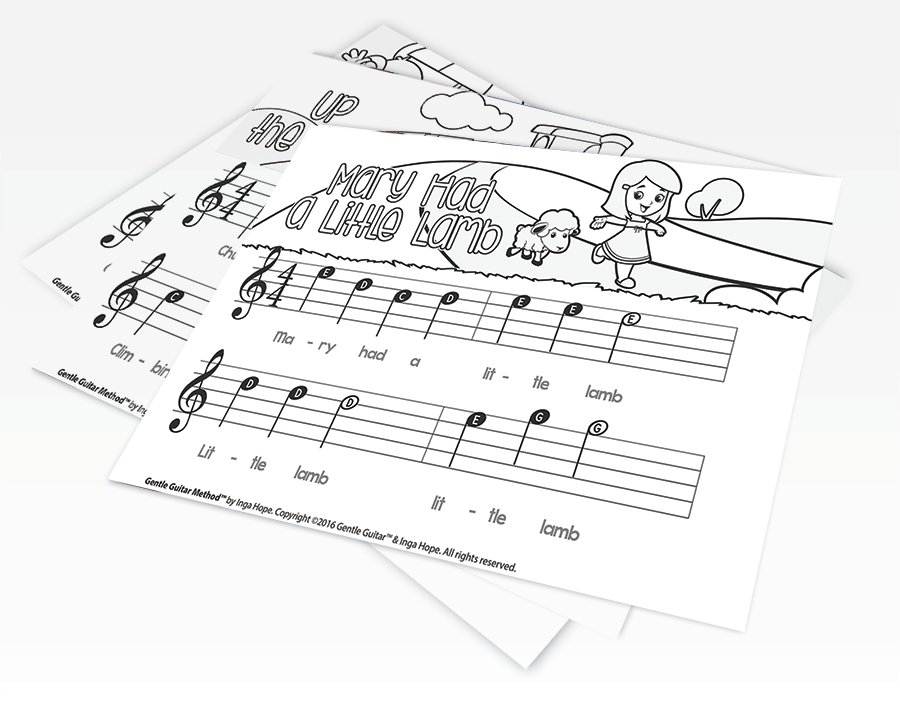 Music Literacy
Most guitar schools and private teachers teach guitar using TAB (TAB is music by numbers, like colouring by numbers).
Teaching music 'by ear' (by TAB) has shortcomings, just like teaching a language orally (without teaching the grammar and writing) would produce setbacks in the long run.
Neuroscientists measure a direct link between music literacy and measurably improved linguistic (reading and writing) abilities in growing children. Music is a SUPER-LANGUAGE, because unlike spoken languages, the language of music also requires rehearsed physical coordination. That's why musicians are known as small-muscle athletes! Learning to read and play music is an enriching experience for growing and developing children.
Did you know?
Music education is one of the most powerful developmental activities on the planet that involves the entire brain!
At Gentle Guitar™ our youngest students, at the age of only five, read and write songs in standard music notation. Listen to Madeleine, age five, she just wrote her first song!